COVID-19 Update, September 28, 2021
Click here for Spanish translation recording.
Transcript of Dr. Good's COVID-19 Update, September 28, 2021
Hello, I'm Michael Good, CEO of University of Utah Health, presenting the COVID-19 update for September 28, 2021. And we begin our presentation today with a new chart. This chart looks at three areas of our state and compares their vaccination rate with the rate of new cases of coronavirus.
We have Central Utah which has a 39 percent vaccination rate, shown in blue. We have the Tri-County area in Eastern Central Utah, which has a 36 percent vaccination rate shown in yellow, and Summit County, which has an 83 percent vaccination rate shown in green. And what is plotted is the seven-day case rate per 100,000. And you can see the stark difference, here, between areas of our state that have low vaccination rates have higher coronavirus cases, and those with higher vaccination rates have much lower cases of coronavirus appearing in their communities. Just further evidence of how effective the vaccines have been at preventing infection, but particularly preventing hospitalization and death from COVID-19.
After several reports of increasing and worrisome trends, both at the national level and in our state, we've hopefully seen the plateau of this wave, new cases in our country as shown on the far right, a portion of this chart are starting to decline. The seven-day average is declining, and it appears we're getting to a similar point with deaths from coronavirus. Although, I point out that over 2000 Americans a day are still dying from coronavirus.
So although these rises are leveling off, the level of coronavirus in our nation is still too high. Similarly, hopefully, here in Utah, we appear to be reaching what hopefully will be the peak of this current wave of coronavirus. And at least for a few days now, we do have a decreasing trend when you look at the seven-day average. Obviously a lot of day-to-day variation, particularly over weekends, but when we average that into seven-day running averages, we at least appear to be a plateauing
Similarly, the number of new deaths from coronavirus appears to have plateaued in the seven or eight range. So again, no time to let up and the things that we're doing: vaccinating, getting everyone possible vaccinated, hand-washing, distancing, but also wearing masks whenever we're in doors, are things that we need to turn these plateaus then into declines.
Even in our active infections, we see, hopefully, a plateau here. Remember we had gotten this to where, I think, it was a one in 600 Utahns with an active coronavirus infection. And for the last few weeks, with this many active infections, it's about 1 out of every 100 Utahns has an active coronavirus infection. So again, hopefully we'll keep doing the things that we've been doing and need to do. What we've successfully done is turned these upward trends into plateaus. We now need to turn the plateaus into declines, to each day having fewer coronavirus cases, fewer hospitalizations, fewer deaths.
Another signal is turned in the right direction after a long period of not being in the right direction, and that is our real-time reproductive number. How many other individuals, each person with a coronavirus infection, transmits that infection, how many other individuals do they transmit it to? And when they reproductive number is above one, the virus is accelerating in our community. And when the RT, the reproductive number is below one, there is a decline in transmission.
And though we're not quite below one, for the first time in quite a while, we appear right around one, here, up here on the inset we dipped a little below, a little above. The solid line as a seven-day moving average. The dash line is a day-to-day measure. But you can see, last time we had a reproductive number below one was way back here in the end of May. And all of this time period through here, the reproductive number has been above one. So hopefully this trend will continue and is a sign that through vaccination, through masking, through our other public health measures, we appear to have things starting to turn in the right direction.
Our hospitals are full. Our hospitals are very full of patients with coronavirus. You can see that we've got almost 600 Utahns in the hospital with COVID-19. And that level correlates with the levels that we saw way back here in the January and February timeframe, back at the peak of this pandemic. Large numbers, again, our ICU, the number of COVID patients in the Intensive Care Unit with COVID, again, exceeds where we were back in the winter peak.
But fortunately, again, we need to follow this, but both of these trends do have a peak on them. Now we've seen peaks like this back here in late June, early July, only to be followed by a sharp uptrend. So hopefully we can see this be a sharp downtrend. The level of COVID patients in our hospital are preventing other patients from getting the care they need. We often hear about elective surgery needing to be rescheduled. These are very important procedures for our patients, both surgery and other procedures. And so, it would be great if we could get the number of COVID-19 patients in our hospitals reduced so that we can provide the much needed care that the citizens of our state need, especially when they need a hospital or an ICU bed. So again, tops on these curves suggesting hopefully a peak, but we'll have to follow in the weeks ahead to make sure that they do indeed develop a downward trend.
Positivity rate in COVID testing is either flat or maybe with a slight downward trend on these two methodologies of testing positivity. Flat with a suggestion of a decreasing. Again, the one to 14-year-olds, at this moment, still the vaccines not approved, although we hear progress is being made and hopefully in the coming month or so, the vaccines will be approved for those five years and older. Like so many of the charts and trends we've looked at today, in the one to 14-year-olds, one to 14, the seven-day average of new cases peaked here a week or so ago, and has started to develop a downward trend. And by definition, these are all unvaccinated individuals.
The orange chart on the top is 2021. The blue line on the bottom is from 2020. And remember, last year the school district was characterized "hybrid", is probably the best word. Some in-person learning, some online learning from time to time switching back and forth. So we did see an uptick as school started last year. This year, as school started, we saw this really substantial increase through most of the month of August and into September. But as I pointed out in the last few weeks, we do have a trend coming down, and again, hopefully masking and distancing and the things we do that slow down virus transmission are playing a role here.
Like other hospitals in Utah, University of Utah Hospital has many, many COVID patients in our hospital. Almost as many as we had at the peak of the pandemic. The chart on the left is a summation of admissions for COVID over 14 days. And you can see, although this steep upward increase in admissions has leveled off with a fair amount of day-to-day variation, it is leveled off at a very high level. Not quite at the peak of where we were back in December, January, but certainly filling our hospital beds and with, again, some day to day variation, but having been sustained over the last few weeks here at University Hospital.
So again, if we can keep doing the things we need to do, especially getting the unvaccinated vaccinated, I believe we can keep this downward trend going and hopefully open up room in our hospitals for others who are needing care.
We've shown this chart before, similar to that in the one to 14-year-olds. If we look at unvaccinated and compare them to vaccinated, we're running about 10 new cases of COVID per 100,000 population in the vaccinated group, and eight times that, just under 80, in the unvaccinated group. We had gotten up to 90. So again, we are seeing an overall decrease in the transmission of the virus, but boy, it would sure be nice to get our unvaccinated citizens vaccinated so that they would enjoy the benefits of vaccination, which include many, many-fold less likely to have ended up in the hospital, or particularly, dying from coronavirus.
And finally, we end with this report, with some national perspectives on what this pandemic is costing us. And particularly, we do believe many, many, many, if not most of the hospitalizations in unvaccinated individuals are preventable. This is a Kaiser Family Foundation assessment of preventable COVID-19 hospitalizations by month, with 32,000 in June, 68,000 in July, and 187,000 in the month of August. It's approximately $20,000 of cost per hospitalization for COVID-19. And so if you do the math, you can see that we're spending… June we spent $0.6 billion, then $1.4 billion, and just in the month of August, $3.7 billion was spent nationwide providing care to what so many of us feel are preventable COVID hospitalizations.
So please, continue to encourage anyone that is not vaccinated to get vaccinated. In short order, you've been following the national news. We're already recommending booster vaccination for those with specific and severe health challenges. We think that will be expanded in short order here to those over 65. And so while we will, with colleagues throughout the state begin the booster vaccine program, I want to emphasize how important it is we continue to stress vaccination for those who have not even yet received their first vaccine.
So please keep doing all the things you're doing. Levels of coronavirus remained extremely low on the University of Utah campus. Continuing increase in the vaccination rate among our students and among our faculty and staff. We'll continue to watch the pandemic from all these perspectives, and be back with you in two weeks for another COVID-19 update. Thank you.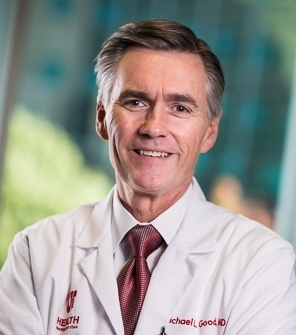 Michael Good, MD
Michael Good is CEO of University of Utah Health, Dean of the University of Utah School of Medicine, and A. Lorris Betz Senior Vice President for Health Sciences. A professor of anesthesiology, Good joined U of U Health after more than three decades of teaching, innovation, and leadership at the University of Florida, where he served as dean of the College of Medicine for 10 years.
DON'T MISS OUT. GOOD NOTES delivers to your inbox.