Women Surgeons: Defining the Future of Surgery
Every summer in July, we welcome six newly minted physicians to begin a General Surgery Residency at University of Utah Health. This year, five of the six are women. This is noteworthy because surgery has traditionally been heavily male-dominated. However, at University of Utah Health, 70 percent of the general surgery residents are now women. While some might consider this gender ratio to be revolutionary, I believe it is more a reflection of a natural evolution within medical education and society in general.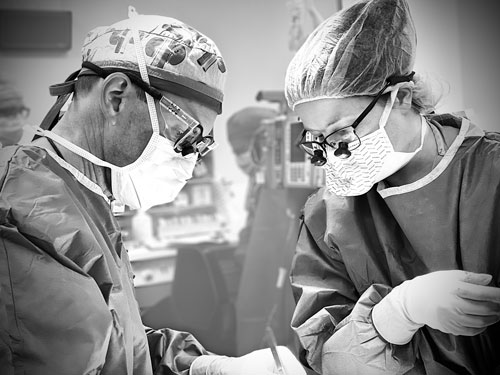 According to data from the Association of American Medical Colleges (AAMC), women now make up 51.5 percent of the total enrollment at U.S. medical schools. So it was just a matter of time until we would see an increased number of women choose surgery for residency. Currently, 38 percent of general surgery residents in the country are women. Similarly, a larger percentage of faculty members in academic medicine are women, which means female students now have a larger number of women serving as role models during the years they select their area of practice. At University Of Utah's School of Medicine, we have seen a marked increase of women in the Department of Surgery, including 50 percent of the faculty in the Division of General Surgery. Further reflecting this progression are women in leadership roles within the department, including Courtney Scaife, MD, professor of surgery, vice chair of the Department of Surgery, and Brigitte Smith, MD, associate professor of surgery, vice chair of surgical education. Other women surgeons also serve as the leaders of various sections and residency programs within the department.
Gender Expectations
The fact that more women now apply for surgery residencies is a hopeful sign that the current generation of medical students is no longer influenced by gender expectations that may still exist. While I consider myself lucky to have never experienced gender bias in medicine or surgery, there are certainly those who grew up with the cultural expectations that women should not go into medicine, and specifically not surgery.
In addition, and unfortunately, we still hear about women medical students facing lingering cultural expectations within medicine. For example, women medical students being told by faculty and residents (both men and women) that they "do not look [or act] like a surgeon," or being asked "why would you want to be a surgeon? They are all mean." Thankfully, the increasing number of women in surgery now provides students who face these attitudes and perspectives with more opportunities to see what is really possible and to connect with women who have defied these expectations. Through the current generation of driven and amazing women surgeons—and the rising generation of women medical students who choose to become surgeons—conscious and unconscious gender biases will eventually disappear, making it even easier for women who want to be surgeons to make the choice.
Interestingly, this year, in our School of Medicine, there are four students applying for residency in general surgery, and they are all women. As part of the application process, general surgery residency applicants are holistically reviewed and selected for residency interviews based on their accomplishments in and out of medical school, including their grades, life and work experience, volunteerism, and research. If selected for an interview, they are then assessed for their aptitude to be a surgeon. As more women apply for residency in surgery, it makes an obvious impact on the gender breakdown of those selected
Diversity of Options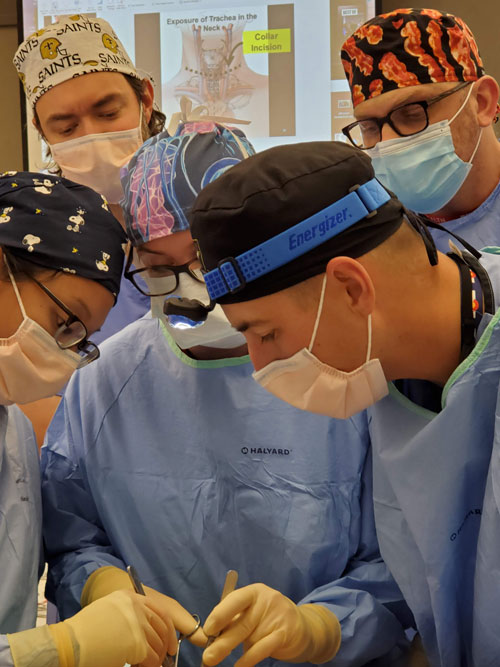 Another evolving aspect of surgery that helps make surgery more appealing to women is the diversity of surgical career options that make it easier for surgeons to balance the demands of work and life. There is truly a wide spectrum of what one can do as a surgeon that determines the amount of time spent at work, being on-call, in-patient volume, complexity of cases and risk of complications—and students and residents can pick an area that suits what they want to do and what fits their personal needs.
For example, I went into the specialty of surgical oncology, which I was drawn to because of the privilege of caring for people who have advanced cancer. Most of the people I operate on spend a week in the hospital and often have a very long recovery period. I also follow and care for most of them for the rest of their lives. But that type of surgical practice is not for everyone. Other surgeons prefer the fast pace of the acute care surgery and trauma shift. Others prefer the all-consuming, unpredictable life of transplant surgery, while others prefer a more predictable practice of elective general surgery.
The best advice for all medical students, residents, and surgeons is to be honest about what you want in life. If family life, or something else, is a high priority, then really think about how to best balance that priority with your chosen specialty and talk to others who have done it. If surgery is the right choice, then think about what type of surgery will be the best for the life you want to build.
Similarly, for medical students considering which specialty to choose, surgery is often portrayed and perceived as being "glamorous" and "cool." But those perceptions are not what matter. What does matter is being a great doctor and taking great care of people. Every specialty in medicine offers the opportunity for a satisfying career and finding tremendous purpose and meaning in life. If it so happens that surgery is the right path for you, regardless of gender, you can do it and make it your own, like those of us who have come before you. Surgery has changed dramatically in so many ways over the past 20 years, and women in surgery have played a major role in many of these changes. But the changes are not over yet. The future of surgery is still to be defined, and women will continue to have a profound impact on defining it. 
Laura Lambert, MD
Laura Lambert, professor of surgery, is a surgical oncologist and the General Surgery Residency Program Director. She specializes in the care of patients requiring surgical treatment related to peritoneal carcinomatosis (cancer which has spread throughout the lining of the abdominal cavity) and gastrointestinal oncology. Lambert earned her undergraduate degree from Bowdoin College in Brunswick, Maine, and medical degree from Harvard Medical School. Her general surgery residency was done at the Dartmouth-Hitchcock Medical Center in Lebanon, New Hampshire, which was followed by a three-year fellowship in surgical oncology at the University of Texas MD Anderson Cancer Center in Houston. She is also board certified in hospice and palliative medicine.
DON'T MISS OUT. GOOD NOTES delivers to your inbox.