Although dentistry has traditionally been dominated by men, an increasing number of women are entering the field. Drawn to the flexible hours and service to the community, female dentists are moving the profession forward and creating diversity in patient care.
Benefits of the Profession
The typical dental practice operates 10 hours a day, four days a week, and some women choose to work three 12-hour days so they can enjoy four days of personal or family time. Adept at multi-tasking, women move from one patient to the next quickly and efficiently. We often see as many patients in three days as other dentists do in four or five days.
In addition to flexible hours, male and female dentists are generally on par when it comes to annual income. Nationally, dentists earn as much as $185,000 annually. While Utah still lags behind the national average, most local dentists earn approximately $140,000 per year.
Changing Demographics of Dentistry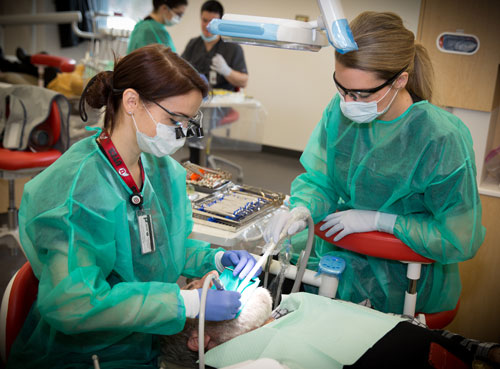 Historically, both medicine and dentistry have been considered occupations for men. Women had traditionally been the primary caregivers for children and assumed household responsibilities. But as men have started sharing these responsibilities, women are seeking work outside the home. Take my family, for example. My husband has a flexible work arrangement that allows him to manage the scheduling and weekly events for our five-year-old daughter, allowing me to focus on work and set boundaries between family time and work time.
In our culture, there has also been a misconception that women may not be able to make the difficult decisions regarding patient care often required in medicine and dentistry. Obviously, I think we have quashed that idea! Today, women make up almost one-third of both medical professionals and dentists in the United States.  
Utah Needs to Catch Up
The number of women practicing dentistry in Utah is much lower than in other states—only six percent—but this is beginning to change. Among our current student body of 147 students, 39 percent are women, and six out of 10 dental residents are women. Although this number varies from year to year, it strongly suggests more female interest. We are also seeing more diverse representation of students in our School of Dentistry. As our dental program grows in stature and scope, our faculty is also becoming more balanced in gender and diversity, including in our pre-doctoral and resident intakes.
Serving the Underserved
The University of Utah School of Dentistry was established by a generous gift from the Ray and Tye Noorda Foundation with the express purpose of addressing the oral health needs of the underserved in our community. Bringing care to those who need it most is integral to the school's mission. Through our relationships with Medicaid and philanthropic organizations, our dental clinic treats a very diverse population of patients, who often have difficult dental needs as well as medical and psychological issues. This unique clinical experience teaches students to manage the challenges and complexities of dental patients while learning the value of service. The opportunity to improve the lives of their patients is drawing more women to dentistry—one of many ways women are making important contributions to the field.
More than Filling Cavities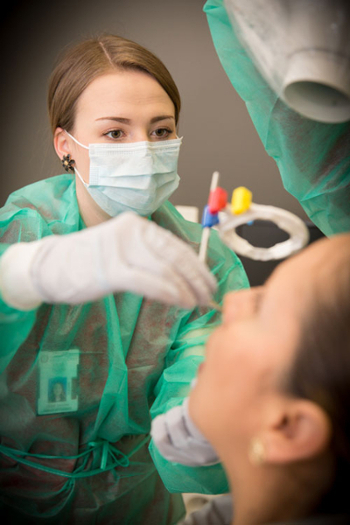 Unsure what she wanted to study in college, Morgan Karnath initially entered nursing school but was persuaded by her high school chemistry teacher to return to her hometown in Kalispell, Montana, to consider pursuing a degree in chemistry. But Morgan was not convinced this was the career for her.
A friend suggested she look into dentistry, and she shadowed a number of dentists in the area. "I quickly realized dentistry is a lot more than filling cavities," Morgan explains. "It's a very preventive model of care in which we are addressing the 'whole' person because there are many factors in their lives that affect their oral health." It was this holistic approach to addressing the physical, mental, and often emotional needs of each patient that influenced her decision to study dentistry at the U.
Ideally, the growing number of female and minority dentists in Utah will mirror the burgeoning population boom our state is currently experiencing. Data shows that women prefer to be treated by female health care providers, just as minority patients feel more comfortable if their providers look like and can relate to them. As the regional leader in dental education, discovery, and outreach, it is important that our dental school represents the growing diversity in the Mountain West.
Commitment to Recruiting Women
The School of Dentistry is taking deliberate steps to encourage more women to pursue the profession and create an environment where they feel welcome. We are eager to partner with colleagues across the health sciences to expand our recruitment efforts. Working together, we can expose more students like Morgan to health care fields that they had never previously considered. We can show a broader, more diverse group of prospective dentists how they can contribute in various fields including academia, science and research, organized dentistry, and advocacy.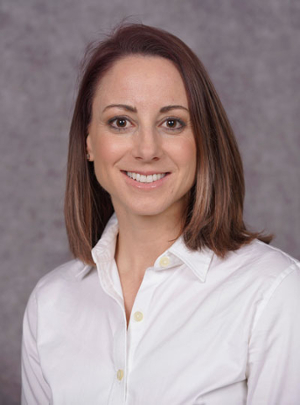 Jeri Bullock, DDS
Jeri Bullock is Associate Dean for Clinical Affairs, Director of Admissions, and Dental Director of the South Main Clinic. A graduate of Loma Linda School of Dentistry, Bullock has carried the school's motto, "Service Is Our Calling," into her own career. Serving as dental director for two Federally Qualified Health Centers, she has gained unparalleled experience in the public health space, while also establishing herself as a respected dentist focusing on integrated care models in underserved communities.
DON'T MISS OUT. GOOD NOTES delivers to your inbox.