Transforming Utah's Mental Health Care
Although Utah can tout first-class health care and many worthy investments in the well-being of its citizens, we need to accept that our mental health care is inadequate. Tackling that deficiency is a priority for Huntsman Mental Health Institute (HMHI). My colleagues and I confidently believe we can raise the standard of mental health care throughout the state—a challenge that is a shared vision by many. One reason for this optimism is due to the unique three-way partnership that supports these efforts between the University of Utah, our state government, and many community leaders.
I label it "unique" because nowhere else in the country is there a major research university that is committed to making mental health a top priority. Nowhere else does a state government and legislature substantially back this kind of commitment with support and legislation to invest in high-quality mental health care. And I am certain that nowhere else is there the range of civic-minded leaders and philanthropists that share our vision while putting their resources to bear at a transformative level. This triumvirate of purpose and resolve offers a real chance to achieve better mental health throughout Utah, for everyone that needs it.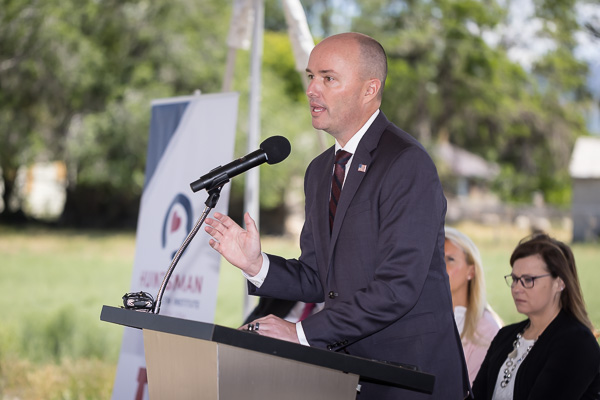 Crisis Care
Within our first six months at HMHI, we were fortunate to secure funding to create a crisis intervention center on the west side of Salt Lake County. The new facility, open 24/7, will welcome people experiencing a mental health crisis and provide immediate, compassionate care at no cost to individuals. Our Mental Health Crisis Care Center will be an important clinical center for the Wasatch Front, taking care of both disadvantaged individuals and advantaged people coming in crisis.
The center will have capacity for both immediate assessment and triage, which will be dignified and user-friendly. Stabilization chairs will be available for 33 people initially and flex up to 40 to 60 people. There will be 24 inpatient beds. Plus, we are going to co-locate services for case management and for outpatient care. We are trying to build a third floor, and if we do that, we will be able to co-locate all our crisis services plus specialty programs and intensive outpatient programs. We want to create a new and innovative approach to mental health care that extends beyond what's been done previously and goes into new directions. It will also be a place for training social workers, nurse practitioners, PAs, psychologists, and physicians. The Crisis Care Center will be a place that not only serves the community, it will include peer support specialists and community activities. It will have space available for the National Alliance on Mental Illness (NAMI), the nation's largest grassroots mental health organization. HMHI will do research out of the space concerning new approaches to care for people in crisis.  
One of the biggest challenges in treating mental health is knowing that once a person in crisis is stabilized they receive continuing care. We are going to tackle that with a facility specifically designed to do so. The care center is set to involve so many other parts of the university—not just mental health care. This will allow us to ensure continuing care in a way that hasn't been done before.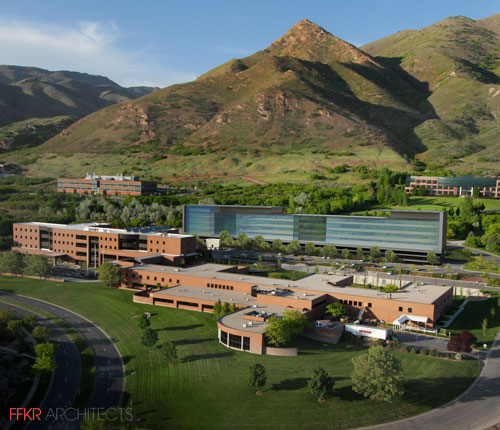 Translational Research
We are also building a research center on campus next to the HMHI hospital. During a special session of the Utah State Legislature in May, lawmakers approved $90 million in funding that will be combined with $65 million in funds from the Utah philanthropic community for the Utah Mental Health Translational Research Building. It will truly be transformative, not just for HMHI, but for the University of Utah and also for other universities within Utah.
The building will have wet lab scientists co-located with translational scientists and clinical scientists with experts in public policy, law, and business, all focusing on pressing problems: stigma, suicide, child mental health, preventing kids from getting ill in the first place, and rural mental health. We have potential partnerships and agreements with Utah State and BYU for treatment and training initiatives. Along with universities, the Translational Research Building will be a nexus involving other educational and community groups from throughout the state. It will be a center of collaboration for working groups tackling the big problems. Already, we are working out a national initiative on stigma and stigma reduction.
HMHI is buying a 7T scanner, which is the world's only 7 Tesla MRI, and partnering with Satoshi Minoshima, MD, PhD, chair of the Department of Radiology and Imaging Sciences in the Spencer Fox Eccles School of Medicine. HMHI is working with his group to best utilize the 7T scanner. Minoshima is a top neuroscience scholar responsible for significant contributions in the field. There are so many strengths within our system that are truly remarkable. We are working through a positive partnership with Intermountain Healthcare, which is exciting for us. There are areas of commonality with other large health systems, just as there are areas of potential competition.
Construction has begun on the Mental Health Crisis Center, and before the end of 2021 we will break ground for the Translational Research Building. Both facilities illustrate the power of state and community partnership aligned with a distinguished center of higher education. In less than a year since the Huntsman family generously founded our institute, a solid foundation has been laid to truly transform mental health care for the people of Utah. We are just getting started.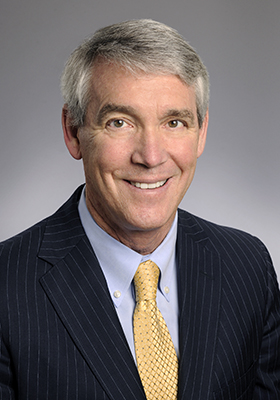 Mark Rapaport, MD
Mark Rapaport is the inaugural CEO of the Huntsman Mental Health Institute and Chair of the Department of Psychiatry at University of Utah School of Medicine. Previously, Rapaport was head of psychiatry at Emory University in Atlanta, where he co-founded the Emory Brain Center. Before Emory, he was professor of psychiatry at both Cedars-Sinai in Los Angeles and the David Geffen School of Medicine at UCLA. Rapaport was also on the faculty at University of California, San Diego where he received his MD degree and completed his residency.
DON'T MISS OUT. GOOD NOTES delivers to your inbox.