COVID-19 Weekly Update, June 22, 2021
Click here for Spanish translation recording.
Transcript of Dr. Good's COVID-19 Weekly Update, June 22, 2021
Hello, I'm Michael Good, CEO of University of Utah Health, presenting the COVID-19 Update for June 22, 2021. And after a period of low and stable cases of coronavirus in our community, we have seen a little bit of a changing picture here in the state of Utah. Nationally, the number of new coronavirus cases in our nation continues to decline and the number of deaths from coronavirus in our nation also continues to decline, dropping down below 300 for the first time in over a year. So, at the national level, the declining trends continue. But here in the state of Utah after reaching around, on June 2nd, reaching just about a seven-day average of 200 cases per day, the number of new coronavirus cases has been up over the past month, increasing a little bit each day to where our seven day average now is at 292. So 201 at the beginning of the month, now 292 at the end of the month.
So again, certainly not the alarmingly high number of cases we saw through the peak of the pandemic, but trends in the wrong direction, for sure. Fortunately, so far, our seven-day average of number of deaths in our state from coronavirus continues to average about one a day. So the same effect is seen on June 2, after reaching the lowest level we've seen throughout certainly the calendar year, the number of active infections also increasing. Shown at the top, last week at one per 580 Utahns. We now have an active infection in one out of 526. So not a big change, but a change in direction from what we saw throughout large periods of the beginning of this year. So, again, things we're going to have to keep an eye on. Obviously, a lot is changing with much more interaction, travel, gathering, and so on as more and more individuals receive their coronavirus vaccination. I'll talk more about that in just a minute.
So if you've got increasing numbers of individuals being diagnosed with a coronavirus infection, it's no surprise that our reproductive number is now back above one. That means each person with a coronavirus infection, although only one in over 500 individuals will have a coronavirus infection, they've transmitted it to a little bit more than one other person. So we see that both in the lower chart and then also in the blow up inset at the top. Now, fortunately, the solid line is the seven day average. The dotted line is the daily estimate, and the daily estimate is trending down. This is something we'll want to keep an eye on over the next couple of weeks. Hopefully, the transmission is slowing down for a variety of reasons. With increased cases, we've also then seen increased hospitalizations. Hospitalizations went from running around 130 up to, I think a couple of days, it hit 160, and has now pulled back into the 150 range. So in and of itself, very manageable by the health systems in our state, but as shown, a reversal of this very steady period that we saw for the better part of two or more months.
Many of those new cases are in the Intensive Care Unit. We've seen that here at the University of Utah Hospital as well, with an ever so slightly increase in the number of people being hospitalized, which has shown in the blue line. Similar to the other charts, starting here in the early part of June, the positivity rate, whether measured by the people over people or the tests over tests method, we have seen the positivity rate increase. The people over people method, which had gotten down to about 6 percent, now closing in on over 8 percent. The test over test method, which had been down in the four range, now at six or even a little bit higher. So those trends appear to be upward and continuing. So it is a changing situation here in Utah than what we've seen for the past few months.
Here at University Hospital, after this downtrend, remember the blue line is the 14 day summation of admissions, after this downtrend, we saw up, and then we've seen a little bit of a saw-tooth pattern here over the last week and a half or so. With that reversal of the downtrend, we've seen a couple of peaks in the census, the number of coronavirus patients in University Hospital with COVID-19. So, again, manageable at the moment. The current situation is not what catches our attention, but the fact that we are seeing a trend reversal from what had been several months of declining cases, hospitalizations. Now, we've seen a change in the trend and we have increasing cases and increasing hospitalizations. So, again, we strongly encourage everyone to get a coronavirus vaccine. The vaccines are highly effective. I'll talk about that in a minute.
But first this is where we're at in the state with age groups shown across the bottom here and then the percent of that age group that's been vaccinated. Fully vaccinated shown in green, one dose of either the Pfizer or Moderna shown in yellow, and no vaccines received shown in red. And, again, the older age groups have had availability to be vaccinated for longer periods of time and have taken advantage of that. And then some of the lower age groups, particularly the 12 to 18 and 19 to 29 year olds, have had less time so their vaccination uptake, if you will, the number of individuals who are receiving a vaccine, is not quite at the same levels, but hopefully will continue to increase. I think if you look at this overall, we're somewhere around 63 percent of Utahns have received at least a partial vaccination. So please, if you haven't been vaccinated, please avail yourself of this life-saving vaccine, and if you know family or friends who have not received their vaccine, please encourage them to do so.
This chart will perhaps help you the most. So since March 23, approximately three months ago now, when anyone 16 and older was eligible for a vaccination, there have been about 28,000 cases of coronavirus in Utah. Since March 23, 28,000 cases of coronavirus in our state, 97 percent or almost over 27,000 have been in unvaccinated individuals. Of the 1,600 hospitalizations, same story, 95 percent in unvaccinated individuals, and of the 113 deaths since March 23, over 98 percent of those deaths have been in unvaccinated individuals. So there are a few cases and a few hospitalizations and a few deaths in vaccinated individuals, but the vast, vast majority, 95, 97, and 98 percent respectively are unvaccinated individuals. So you can see how much healthier, how much less coronavirus, how much less COVID-19 we'll have in our community if we can get everyone vaccinated. So, that is how I will conclude this COVID-19 Update. We will continue to follow the trends in cases, hospitalization, death, positivity rate, and vaccination, and be back with you in two weeks with another update. Thank you.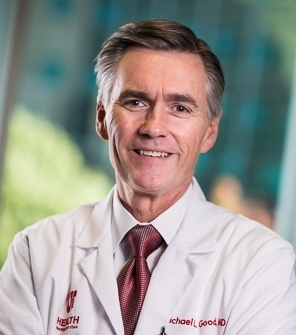 Michael Good, MD
Michael Good is CEO of University of Utah Health, Dean of the University of Utah School of Medicine, and A. Lorris Betz Senior Vice President for Health Sciences. A professor of anesthesiology, Good joined U of U Health after more than three decades of teaching, innovation, and leadership at the University of Florida, where he served as dean of the College of Medicine for 10 years.
DON'T MISS OUT. GOOD NOTES delivers to your inbox.