A Space for Enhanced Collaboration
In the early 1960s, there was not much up on the hill where University of Utah Health sits today—just a nine-hole golf course where the U's collegiate golf team practiced. Those nine holes were remnants of an 18-hole course at the Fort Douglas Country Club, which served as the site of the PGA's Western Open in 1947 and attracted golf great Ben Hogan.
In 1965, a structure for University Hospital and School of Medicine rose east of the golf course. In more than five decades since then, the pace of construction has never slowed down. So news of another ceremony involving shovels and dirt may seem ho-hum to some. But the May 20th groundbreaking for our Healthcare Educators Leaders & Innovators (HELIX) complex should be celebrated. It represents spirited collaboration. The way we decided to build it and design it—along with the way it will be inhabited—all point to the future of our success as an academic and clinical institution.
Workspace Taskforce
Nearly two and a half years ago, Dr. Good formed the Workspace Taskforce Committee. Members of the committee came from multiple departments and divisions across the Health Sciences, representing a diversity of viewpoints and experiences. From the beginning, our purpose was not simply to find places to put people but to enhance our ability to drive our mission. To do that, we examined our workspaces and created recommendations for how we should evolve our environments to effectively teach, discover, and care as teams.
Members of the taskforce never pretended to be all-knowing in the design process, remaining open-minded and prizing innovative thinking throughout. The HELIX building is a space for collaboration, and it is fitting that the design process itself reflected a collaborative spirit. Together we sought to understand how faculty and staff value the kinds of spaces and amenities that this building will provide. And we focused on the way academic faculty and staff work together in and out of the clinic, lab, and classroom. 
Design Opportunities  
That focus gave the Taskforce abundant design opportunities. The pandemic has since brought those opportunities into sharp relief. It has reinforced the need for common spaces and amenities that make coming into work worthwhile and special while affording private spaces for the quiet work of contemplation, preparation, and discovery.
We've also considered how departments and units work together and have designed spaces that are welcoming and effective for the kind of collaboration necessary in a matrixed organization like ours.
It is our hope that with last week's groundbreaking we are creating something that is overall better, more comfortable, and more community focused.
The lessons from the pandemic are still being learned. Over the next decade, we will continue to see remarkable changes in the way medicine is taught and practiced. Many of those changes will be imagined and advanced in this very building.
The HELIX building is a physical commemoration of who we are and who we want to be. We hope this building's design will bring people together as we work toward our common mission of improving human health and wellness through our discoveries, our teaching and training, and our compassionate care for patients.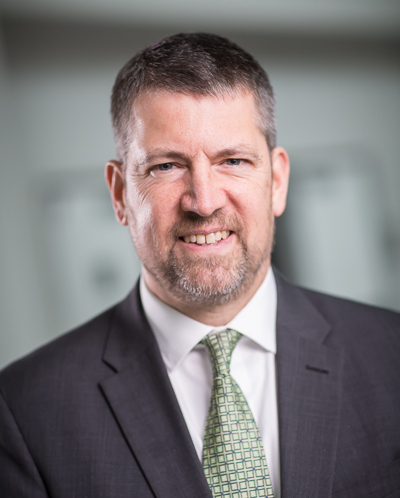 Sam Finlayson, MD, MPH, MBA
Sam Finlayson served as chair of the Workspace Taskforce Committee at University of Utah Health. In 2020, he was appointed Associate Vice President for Clinical Affairs and Chief Clinical Officer. Prior to that, Finlayson was the Claudius Y. and Catherine B. Gates Presidential Endowed Chair in Surgery. He received an MD and MPH at Harvard and an MBA at the University of Utah David Eccles School of Business.
DON'T MISS OUT. GOOD NOTES delivers to your inbox.