COVID-19 Weekly Update, May 11, 2021
Click here for Spanish translation recording.
Transcript of Dr. Good's COVID-19 Weekly Update, May 11, 2021
Hello, I'm Michael Good, CEO of University of Utah Health, presenting the COVID-19 update forMay 11, 2021. We're seeing some encouraging signs that the national level, here in the United States with the number of new cases of coronavirus declining on a seven day average, is approaching 40,000. And that's, again, a declining number of new cases. And here in the last few days, also, seen a decrease in the seven-day average of deaths from coronavirus.
The situation in Utah is stable, maybe an ever so slightly continued slow decline. But we've had this prolonged plateau period with what I'll say are manageable levels of coronavirus in our state, certainly not increasing. And either a stable or, after this low downtrend, kind of a flattening out of the deaths from coronavirus. Again, a seven day moving average of about three deaths per day from coronavirus.
Our active cases now under 8,000. Again, this plateau with maybe an ever so slight declining slope. In contrast, here is the national situation. Although, again, in recent days, if you look closely at that trend, active infections in the United States are starting to come down as well. In the state of Utah we've seen tremendous progress now with one in 400 individuals having an active infection. Remember, not too long ago, one out of 50 Utahans had an active infection. Just great progress, probably many reasons for it here in Utah. But certainly pleased to see this progress. With that ever so slightly declining number of new cases each day, pleased to see our reproductive number drop below one. Again, we had this go back to the multi-week chart, we had this period here where the reproductive number, the number of infections created by number of new infections created by each person with coronavirus. This period where it was below one, allowed us to really see those case counts come down.
For a few weeks we've been right at one. And now the last couple of weeks we've seen it drop below one. Hopefully that trend will continue and we'll continue to see a further dropping of the number of cases of coronavirus in our state. As I mentioned, the number of coronavirus patients being admitted to hospitals has been more or less stable. Maybe an ever so slightly uptick to that trend, but mostly stable. Stable number of patients in the ICU. And stable with a little bit of a drop here in the number of daily admissions to the hospital. Certainly stable trends when it comes to hospitalization, which has been a really important component of our pandemic response.
Positivity rates over the last couple of weeks essentially stable. Here both the people over people and the test over test methodology, no significant changes there. As we had a wonderful virtual full-university commencement, and then a number of outdoor convocations and celebrations by colleges and schools over the last few days, as this semester comes to a close, really a shout out to our students and to our faculty and staff, and everybody on the campus. Look at, in the fall semester we had nearly 2,500 individuals report coronavirus, this past semester only 800, one third. In the last few days, over the last week and the last few days, again, on average, about one individual reporting coronavirus out of our 62,000-strong campus, students, faculty, and staff. A great semester when it comes to keeping the coronavirus as low as possible levels as we can.
Our levels at University Hospitals similarly remain low. A several week period here of a census of around 15 patients in our hospital with coronavirus. We did, over the last three, four, five days, see this bump up a little bit. You can see the blue line, which is the cumulative admission rate, did pop up a little bit. And our census went from about 15 to 25. But still well within the manageable level of our great healthcare teams at the university. And as we check with other hospitals throughout the state, they have not seen this bump, so we'll keep watching it. But it is, as we watch various trends related to the coronavirus, a few more patients here at University Hospital than in the last few reports.
As we transition to our vaccination program, we have now begun administering vaccinations here on the University of Utah campus, not only in our health system, but on campus, which is available to our students. Vaccination is available to our students, to our faculty, and staff, as part of statewide strategy to get as many people vaccinated as possible. Here you see the breakdown, the age groups are shown across the bottom. And then in a green bar, the percentage of that age group that's fully vaccinated, the number that's received one dose, and then those that have not received any vaccination dosage shown in red.
And you can see because the state, in my opinion, correctly and aggressively started with those in the higher age groups, you can see that we've got nearly 80 percent of the 70 and 80 year-olds, and above, 68 percent of the 60s, and so on. So, we continue to work in concert with our colleagues at other health systems, the State Department of Health, and of course our University of Utah Health and healthcare system, to get everyone who wants a vaccine, vaccinated.
I'll close today with, again, this collection of resources that you can see the website up here. Healthcare.Utah.edu/coronavirus/vaccine. All of these resources, both in printed form, in video form, and in chart form available. The other thing that we're doing, again, as a community, we've gone from, and we'll continue to have, centers where vaccines are administered. But we're also working to move the vaccination program, not only from these centers, but into our health clinics, out in the community, and eventually, to our primary care providers. This is where, for those that want to discuss various matters related to vaccination, can have those discussions with their health provider. And then if they decide to get the vaccine, can immediately move to areas of that same clinic where the vaccine is available.
A stable picture here in the state of Utah. A very stable picture here at the University of Utah. And just want to thank everybody, and we will continue to work together in what we hope will be the closing months of this pandemic. And we really encourage everyone to please get vaccinated, consider getting vaccinated. These vaccines are really making a difference in our ability to reduce and keep this virus at a level where we can get back to many of the activities and the camaraderie we enjoy with one another. Have a great couple of weeks. We'll be back in two weeks with another coronavirus update, here at the University of Utah Health. Thank you.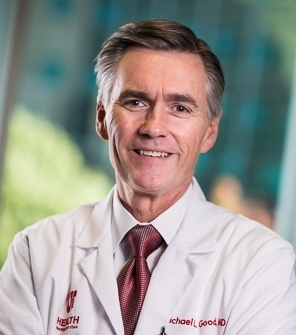 Michael Good, MD
Michael Good is CEO of University of Utah Health, Dean of the University of Utah School of Medicine, and A. Lorris Betz Senior Vice President for Health Sciences. A professor of anesthesiology, Good joined U of U Health after more than three decades of teaching, innovation, and leadership at the University of Florida, where he served as dean of the College of Medicine for 10 years.
DON'T MISS OUT. GOOD NOTES delivers to your inbox.