A Community for Educators
Every spring, we welcome an inflow of new ideas and fresh thinking as University of Utah Health inducts the latest fellows into the Academy of Health Science Educators (AHSE). It is a highlight of the season.
The AHSE is a service program for exceptional educators. Fellows are recognized as outstanding educators in their field and advocate for excellent education in their departments, colleges, and University of Utah Health at large. Application to the academy is a reasonably extensive process. It requires self-nomination and letters of recommendation. Each application is internally and externally peer-reviewed by distinguished educators.
Eleven New Fellows 
For the second year in a row, our April induction ceremony was virtual. Nevertheless, it was a joyous celebration of accomplishment. I had the pleasure of introducing our 11 new fellows, after which each one said a few words. Inducted this year were five fellows from the School of Medicine, representing four different disciplines; four from the College of Nursing; one from the College of Health; and one from the Eccles Health Sciences Library (EHSL). Nena Schvaneveldt, an educational librarian, is only our second fellow from EHSL, but we expect more. Our academy may be one of only a few in the country that includes library faculty members.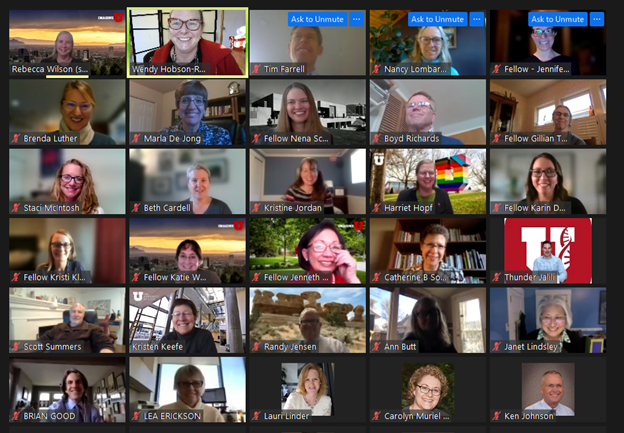 The AHSE at University of Utah Health is one of about 75 health educator academies in the United States. All are affiliated with the American Association of Medical Colleges (AAMC). Many of the academies include only medicine faculty. We were among the first to become inter-professional. Wendy Hobson-Rohrer, MD, MSPH, Associate Vice President for Health Sciences Education, founded the AHSE in the School of Medicine in 2013, and it became inter-professional 2014. While fellows are selected via application, membership in the academy is open to all faculty and trainees at U of U Health.
Supporting the Teaching Mission
The goal of the academy is to support the faculty and its teaching mission, which includes creating healthy environments for teaching. AHSE gives educators from a variety of academic health care disciplines the opportunity to disseminate expertise, educational techniques, and educational philosophy. Of course, it gives educators an opportunity to learn from others, too. That is one of the best aspects of this association: At the end of the day, what we really strive for is building an interactive community of educators. A community of people from across all colleges and schools, all dedicated to improving the student experience.      
Along with welcoming new fellows every year, another annual highlight is our Education Symposium. In September, we host a full-day education symposium, where educators share their practice in a variety of different ways. We do TED Talks, workshops, and posters. Workshop topics range from team-based learning to mentoring, group peer review, emotional intelligence, and much more. Getting together is rewarding. It is a way for educators to invest in their teaching through networking and learning. The 8th annual gathering is scheduled for Tuesday, September 14, 2021. It is open to the entire health sciences community.
We are also launching the Journal of the Academy of Health Science Educators (JAHSE), an online open access platform managed by the Eccles Health Sciences Library. It is for internal publications, so it's a pre-publication opportunity, particularly for trainees and junior faculty who are just starting out in education scholarship and need a place to publish. Boyd Richards, PhD, professor of pediatrics, was the brainchild the journal. One of its noted attributes is how it provides new authors with a peer coach who has been published. The coach helps hone a manuscript for outside publication. This is far better than expecting first-time authors to submit a piece, then receive blind reviews, make revisions, and re-submit. At a recent meeting, a colleague said, "I have three trainees ready to submit next month." What a satisfying moment.
In just eight years, the academy has established itself as a valuable addition to the science of education. We recognize that this is a time when health sciences education is rapidly innovating and evolving. We look forward to building the academy to support faculty on the path toward exceptional student and faculty experiences at University of Utah Health. We invite you to be part of this vibrant community.
---
Academy Inductees for 2021 
Karin Dent, MS
School of Medicine
Jenneth Doria, DNP, MS, RN
College of Nursing
Timothy Formosa, PhD 
School of Medicine
Thunder Jalili, PhD
College of Health
Ken Johnson, MD, MS
School of Medicine 
Kristi Kleinschmit, MD
School of Medicine 
Jennifer Macali, DNP, MSN, RN, MPH
College of Nursing 
Jacob Robson, MD, MS
School of Medicine
Nena Schvaneveldt, MSLS
Eccles Health Sciences Library
Gillian Tufts, DNP, CFNP, APRN
College of Nursing 
Katherine Ward, DNP, WHNP
College of Nursing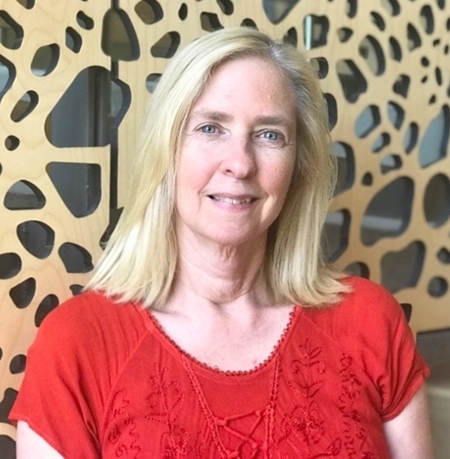 Rebecca Wilson, PhD, RNC
Rebecca Wilson is Director, Academy of Health Sciences Educators and Director, Nursing Education Specialty Track. She is Associate Professor (Clinical), College of Nursing, and Adjunct Assistant Professor of Family and Preventive Medicine, School of Medicine. Wilson received her BS and MS at Columbia University School of Nursing and her MEd and PhD at Arizona State University.
DON'T MISS OUT. GOOD NOTES delivers to your inbox.