Creating an Inclusive Campus: There's Work to Be Done
Whenever I interview new faculty members for the College of Nursing, I tell them to be prepared to work when they get here. That work includes being an educator and a University of Utah Health team member advocating for an equitable, anti-racist campus.
This was the topic discussed at the sixth session of Friday Forums on Racism in Higher Education, entitled "The Long Game: Deepening the Work." Panelists Mildred Garcia, EdD, Leroy M. Morishita, EdD, MS, AB, and Andy Rathmann-Noonan, BA, addressed what colleges and universities can and should do to ensure their campuses continue working to create a welcoming and equitable environment for all.
Tools to Enhance Equity, Diversity, and Inclusion
Although I am known for being outspoken about my views, the panel reminded me how important it is for all of us to use our voice to make sure we are part of the conversation. This is not always easy for people of color living and working in a predominantly white setting. Faculty and staff members may be afraid of retribution if they say something critical, and students are often too intimidated to speak up.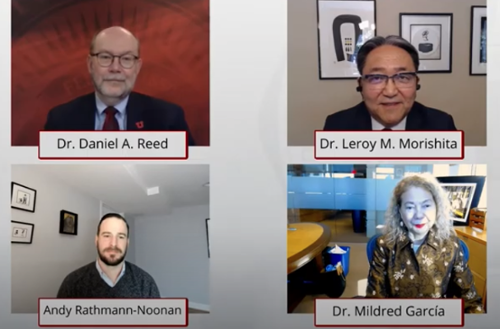 But I believe it is important to call out racism for what it is and never be afraid to speak up. We also have a collective responsibility to create safe spaces where everyone feels comfortable enough to voice their perspectives.
Rathmann-Noonan emphasized the need for resources and networks that people can rely on for support. When I was a student in the College of Nursing, the Center for Ethnic Students (CESA) on main campus was my "go-to" place. We must sustain resources like this to support students. Panelists also talked about the value of being an "intrusive advisor" for others, particularly our students. We need to reach out to our students to let them know we care and are invested in their success. If we want to engage students, we must encourage them to come to us to seek answers and support, help empower them, and get them excited about learning!
In order to have an influence and be a resource for the state, we must get out into the community to understand their needs and issues. Recently, my church community group collaborated with the Utah Department of Health to conduct a survey focused on maternal child health in underserved communities. Instead of responding to our questions on this subject, we found that people just really wanted to talk about mental health. This is valuable feedback we can utilize to re-focus our community outreach.
College of Nursing Takes a Lead
In the College of Nursing, we take our equity, diversity, and inclusion (EDI) work very seriously. I serve as chair of the Faculty Retention Subcommittee (part of the Health Sciences Anti-Racism Commission), which is responsible for reviewing policies and making recommendations to the Commission. This includes policies on hiring, retention, and pay equity for full-time and adjunct faculty, as well as staff. We also conduct staff and faculty surveys to assess job satisfaction and recommend wellness resources if needed.
We have learned that we need to continue to attract and retain students and faculty of color and other diverse populations, and the college is actively working on a number of grants to support that effort. Our dean, Marla De Jong, PhD, RN, CCNS, FAAN, has initiated discussions with BIPOC (Black, Indigenous, and People of Color) faculty to better understand the issues and make recommendations.
Quit Talking, Start Doing
Even though I think Utah has a long way to go to become an anti-racist state, I am proud of the EDI efforts the University of Utah and U of U Health are working toward. That is why I have chosen to spend my career here—I want to teach and encourage the U to continue to strengthen its commitment to racial equity on our campus, as well as in our community. I believe the university can be a leader and model for other institutions to follow.
But we can't sit back and assume someone else is going to do the work! It is up to each of us to do our part. As the flagship university for Utah, we must create a community that is inclusive of our students, staff, faculty, and all others affiliated with the university. Let's make the U a great place to work, to learn, to heal, and to be ourselves!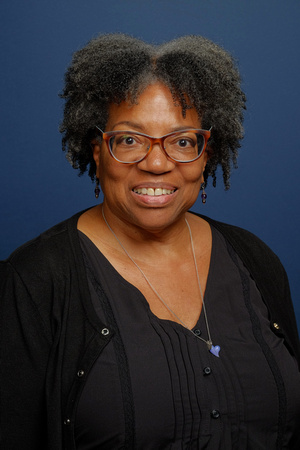 Valerie Flattes, PhD
Valerie Flattes is an assistant professor at the University of Utah College of Nursing and an adult nurse practitioner. Flattes serves on the Health Sciences Anti-Racism Commission as the chair of the Faculty Retention Subcommittee. She has a strong commitment to community engagement and has served as a member or officer with several community organizations. She received a PhD at the University of Utah Hartford Center of Geriatric Nursing Excellence.
DON'T MISS OUT. GOOD NOTES delivers to your inbox.