COVID-19 Weekly Update, April 27, 2021
Click here for Spanish translation recording.
Transcript of Dr. Good's COVID-19 Weekly Update, April 27, 2021
Hello, I'm Michael Good, CEO of University of Utah Health presenting the COVID-19 update for April 27, 2021. Trends nationally after an increasing period of time, an increasing number of new cases. It's hard to call it a wave, but this increase now has reversed trends and we are seeing fewer and fewer new cases of coronavirus at the national level. The deaths from coronavirus at the national level also remain stable. Not increasing, but also not decreasing further from the current levels. Here in the State of Utah, we've had this prolonged period of new cases hovering at or even just under, on average, 400 a day. A few days, it'll be a little higher, a few days, a little lower, but again, plateaued at around 400. Very pleased to see this sustained decrease in deaths from coronavirus in our state. And for the last week or so, hovering around one, two, or three on average deaths from coronavirus in our state.
So with that number of cases at just at or under 400, we've also stabilized out a flattening curve, if you will, on the number of current coronavirus infections in our state: 8,400 or about one out of 400 Utahns with a current active coronavirus infection. That's down quite a bit from the one in 50 that we saw at the peak of the pandemic in our state, with this stable number of cases, one would expect a reproductive number of one. And indeed, that's what we've seen for well over a week now with our active cases, right on a one, meaning that each person who has a coronavirus infection on average transmits it to one other individual. So the number of new cases stay steady, neither increasing, but on the other hand, not decreasing. And we'd really, again, although much lower cases, much lower deaths than at earlier points in this pandemic, we'd sure like to see that come down further.
Orange line is individuals in hospitals with COVID. There is a slight climb in this curve. As you can see, our health systems throughout the state are able to manage this number of COVID patients quite within their usual capabilities. So not too much an alarm, but we do note a drifting up in the number of Utahns in the hospital. And, in fact, ever so slightly drift up in the number in the ICU as well. Fortunately, the number of patients admitted to the hospital is stable, if not declining. I'm sorry. The number admitted to the hospital is stable or even declining slightly when you look at seven-day averages. So stable from a hospitalization standpoint, potentially with a little bit of drift up here during the past week.
Same story with positivity, the two methods of the number of positive tests, whether you look at individual people or total tests. The overall trend continues to be down in both cases, but there are these little tails over the last few days that we'll want to keep an eye on. Very pleased with the situation here at the University of Utah. We've actually had several days now where we've had no new reported cases of coronavirus. In fact, our seven-day average is one, and you can see we're getting awfully close to the end of the semester now. And really compared to last semester, almost one third. One third, as many coronavirus cases this past semester, as we saw during the fall semester.
At University Hospital, we continue to see a declining numbers of COVID patients admitted. So the blue line is the 14-day summation of patients admitted with COVID. We've actually been pretty stable here for a period of time, with about one to four patients being admitted on a daily basis. On the right, you see our census, the number of COVID patients in our hospital, and it's pretty much been bouncing around this 12 to 15 range.
The red bars are the patients that are in the ICU. And you can see in recent days, we've had more patients in the ICU than on the medical ward. Again, overall about 12 to 15 patients in University Hospital with COVID-19. Here's the real important chart. Our state, our state department of health, our health systems, many partners coming together to vaccinate Utahns to coronavirus. And you can see by age group, the 80 and up, 70 to 79, 60 to 69, all 80 percent or more of those individuals are now vaccinated with progress being made in the fifties, the forties, the thirties, and the teens, as you can see.
In fact, if you look at those eligible for vaccination. And that's anyone 16 years of age and older, 54 percent have received at least one dose of a vaccine. So our state is doing a good job, but in recent days and the last week or so, we have seen a decline in the demand for vaccination. So I'll close this weekly update with a variety of resources for you to look at. If you have not been vaccinated, I can tell you from being in the hospital and talking with our care teams, the vaccinations are highly, highly effective. In fact, I was in the hospital earlier this week. And of the eight patients that were in our ICU, none of them had received a coronavirus vaccine.
So we really are seeing those that are getting COVID-19 at this point, with rare, rare exception, are the individuals who have not been vaccinated. At healthcare.utah.edu/coronavirus/vaccine, please look at this website where you'll find all these different resources. There's videos. There's tables and charts comparing the different vaccines. I know there's been a lot of media and news attention to particularly the Johnson & Johnson vaccine over the past week or so. As you have probably heard or read, the vaccine is now again being recommended. It was paused because of reports of extremely rare blood clotting concerns. Out of 7 million doses of the J&J vaccine that had been given in the United States, seven cases were reported of rare, severe, but a treatable type of blood clot that developed usually within two weeks of vaccination.
This has been reviewed and assessed. And the risk of getting this very rare blood clotting disorder compared to the risk of getting COVID-19 and having a hospitalization, potentially an ICU or even worse, death, is higher. And so while there is a potential reaction to the J&J, it is a very effective vaccine and should be considered. Its advantage is that it is administered as a single dose, which is particularly helpful for individuals who are scheduling a follow-up or second visit might be problematic. I can tell you several members of my family have had the Johnson & Johnson vaccine and have done just fine. And are very pleased now that they're able to travel and able to do other things that I certainly would be worried about if they had not been vaccinated.
So we're pleased to see the Johnson & Johnson vaccine, again, available. And as we close today's COVID-19 update, please do consider vaccination and use these resources to help answer your questions. We'll continue to come back every two weeks until this pandemic is over. For now, stay safe, please consider vaccination, and we'll see you soon.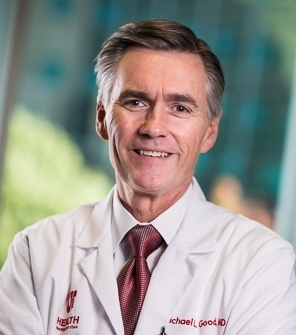 Michael Good, MD
Michael Good is CEO of University of Utah Health, Dean of the University of Utah School of Medicine, and A. Lorris Betz Senior Vice President for Health Sciences. A professor of anesthesiology, Good joined U of U Health after more than three decades of teaching, innovation, and leadership at the University of Florida, where he served as dean of the College of Medicine for 10 years.
DON'T MISS OUT. GOOD NOTES delivers to your inbox.