COVID-19 Weekly Update, April 13, 2021
Click here for Spanish translation recording.
Transcript of Dr. Good's COVID-19 Weekly Update, April 13, 2021
Hello, I'm Michael Good, CEO of University of Utah Health presenting the COVID 19 update for April 13, 2021. And since our update two weeks ago, here in Utah, things have remained relatively stable, though that cannot be said for the nation as a whole. We are seeing new cases in the United States begin to increase again, as you can see here with the blue line showing the seven-day average, and it's now back above 70,000 new cases a day, here in the United States, of coronavirus. The death rate from coronavirus continues to decline. This is obviously a good sign, and a trend we hope will continue.
As I mentioned here in Utah, things are stable or even continuing to drift down ever so slightly. We're now down just below 400 new cases a day. And as you can see, have been very stable for the last two weeks. The overall death rate also continues to decline with only one, two, three, sometimes four deaths a day. All deaths are tragic, but much lower than during the early part of the year, having over 20 deaths a day. So positive trends here in the state of Utah continue in terms of new cases and deaths from coronavirus. We're down now with only under 9,000 active infections, which equates to about one out of 360 Utahns with an active infection. And you can see that we're getting back to a kind of the levels that we were seeing in the latter part of the summer, early fall, with about 9,000 active infections in Utah, and continuing to decline. With that stabilization, this all correlates; our reproductive number now is hovering right around one. And when you have a stable amount of virus transmission, that 400 new cases a day being pretty stable, you would expect a reproductive number of one, and that's indeed what we see.
The great reduction in daily cases was during this period here that I'm crosshatching, when our reproductive number was well below one. And as you can see, it's kind of drifted up. So we've got a stable situation. We'd obviously like to see further declines, and that's going to be achieved with continuing the vaccine program that's been rolled out throughout the state, as well as continued masking and distancing, especially for those that are unvaccinated, but also for those that are vaccinated, until we can get the vast majority of our population with a coronavirus vaccine. More about that in just a minute.
Continuing this trend of stability over the last couple of weeks, our hospitalizations have now kind of leveled out; about 140, in that range. The number of COVID patients in an ICU continues to drift down a little bit, as do the daily admissions for coronavirus. So stable or continued declining trends when it comes to hospitalizations.
Probably the one chart, the one metric from coronavirus, that's not in this plateau phase, we do see slight upticks in the positivity rate over, just the last few days, both for the people-over-people method, as well as the test-over-test method. And had been fairly stable or declining. Going to have to keep an eye on that in the coming weeks, just to make sure we don't have a reversing trend when it comes to new cases. Exceptionally low, almost no coronavirus on the University of Utah campus. We're now below two people a day out of our 62,000 member campus reporting a coronavirus infection. Our semester's not quite done, but really a third of the coronavirus cases this spring semester compared to fall. Really appreciate the efforts of our students, our staff, and our faculty, all the things that have been done from testing, to the sanitation protocols, to getting vaccinated and so on. Very low isolation and quarantine for those that have contacts and so on. Really something our campus should be quite proud of.
Similar trends here at the University of Utah Hospital. The blue line is the same summation of admissions, and you can see now that most days we're having somewhere between one and four patients admitted to our hospital with COVID-19. As you recall, we were up here one day back in the latter part of last year, peaked with over 20 individuals being admitted to the hospital. With lower admissions, those on the hospital ward and in the ICU continue to decline. And as you can see, actually at this point, most of the coronavirus patients are on the medical ward, not in the ICU. We do tend to see younger individuals in the hospital now, and fewer older individuals. And as you'll recall, the state has done just a phenomenal job, getting older individuals vaccinated. Look at this, the 70 to 79 year old group in Utah, now over 90 percent vaccinated, the over 80 group over 80 percent vaccinated and so on.
And now with all adults over the age of 16 being eligible for vaccination, we're seeing those trend lines come up very nicely. Over 42 percent of those that are eligible for a vaccination, having received at least a one dose. Recall that about 30 percent of our state are children or youngsters under the age of 18, and so, depending on how the statistics are reported in the national comparisons and so on, that is a factor with such a large percentage of our population not yet being eligible for a vaccine, but more in the coming weeks on that.
Breaking news earlier today, you probably saw that the CDC and the FDA have recommended a pause in the use of the Johnson & Johnson COVID-19 vaccine. It relates to blood clotting and other adverse side effects. I want to emphasize that the vaccine has shown and continues to show, to be highly effective in preventing COVID-19. So the vaccine is having the intended effects when it comes to developing an immune response, so that a vaccinated individual with a J&J vaccine does not develop COVID-19. There have been approximately six severe adverse reactions related to blood-clotting reaction. Six out of seven million doses administered nationwide. We have not seen that complication, or that side effect here at the University of Utah, but we are following the CDC and the FDA recommendations. And they're going to act on this; they're convening their panel tomorrow to look into this and to address it. In the meantime, following the national guidelines, so those who have had the vaccine in the past three weeks, so if you had the J&J vaccine prior to three weeks ago, this does not need to concern you, but those that have had it in the last three weeks and then develop any of these symptoms: severe headache, abdominal pain, leg pain, or shortness of breath should contact their healthcare provider and review this situation.
So more to follow on this. This all happened earlier today, and again, our practices are remaining consistent with the CDC and the FDA. So again, the state of Utah in a good situation with declining numbers of new cases, declining deaths in virtually all this statistics such as hospitalization and so on, that we follow. Declining or stable, with the exception of that positivity rate, as I mentioned. Again, we continue to wear face masks until everyone who has had the opportunity to receive a COVID-19 vaccine has had the opportunity. We still can achieve an even lower level of this virus in our community by continuing to practice these public health measures. We'll keep an eye on both the local, state, and national scene when it comes to COVID-19, and be back with you in two weeks with a routine update, or sooner, should our situation here in Utah and at the University of Utah change. Stay safe, be well, thank you.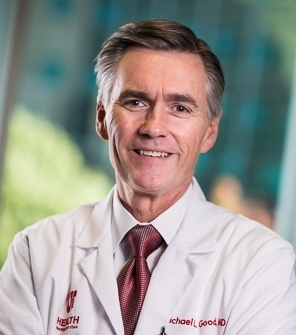 Michael Good, MD
Michael Good is CEO of University of Utah Health, Dean of the University of Utah School of Medicine, and A. Lorris Betz Senior Vice President for Health Sciences. A professor of anesthesiology, Good joined U of U Health after more than three decades of teaching, innovation, and leadership at the University of Florida, where he served as dean of the College of Medicine for 10 years.
DON'T MISS OUT. GOOD NOTES delivers to your inbox.