COVID-19 Weekly Update, March 23, 2021
Click here for Spanish translation recording.
Transcript of Dr. Good's COVID-19 Weekly Update, March 23, 2021
Hello, I'm Michael Good, CEO of University of Utah Health presenting the COVID-19 update for March 23, 2021. And our theme for today's report is stable. Low levels of COVID, particularly here in our state, but not continuing to decline as we've seen over the last couple of months. So we start with our national chart and we see that the number of new COVID cases each day had this period of decline, but now is leveling off here over the last couple of weeks. Fortunately, very pleased to see deaths from coronavirus reported each day, this does continue to decline.
Here in the state of Utah, again, a period of decline. But as you can see that curve is starting to flatten, starting to level off. We still see decline in the daily deaths from coronavirus, whether we look at the data at the national level or from our own Utah Department of Health. So declining deaths, lowering new cases each day, but at a slower rate, it's leveling off. We'll see that in a number of our trends and statistics.
Here we see now we're down to one in around 10,000, I'm sorry, 10,000 Utahans with a current coronavirus infection. That's one in over 300. Remember at one point we had as many as one in 50, at one point 2 percent of our population had an active coronavirus infection. So again, declining, but as you can see, starting to level out just a little bit here over the last week or so.
This chart shows the hospitalization trends, and we see that we're down around 180 Utahns in hospital with COVID. Somewhere around 60 or so in ICU beds and declining admissions each day. Again, this trend though, this particular line, the number of new admissions each day to a Utah hospital for patients with COVID has leveled off.
Positive tests, so-called positivity, which we track by both people over people where duplicate tests on the same individual are removed, and then tests over tests where all tests are counted both in the numerator and the denominator. Just a really substantial drop in positivity by both methods over the last really couple of months. But again, a suggestion of leveling off here in both the people over people and you can clearly see the leveling off here in the positivity, the test over test method.
Obviously, we're at a much better place, a much lower transmission and presence of this virus in our community. But not seeing it decline as much here in the last week or two. This is our report from Dr. Zhang and Dr. Samore of our reproductive number, a real-time reproduction number, and you can see that it is inching back toward one. It's still below one here up in the inset, you can see it's still below, but inching back toward one. That means that we're seeing just a little bit more transmission than we were, each person that has a coronavirus infection is spreading it to fewer than one person, but they're spreading it a little bit more than they were last week. So, we'll want to watch this closely.
Continue with very low levels of coronavirus on our University of Utah campus, on a seven-day average only about two people out of our 62,000 campus community members reporting a coronavirus infection over the last week. We're down under 10 patients at University of Utah hospital with a coronavirus. We have around eight or nine patients with active infections and five or six who have recovered from their infection, but are still in the hospital with complications from the infection.
Again, you can see at one point we had a nearly 80 patients in the hospital and down here now under 10, you see that in the trends. Right now, we have very few patients in the ICU, very pleased to see that most of the patients in the hospital are on the medical ward and not in the ICU.
For the last week or so, we've seen three or four for admissions each day for coronavirus. And we're seeing fewer and fewer of our admissions in the older age groups, the 80 and above, 70 and above, 60 and above as those are the groups that had the greatest percentage of that age group being vaccinated. The vaccinations appear to be really working in preventing this disease, preventing the hospitalizations, and preventing the deaths from infection with coronavirus.
This is the dashboard from our State Department of Health with vaccines administered one dose, fully vaccinated, total vaccines. You can see now that we're peaking here at around over 20,000 vaccines being administered each day. A lot of day-to-day variability, but on the trend line, really a combined effort of many individuals, the state, our State Department of Health, our health systems, other partners throughout the state. The state's doing a really good job getting vaccines to our citizens just as quick as we can.
Here's that trend I was mentioning with over 80 percent of those over 80 now having been vaccinated. Almost 90 percent of those in the 70 to 79 age range, here are the 60 to 69 where vaccines started back here in mid-February. Now over 60 percent of the 60 to 69 year olds. You can see here, as the age groups become eligible for vaccine, the percentage of those in that age group that are vaccinated quickly take off and rise. This week, we're moving to 16 and older being eligible for vaccination. So we actually think these remaining three age groups will also see an uptick here in the coming weeks.
There is this website, www.coronavirus.utah.gov, there's the coronavirus www.vaccinefinder.org, or our U of U Health MyChart for those of you that have a MyChart. These are places you can find information about who's eligible for a vaccine. Again, that's now 16 and older. Then you can also find the sites and on many of these you can actually book your appointments. So, beginning here this week, it'll be 16 and older. We've already moved through these groups and you can see now, by different measures, we're approximately 18 percent of our population now being fully vaccinated. Here's those same numbers off the other dashboard about administered fully vaccinated and partially vaccinated.
And so the last thing I'll close with, great progress on vaccination, great progress on reducing those hospitalized and dying from coronavirus. But although the statewide mandate for masking is being relaxed in early April, in health care settings we do plan to continue masking. We continue that one, we need to be especially cautious in healthcare settings. We wear masks in the operating room even when there's not a coronavirus pandemic, because there are infectious diseases that can be transmitted and we want to protect patients and those who have their immune system challenged by whatever health problem they're dealing with.
So, we want to be extra safe in the healthcare setting. We still, as I showed you today, really reduced the level of virus transmission but it is still there. We still have moderate levels of transmission and that leveling off that hopefully we can get that to continue to decline. We're not yet at population, so-called, "population immunity" which many people say is somewhere in the 70 percent range. We're closing in on 20, maybe another 20 percent or so of our population that's had a coronavirus infection and may have some natural immunity, but clearly not to 70 yet.
We're now with increasing precision tracking the variants, a number of variants. And we do see, I think we're over 150 cases now of the UK variant here in the state of Utah. Fortunately, the vaccine does appear to provide antibodies, to provide immunity that does work against the UK variant, but it does spread more easily. And again, we want to be careful in the healthcare setting about exposing vulnerable patients to the virus.
So for now in healthcare settings, and I believe we'll see this in our other healthcare partners throughout the state, we will continue to wear a mask and we'll also continue the masks at the University of Utah through this spring semester. Hopefully, with a mask as this vaccination program continues, we can be together more. I think wearing masks allows us to resume some activities together that we haven't been able to do. But that mask is still an important barrier to slowing down a virus transmission.
As always, in addition to the masks, the hand washing and the physical distancing and staying away, staying home when we're sick. I know we're tired of hearing that foursome of public health measures, but as we roll out the vaccine, we're getting very, very close to turning a corner on this virus and on this pandemic. That's our coronavirus, COVID-19 update. We'll be back next week. In the meantime, stay safe, stay well. Thank you for all coming together to help us beat the pandemic here in the state of Utah.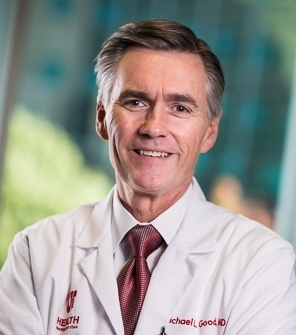 Michael Good, MD
Michael Good is CEO of University of Utah Health, Dean of the University of Utah School of Medicine, and A. Lorris Betz Senior Vice President for Health Sciences. A professor of anesthesiology, Good joined U of U Health after more than three decades of teaching, innovation, and leadership at the University of Florida, where he served as dean of the College of Medicine for 10 years.
DON'T MISS OUT. GOOD NOTES delivers to your inbox.