Big Benchmark in Medical Education
It is a day as eagerly anticipated as commencement, when they get a diploma and formally take the title "Doctor." It is Match Day for fourth-year students at the University of Utah School of Medicine (SOM). Every year, on the third Friday in March, future physicians find out where they will live and work while completing a residency—in-depth training within a specific branch of medicine. 
Traditionally, on a brisk spring morning, the entire class of medical students gathers with family and friends amid streamers and balloons in the Tower Room at Rice-Eccles Stadium. On a table are several dozen sealed envelopes, each one with the name of a senior. After a countdown, and much anticipation, envelopes are simultaneously ripped open. Hugs, high-fives, and hearty congratulations follow. This year, because of pandemic safety measures, at 10 am on Friday, March 19, students clicked open emails, wherever they happened to be. Later, on campus, small groups of classmates, socially distant and wearing facemasks, got together to share their news and announce their match on camera streaming live to the SOM website. 
Measure of Our Success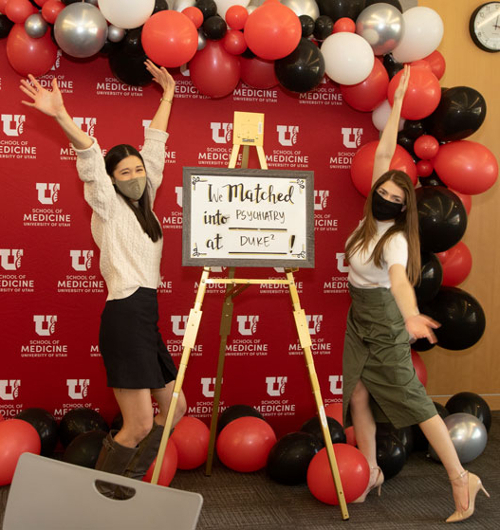 At University of Utah Health, Match Day is also significant because it serves as a measure of how well we are preparing providers to deliver high-quality health care. This year, 93.8 percent of our fourth-year students matched on March 19, making this the eighth consecutive year the U of U School of Medicine has been at or above the national average. The 113 graduates in our class of 2021 will enroll in 102 residency programs in 33 states.
U of U Health takes pride in the fact that we can match our students anywhere in the country in exemplary and competitive programs. Physicians from our medical school have an enviable national reputation for serving as top-quality residents and are highly sought after. These students completed their final year-and-a-half of medical school during a pandemic, and we are proud of their resiliency and focus. The demanding process of applying for a residency was challenging due to coronavirus restrictions.  
The Match Process
The application and interview process for residencies begins in October and goes through February. Typically, seniors travel to visit programs around the country that might be "a good fit." While looking at medical centers, students have face-to-face interviews with faculty and administrators, they meet other residents, tour facilities, and explore living spaces in a new community. Most of these visits last two days.
This year, residency interviews were reduced to virtual meetings, making it more challenging to find "a good fit" for both the student and the medical program. Some seniors had as many as six hours of Zoom interviews for just one program and without the benfit of meeting people face-to-face, including fellow residents and staff they might work with. They didn't have a chance to explore areas where they may be living for a few years. The programs had to deliver their attributes through a computer screen, and the students had the additional pressure of making an impression the same way. There was one positive aspect to travel restrictions—class of 2021 students saved some money on those visits. But that is most likely an expense they would have gladly incurred.
Resilient. That's the word that comes to mind when I reflect on this year's seniors. While the COVID-19 crisis meant our students had to be adaptable, that character trait has served them well since their medical education began—and will continue to aid them in their journey. Match Day marks the end of an arduous four-year process to secure a residency but also marks the culmination of coursework, research, service, and volunteering. The Class of 2021 should celebrate this significant benchmark and be ready for the long road that is about to begin.  
Adam Stevenson, MD
Adam Stevenson is a professor of pediatrics and associate dean of Student Affairs for the University of Utah School of Medicine. In this role, he is dedicated to the personal and professional development of medical students from matriculation to residency match and beyond. Known for his ability to meet each student where they are, Stevenson has been honored with multiple teaching and mentoring awards. His research interests include professional identity formation, therapeutic and diagnostic interventions in pediatric urinary tract infections, and medical errors involving communication.
DON'T MISS OUT. GOOD NOTES delivers to your inbox.