Empowering Others to Live a Healthy Life
As the new—and only the second—person to serve as Chief Wellness Officer (CWO) for University of Utah Health, I feel a tremendous sense of responsibility to the faculty, staff, and learners I work with, as well as our patients and community members. They all play a vital role in making U of U Health a place where people want to work, learn, train, and heal.
Keeping Wellness in the Forefront
I am honored to be chosen to follow in the footsteps of Robin Marcus, PhD, U of U Health's inaugural Chief Wellness Officers. During her six years as CWO—one of the nation's first—Robin helped create the Resiliency Center, the L.S. Skaggs Patient Wellness Center, and U of U Health's Diabetes Prevention & Management Program. She also helped establish the Larry H. and Gail Miller Family Foundation's Driving Out Diabetes Initiative, which includes the Wellness Bus, a widely used community health screening and education outreach program focused on underserved communities in the Salt Lake Valley.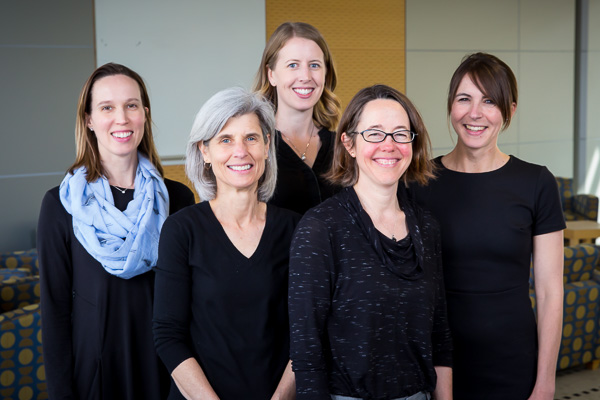 As Associate Dean for Clinical Affairs in the College of Health and faculty in the Department of Physical Therapy and Athletic Training, Robin is continuing her teaching and research efforts. I am delighted that she is continuing to serve on the leadership team for the Driving Out Diabetes Initiative.
My goal is to continue to grow these important programs and services that drive the health and well-being of our health care teams—including those that focus on education, research, and clinical services—our patients, and the community we serve. The University of Utah is unique in combining the well-being of our university community with the well-being of our patients and community through the creation of this chief wellness officer role. While these groups have different stressors on their health and well-being, the approach is the same, requiring a deep understanding of what leads a person or group to struggle and empowering change.
Wellness in Today's Health Care Environment 
Some think of "wellness" as a trendy term for, at worst, fad diets and other questionable recommendations­—or, at best, a superficial focus on exercise and good nutrition. But the ideas of prevention as essential to health and healing have been present throughout human history. In medicine, we often narrow our focus to identifying and treating diseases and symptoms. Of course, this is essential, but it is best combined with a foundation of prevention.
In the United States, we fragment medical treatments away from public health and prevention approaches. We reward procedure-heavy practices and frequently do not cover expenses related to prevention. We focus on the person who shows up at the office but rarely give populations the attention they need.
Additionally, we reward practices that minimize patient conversation and discussion, limiting human relationships that build well-being for both patients and health care providers. We compress the work required to provide high-quality care to its absolute maximum, creating substantial stress on top of an already high-stress job that includes hours of work after scheduled hours. When we take a step back and consider not only the reduction of disease but the pursuit of optimal health for those we care for as well as ourselves, it becomes clear that a different approach is needed.
When the target shifts to optimal health and healing, we see the need for an entirely different health care system: one that considers the social determinants of health with lifestyle as the foundation and focuses on relationship-based, whole-person care. In this construct, we see a scenario where communities work together to consider optimizing health. We see success in education, research, and clinical care. We see that work in health care is still hard but consistently rewarding and fulfilling. We have a lot of work to do, but the rewards will be equally high.
Clinical Integration of Wellness
After finishing my medical degree and residency at the University of Michigan, I joined the faculty, where I served as Director of Integrative Family (IM) Medicine and IM fellowship director. My training in IM helped me understand the importance of looking at the whole person, striving to understand how complicated symptoms and diseases interact with one another and the person's health habits. It also helped me understand how to use a variety of evidence-based complementary approaches to achieve health and healing. It connected to my longstanding interest in nutrition, which began growing up on an organic farm in rural Indiana.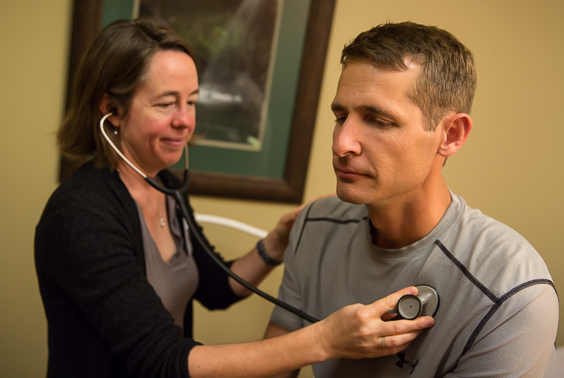 In 2015, I was recruited by University of Utah Health to serve with Robin Marcus in Wellness and Integrative Health, to teach in the School of Medicine, and to provide clinical care as a part of the Department of Family and Preventive Medicine. All three of these roles served the mission of helping people lead healthier lives through a focus on preventive medicine, nutrition, and professional well-being. Shortly after arriving, the CWO's office was asked to more formally consider burnout and professional well-being. We started by designing the Wellness Champions program to help departments consider the specific needs of their groups.
Later that year, our team designed and implemented the Resiliency Center with Ellen Morrow, MD, and I as founding directors. Other early projects included building an interdisciplinary Culinary Medicine Program, designing a Wellness Pathway of Excellence in the School of Medicine, and implementing an embedded primary care health coaching pilot. The health coaching program, a part of the Driving Out Diabetes Initiative, was the first of our wellness service lines to be embedded in the clinical space.
Beginning my new role as Chief Wellness Officer in November 2020, I have been considering more deeply how the diverse Wellness and Integrative Health programs fit together and strengthen one another. I want to continue to focus on clinical integration of wellness programming in an effort to strengthen primary and secondary prevention services.
Shifting our focus to prevention and populations will also let us move from a problem-focused approach to one that looks at complex systems. We can look at how the disease symptoms fit into the context of the whole person—their life, family, and community—and how their physical, mental, and spiritual health actually impact their disease. When this happens, we can help the patient move towards optimal, long-term health.
Success Through Collaboration
As a Chief Wellness Officer, collaboration is essential to the success of championing wellness/well-being across our campus and community. Collaboration enables us to avoid duplication and silos of services while leveraging the expertise of many others. Specifically, I see Wellness collaborating closely with the College of Health, university medical staff, hospital leadership, patient experience and quality, primary care integration, and organizational development, as well as external partners such as the Utah Department of Health, Utah Food Bank, and University Neighborhood Partners.
A Culture of Wellness
My ultimate goal as CWO is to consider how we pursue the quadruple aim of health care.  Currently, we do that by promoting the professional fulfillment of our faculty and staff, along with a well-being service line promoting the personal wellness of our patients, employees, trainees, and community. Through professional fulfillment, we will provide outstanding patient care, nationally recognized education and research, and expand diversity in our health care teams. Through outreach and programing, we will promote physical and mental well-being among populations, including our patients, employees, and communities. As medicine moves towards preventive approaches and value-based care, U of U Health is poised to continue as a national leader in shaping the future of health care.
Amy Locke, MD, FAAFP
As chief wellness officer for University of Utah Health, Amy Locke leads the design, direction, and implementation of wellness/well-being programs across campus and the community in an effort to empower patients, faculty, staff, and learners to live a healthy life. In addition to her role as chief wellness officer, she is executive director of the U of U Health Resiliency Center, professor in the Department of Family and Preventive Medicine and adjunct professor of Nutrition and Integrative Physiology in the College of Health. Locke is Vice Chair of the Board of Directors for the Academic Consortium for Integrative Medicine and Health.
DON'T MISS OUT. GOOD NOTES delivers to your inbox.