COVID-19 Weekly Update, February 23, 2021
Click here for Spanish translation recording.
Transcript of Dr. Good's COVID-19 Weekly Update, February 23, 2021
Hello, I'm Michael Good, CEO of University of Utah Health, presenting our weekly COVID-19 update. Today is February 23, 2021, and our positive trends, meaning declining levels of coronavirus cases, hospitalizations, and deaths, continue both at the national, state and local level. So we see here the trend in new cases with a sustained downward trend, fewer new cases each day in our country and fewer deaths are reported each day as well.
Those same trends are evident here in the state of Utah, with continuing decline in the number of new cases each day. The blue line is the 7-day average, again, with sustained week-over-week declines in the number of new cases, and, similarly, declining number of deaths each day, both in the chart maintained in the national offices, and also here by our Utah Department of Health. Positive trends continue. Really, we've seen quite a reduction in the number of Utahns who have an active coronavirus infection, a lot of things coming together, including wider availability of testing, and of course, vaccines, and continued, and perhaps improved, masking, physical distancing, hand-washing, and so on.
Remember, at one point we were approaching 1 in 50 Utahns with an active coronavirus case. Now that's up over 150. We're showing about, just a little over 20,000 Utahns with an active coronavirus infection, down from over 60,000. At the national level, we're actually starting to see a plateau and then a leveling off of the number of Americans with an active coronavirus infection dipping below 10 million. So still with 10 million Americans with a coronavirus infection, or 9 million more correctly, but starting to see that curve plateau and begin to diminish as well. But certainly very pleased to see the diminished number, the declining number, of Utahns with an active coronavirus infection.
That reduction in the number of cases comes from the fact that through those things I mentioned, the distancing, the masking, the increasing vaccination program, physical distancing, all these things, we've had now a several week sustaining of the reproductive number of the virus being below one, somewhere around 0.8, maybe a little bit less in the more recent periods. And with that reproductive number below one, that means that each individual who has the coronavirus spreads it to less than one other person. And so the result is declining numbers of individuals with coronavirus.
Fewer individuals with coronavirus now sustained for several weeks. We've seen a drastic reduction in the number of individuals in Utah hospitals with COVID-19. We had gotten up to almost 600 individuals in the hospital, and now we're down well under 300, with only 100 of those in ICUs, and the daily admission rate now down at, or even slightly under, 50 new admissions to Utah hospitals each day with COVID-19. The chart also shows the number of positive tests, with gray bars being PCR or molecular tests, and yellow bars being antigen tests. But again, the number of new cases each day, declining rapidly, and that means fewer Utahns in hospitals with COVID-19.
Same trends here at University of Utah Hospital. Blue line showing a 14-day summation of admissions to our hospital with COVID-19. As you can see down here, we've now actually had several days where we've had two, three, or four admissions where, back several months ago, up over 15, 18, 20 admissions in a day. Similarly, our census at the University of Utah Hospital has declined, although some plateauing of the ICUs while the ward cases continue to decline. So overall hospital trend is down, but with a little bit more severe patients in the hospital in the ICU, on a relative basis, a few less on the medical ward. But again, that encouraging trend of fewer patients in the hospital with COVID-19.
We're seeing exceptionally low levels of coronavirus on the University of Utah campus. I want to continue to thank our students and our faculty and our staff for all that they've done to come together to keep the coronavirus low on our campus. The daily reported cases, when smoothed out with a 7-day rolling average, last semester was between 20 and 30. We came down to 10. Currently we're in single digits, and in fact, we've had a few days now where we've had no new coronavirus cases reported among the 62,000 students, faculty, staff, the community that makes up the University of Utah. So again, low virus, in fact, here, this is our semester counter, and you can see we're not we're not quite to the halfway point of the semester, but you can see the comparative number for the fall semester. We did well in the fall. We're doing even better in the spring.
The state is doing a great job collectively increasing the vaccination program. So for several weeks now, as you've seen on the bottom, more and more vaccines have been delivered to Utahns each day. We did see the supply disruptions associated with bad weather has resulted in fewer deliveries to our state, but we believe as those storms have now passed and supply chains and transportation systems are coming back online, hopefully we can continue to get more vaccine into our state.
Again, encouraging developments on the vaccine front, with a focus in our state on those individuals most effected with severe forms of COVID-19, those in those age groups most associated with death. Our vaccination programs have resulted in now approaching 70 percent of those over 80 have been vaccinated and a little over 70 percent of those 70 to 79. So a coordinated effort starting with our governor and state legislature, rolled out through our county health departments and increasingly with members of our health care community and delivery system becoming involved. I'll show you more on that in a minute, but this is really good news as these were the age groups where the coronavirus infection is just so devastating.
As I mentioned, first, the good news on the left side of this chart, Utah is currently number seven in the country in related to efficiency of distribution of vaccine. Meaning when we get vaccine in this state, we get it, as they say, into the arms of our citizens quickly, and by the comparative national statistics, our efficiency is just under 93 percent. Those doses are administered quickly after they arrive in the state. Unfortunately, we're at the other end of the, "What percentage of our population has been vaccinated?" This comparative chart from the CDC via NPR, and you can see we're in the lower quartile group so far. So, what does this mean? We need to get more vaccine in our state, because when we get it in our state, we deliver it highly efficiently. More than most other states.
We're again, combining forces, and really a shout out to our governor and to our state health department. We are, in the next week or so, expecting a large step off from just under 100,000 doses arriving in our state each week, to approaching 200,000. And so the county health departments have been able to handle the majority of the vaccination program while we're in this under 100,000 doses per week, and as I've showed you, they've just done a great job getting the right people vaccinated quickly. But as we now hopefully double the amount of vaccine coming into our state, the community nursing service, CNS, which has been involved since the start of the vaccination program, but now Intermountain Healthcare, NAMI, but most importantly, University of Utah Health, will join the vaccination initiative.
At University of Utah Health, we will focus on those individuals who receive part of their health care in our health system. They are registered patients in our health system. We've actually already started sending out invitations for vaccination with critically high-risk groups, such as those who have received solid organ transplants and part of their therapy is immunosuppression so that they don't reject their transplant, but that puts them at significant risk for a COVID-19 episode. So we're starting with a couple of patient groups, but again, those that get their healthcare in University of Utah Health, as we work in lockstep with the state through the priority groups, are now beginning to vaccinate patients. Again, we're just about to ramp up this, so we're just getting things set up. But in the coming days and weeks, you'll hear more, and particularly those of you who are in the high-risk or high age groups, you'll be getting an invitation to receive a vaccination at University of Utah Health.
So, as I mentioned, the state is a little bit ahead of us. They are now vaccinating individuals over the age of 65. I'm familiar with several colleagues and individuals who are in that over 65 age group, who called last week and were able to get into their county health department so that is an avenue that's available to the groups 65 and above, and again University of Utah Health will be entering the vaccination program, re-entering the vaccination program, here in the coming weeks to help continue to work with the state, to get our citizens vaccinated. Currently, right now, we're looking at about nine percent of the state that's been vaccinated, and obviously like that 70-year-old and up and 80-year-old and up groups that I showed, where now over 70 percent of the population in those age groups have been vaccinated.
So again, positive trends as it relates to declining coronavirus infections, especially low here at the University of Utah. I, again, thank our students, faculty, and staff for all they've done to make these results possible. And while the vaccination program rolls out, please continue to exercise good public health measures. You've probably seen in the news over the last few days, the normal, or the typical, respiratory viruses that often cause children to be hospitalized this time of year are at amazingly low levels. Respiratory syncytial virus and other viruses such as that are at extremely low levels. So these public health measures have not only helped us combat coronavirus, but they've really elevated the health, particularly of our children, and the struggles they often have with seasonal flu.
Please keep these up. We'll be back next week with an update on where we are in the state of Utah and here at the University of Utah, as it comes to fighting the coronavirus pandemic. Clearly, we all are in this together, but beginning to see really optimistic results of our combined efforts combating this pandemic together. Have a good week.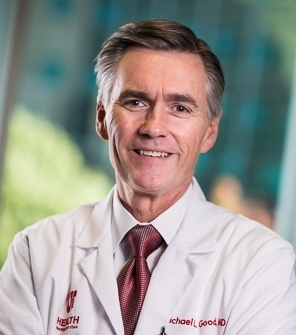 Michael Good, MD
Michael Good is CEO of University of Utah Health, Dean of the University of Utah School of Medicine, and A. Lorris Betz Senior Vice President for Health Sciences. A professor of anesthesiology, Good joined U of U Health after more than three decades of teaching, innovation, and leadership at the University of Florida, where he served as dean of the College of Medicine for 10 years.
DON'T MISS OUT. GOOD NOTES delivers to your inbox.