COVID-19 Weekly Update, February 16, 2021
Click here for Spanish translation recording.
Transcript of Dr. Good's COVID-19 Weekly Update, February 16, 2021
I'm Michael Good, CEO of University of Utah Health, presenting the COVID-19 update for February 16. We're pleased to report continued declines in cases, hospitalizations, and deaths from coronavirus, both in our state and also our nation. Here on the national charts, you can see the continued decline in the number of new coronavirus cases reported each day and, as we anticipated and began to see last week, the decline in the number of deaths each day in our country from coronavirus, although still very high now with a sustained downward trend for the last week to two weeks. Similarly, here in the state of Utah, continued decline in the number of new cases each day reported from coronavirus. Now, finally, we've been watching for several weeks now and we appear to have a sustained decline in the number of deaths each day from coronavirus. Still, many individuals around a seven-day rolling average of around 10 Utahns on average dying each day from coronavirus. But that's down from the 15, 16 we saw several weeks ago. Again, we show also the data as reported to our State Health Department, which also shows this decline.
The decline means we have fewer people with active coronavirus infections. We were up to where 63, 64, 65,000 Utahns at one point had an active infection. Now, that number is less than half, just a little over 25,000 active coronavirus infections with a really sustained decline over several weeks. Remember, at one point on these updates, we were looking at about one in 50 Utahns having an active coronavirus infection. That's now up over one out of 125 Utahns with an active infection. Although our state decline has been evident for many weeks now, the national active infections has leveled off. It appears to be starting to decline at the national level as well, but clearly we've done a very good job in Utah through a variety of measures and are pleased to see this lowering of the transmission, fewer individuals with active coronavirus infections.
Our real-time reproductive number puts this all together: Remember, anything below one means that each individual with coronavirus spreads it to fewer than one other person. So, we start to see the slow and in fact, so anything below one means the virus is slowing and you can see we've been below one for several weeks now, and then with an even further decline here in the last few days. So, we'll continue to watch the reproductive number, but it's part of this increasing picture, fewer coronavirus cases and fewer spread of the virus. For those of us in healthcare, the decline in cases has been particularly welcome. We were getting actually, some day, this is a seven-day average, but on a few days, at one point, we had gotten over 600 Utahns in a hospital with coronavirus. That seven-day average now closing in on 300. So, a substantial drop in those hospitalized with coronavirus.
Those as shown on the red line in the intensive care unit, that has leveled off, but it's come down from over 200 to just a little bit above 100, and continuing decline in the number of shown in the dark blue line, the number of Utahns admitted each day continues to come down a little bit. The bars, gray bars are PCR tests, yellow bars, yellow, orange bars are antigen tests, and the number of positive cases determined by each methodology. You can see a nice decline, and it hopefully, as you've been reading, now tracking both so-called people over people, with each individual, the duplicates de-duplicated so that each individual is only counted once in the state system. But also now with the significantly increased testing, so-called tests over tests. So, we'll have to start more carefully tracking the positivity rate. Both numbers tell us different things. The people over people approach tends to have a little bit higher positivity number. The test over test number is lower because as a state, we're doing so much more testing of asymptomatic individuals.
But again, all of the trends and particularly the hospitalization trends declining are a welcome aspect of where we are in this pandemic. Similarly, at the University of Utah Hospital, although with some ups and downs over the holidays, the sustained trend, certainly in this calendar year has been down, with a suggestion of leveling off here. Remember the three lines, total individuals in the hospital. Light gray is in the medical ward. Red is in the intensive care unit. So, still substantially declined, decreased, but perhaps leveling off here at the current levels. We see continued decline in the number of individuals admitted to the hospital each day. So, you can see here, we actually had a day with only one individual, but on most days, somewhere around four or five individuals, four, five or six individuals being admitted to University Hospital. Virus remains low on the University of Utah campus, as we are in our spring semester, with around 10 new individuals or 10 individuals being identified as having a coronavirus infection each day.
This is down from, remember in the fall semester, this ran between 20 and 30 for much of the semester. So, we're seeing, certainly we're still seeing some virus present on our campus, but at a very low, and not increasing from this low level. The vaccination program in our state continues to move forward. You can see this chart from the University, from the Utah Department of Health, our State Department of Health, with over now 600,000 vaccines administered. You can see the breakdown between those that have received one dose and those that have received two. So, the vaccination program is moving forward and we are, again, really appreciate the Governor, the legislature, and the various task force. We are anticipating additional vaccine arriving in our state and the Governor and the Department of Health are working with, not only the County Health Departments, but also with healthcare professionals throughout the state.
So, just as soon as we begin to see the increased shipments of vaccine into the state, we can get them distributed, and to our citizens, so they may become vaccinated. The rollout, I believe, has been correctly focused on those in the higher decades of life, particularly those over 80 and those over 70. This chart shows the percent of the Utah population that has been vaccinated by age group. Remember, the first phase involved healthcare professionals, and so you saw a distribution across many age groups as the healthcare personnel were vaccinated. But then in recent weeks, the focus has been on particularly those over 70 and over 80. As you can see now, both age groups approaching 60 percent vaccination rates. Again, all of this hopes to accelerate in the coming weeks as additional vaccine supplies arrive in our state. I'll close this week's update by again, emphasizing the importance of masking, physical distancing, hand-washing.
Although we're very pleased with the vaccination program and it is obviously helping out substantially, the reductions in the virus and the reductions in virus transmission that we're seeing cannot be explained solely by the 10 percent or so of the population that's been vaccinated, and experts feel that it is the increased masking and continued physical distancing that is helping to promote this much, much lower level and spread of virus. So, we show the, some of the recent discussion about quality of masking, including the potential for double masking. For example, when the quality of the mask may not be as high as one would like. So, as the CDC's pointed out, correct and consistent mask use is a critical step that is helping us slow down this virus. Masks work best when one wears them, but not all masks provide the same level of protection. When choosing a mask, look at how well it fits, how well it seals around the edges and how well it filters air.
Particularly, that correlates with how many layers it has. There's a lot of discussion and approaches. Some of our experts have compiled their information at the website shown on your screen, which I would refer you to. Again, double masking has an important role, particularly if one is using masking materials or cloth, so on, you can get added benefit with the second layer. So, I would encourage you to read up on masks as this will continue to be an important part of our fight against coronavirus in the coming months. So, again, a positive report, continuing declines in cases, hospitalizations, and deaths. Let's all continue to work together to help these trends continue here in the state of Utah. Have a good week.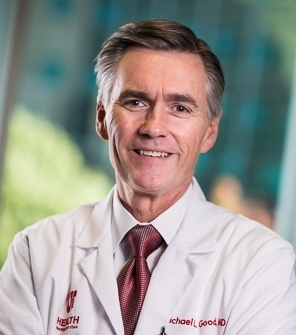 Michael Good, MD
Michael Good is CEO of University of Utah Health, Dean of the University of Utah School of Medicine, and A. Lorris Betz Senior Vice President for Health Sciences. A professor of anesthesiology, Good joined U of U Health after more than three decades of teaching, innovation, and leadership at the University of Florida, where he served as dean of the College of Medicine for 10 years.
DON'T MISS OUT. GOOD NOTES delivers to your inbox.