School of Medicine: 2020 Year in Review
---
It goes without saying that 2020 has been a challenging year. The continuing pandemic, confronting anti-black systemic racism, and a contentious season of election politics grabbed the attention of the world and our nation. These stressors were compounded locally by a significant earthquake in March, a hurricane-force windstorm that swept the state in September, and wildfires that threatened our campus in October. But in the worst of times, we often see the best of people. That has certainly been the case at University of Utah Health.
When yet another new challenge presented itself, faculty, staff, and students all emerged heroic. So it is no surprise then that despite the difficulties of 2020, our University of Utah people and teams accomplished so much. Each of our health science deans has compiled a "2020 Year in Review" reflecting ongoing efforts at improving patient care, enhancing student education, advancing research, and serving our local communities. They say hindsight is 2020, and in hindsight, we have accomplished a great deal in this most unusual year. I know you will enjoy reading these 2020 Year In Reviews.
Michael Good, MD
---
2020 was a year of adjusting to a new—and hopefully temporary—normal. In spite of a global pandemic and everything else we faced, the University of Utah School of Medicine (SOM) thrived. Here are just a few of the SOM's many accomplishments for the year.
Education
The SOM's continues to be recognized nationally for educational excellence nationally. Our programs and students and lead the way in innovation to better serve Utah's health education needs. 
U.S. News & World Report

rankings:

5 Physician Assistant Program
20 Primary Care
38 Medical Research
24 Medical specialty, Obstetrics & Gynecology
In March, 129 of our medical students matched into residencies at 113 programs in 24 different specialties across 33 states. 
Though delayed until September, Competition Night for the 10th annual Bench-to-Bedside competition included 29 multi-disciplinary student teams from across the Utah. This year's grand prize winner, Optima Recovery, created a hot and cold physical therapy device and was awarded $25,000 to continue product development.
SOM Admissions
With more than 3800 applications for the entering class of Fall 2020, we successfully enrolled one of our most diverse classes of 125 students. Along with hosting an online-only Second Look Day, the admissions team kept the ship aright: 
Successfully coordinated 500+ virtual interviews and 35 virtual admissions committee meetings through the recruiting cycle. 
Maintained positive relationships with hundreds of medical students, faculty, and community volunteers who participate in our interview and admissions process.
Revamped Admissions web content and rolled out new policies for this admissions cycle, including application changes, residency changes, and COVID-19 updates.
Implemented a new residency policy that gives nearly all of our students a chance at reduced tuition in coming years. 
RUUTE and Regional Affairs
Even through a worldwide pandemic in 2020 and a move to virtual learning, the Rural & Underserved Utah Training Experience (RUUTE) adapted and found ways to keep medical students and communities learning and engaged.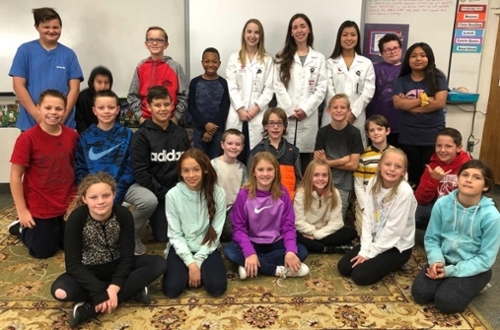 Medical students in the RUUTE program completed 81 rural/underserved clinical rotations across the state of Utah. Rotations included critical care, family medicine, general surgery, OB/GYN and pediatrics. 
Rural/underserved clinical sites spanned the entire state of Utah from Logan to St. George to Moab, Moroni, Beaver, and many more in-between. 
Created four online elective courses for medical students, resulting in the participation of more than 55 students. Courses covered topics such as rural and refugee health, medicine and sustainability, telemedicine, and medical research.
Funded 17 students at a virtual summer research experience where they explored topics spanning a variety of health issues.
Concurrent with medical student initiatives, we created four new community pipeline programs to educate and engage K–12 and undergraduate students in the health sciences.
In 2021, RUUTE looks forward to creating additional research opportunities for undergraduate students, starting a rural medical education podcast, and welcoming its first cohort of RUUTE scholars!
 
In Regional Affairs, the SOM continues to enjoy great relationships with stakeholders in Idaho, Montana, and Wyoming as evidenced by more students hailing from those great states—10 from Idaho, 3 from Montana and 3 from Wyoming. Outreach and clinical rotations continued throughout the region, and we developed an Idaho Psychiatry Rural Residency track—the first one in the SOM—into which two of our MS4s matched.
Equity, Diversity, and Inclusion
2020 saw the total revamping of our Office of Health Equity, Diversity, and Inclusion (OHEDI). That included hiring a new associate dean, Paloma F. Cariello, MD, MPH, and creating a new position for an assistant dean, Line Kemeyou, MD. Both of these capable faculty leaders began their new roles in 2020 and set right to work. Here are a few highlights:
Student Affairs
Students have always been the true heart of the SOM. Last year was no different:
RealMD, a student-developed professional identity program, continued to flourish and gain national attention.
Our Academic Success and Wellness programs assisted students in their learning and problem-solving skills and in contributing to emotional and physical well-being.
Though dramatically impacted by COVID-19 travel restrictions, the Office of Student Affairs continued coordinating visiting student requests.
The Office of Global Health Education received HRSA funding to develop learning programs in underserved communities.
Curriculum
In 2020, the SOM continued developing its Exceptional Learning Experience (ELE), a strategic transformation process that emphasizes community, relationships, and professionalism in the learning culture:
The Pathways in Health Care Program exposes students to domains in health care at the systems level. With five unique pathways, it represents a great opportunity for students to find mentorship and projects in areas representing the key strengths of our school.
Participation in the Core Educator Program saw additional growth and increased scholarship with 360 presentations and 120 publications.
2020 Core Educator Awards:

Good Citizen Award: Mary Steinmann, MD
Engagement Award: Nate Hatton, MD
Innovation & Creativity Award: Andy Smith, MD 
Leadership Award: Karly Pippitt, MD
Scholarship Award: Gretchen Case, PhD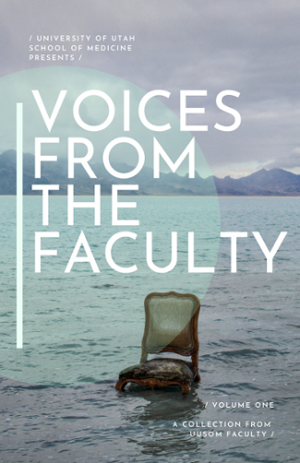 Faculty Awards & Recognition 
2020 revealed amazing flexibility and creativity from faculty and staff as they shifted to online teaching and learning. As a result, they developed technological expertise that has augmented their courses in ways that will continue after in-person classes resume. 
Last year also marked the publication of our first Voices from the Faculty volume, a collection of 55-word stories and poems by SOM faculty. It's worth checking out. So are these recognitions our faculty received last year:
Paloma Cariello, MD, received the Early Career Educator Award in Health Sciences

Susan Garstang, MD,

was appointed to the American Board of PM&R Board of Directors
Brigitte Smith, MD, received the ASE Linnea Hauge Promising Scholar of the Year award
Karly Pippitt, MD, received the Leonard W. Jarcho, MD, Distinguished Teaching Award
Karen Moser, MD, was honored among the American Society of Clinical Pathology's "40 under 40" list
RealMD Coach of the Year: Jennifer Cotton, MD
RealMD Mentor of the Year: John Ryan, MD
The Academy of Health Science Educators welcomed four new fellows: Jana Wold, MD; Katie Lappe, MD; Sarah Cipriano, MD, MPH, MS; Sonja Raaum, MD, FACP
Looking Ahead
Traditionally, the US Postal Service gets the credit for showing up no matter the conditions. But in 2020, that honor also belongs to the students, staff, and faculty of the SOM. We look forward to taking what we learned last year and applying it to an even brighter future as we head in to 2021 and beyond.

Wayne Samuelson, MD
Wayne Samuelson is vice dean for education in the School of Medicine, professor of medicine (clinical), and medical director of the Pulmonary Rehabilitation Program. His clinical interests focus on the management of asthma patients. Samuelson received BA (sociology) and MD degrees from the University of Utah and completed a residency in internal medicine and a fellowship in pulmonary disease at Duke University Medical Center.
DON'T MISS OUT. GOOD NOTES delivers to your inbox.