All-Star Team Coordinates Vaccine Rollout
In November, as the Food and Drug Administration (FDA) was evaluating a promising mRNA vaccine for COVID-19, University of Utah Health assembled a committee to plan for receipt, storage, administration, reporting, and follow-up of a vaccine.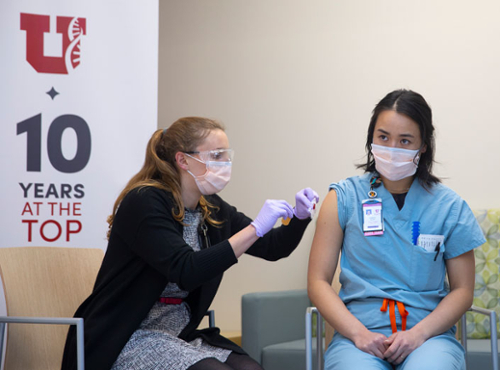 The FDA granted emergency authorization for a vaccine developed by Pfizer and BioNTech on December 11, 2020. Four days later, at 11:20 am on December 15, Christy Mulder, RN, who works in the medical intensive care unit (MICU) at University of Utah Health, was the first frontline health care worker in the state of Utah to be vaccinated. As I write this, nearly 15,000 health care workers in our system have received their first dose of the vaccine. That accounts for about 75 percent of the university's health care personnel. It is important to note that week by week, U of U Health is hiring additional employees, many of whom are connected to COVID-19 care.     
Long before our Vaccine Planning Committee was officially formed, its dedicated members, along with hundreds of co-workers, were deeply involved in getting ready for the moment when a vaccine would arrive—an important tool to help stop the pandemic. The committee is led by Jeanmarie Mayer, MD, Associate Chief Medical Epidemiologist, who played a key role in our original COVID-19 response. The goal of the Vaccine Planning Committee:
To safely, efficiently, and equitably administer the COVID-19 vaccine to a majority of our health care staff, providers, and patients as supplies allow.
Mayer has successfully organized and directed planning and rollout of our vaccination program. Her task means development of an entirely new process for our health system. It means adapting to all the unpredictable changes that come along. It means constant pivoting on vaccine procedures, priorities, education, and communications. When, for example, we do not know when a new shipment will arrive, or how many doses will be in each shipment, it makes a massive scheduling operation difficult.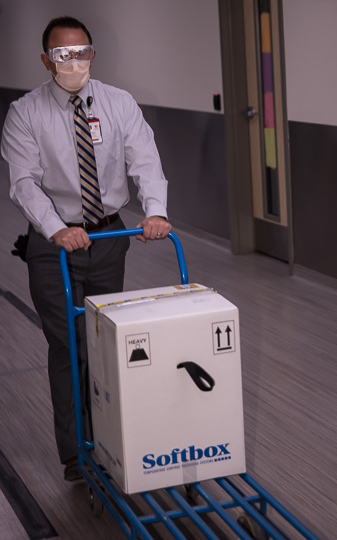 Mayer has the right associates in place to handle whatever happens because she is an experienced health professional and strategist; she always thinks three or four steps ahead. She expertly gets the right people together, understanding everyone's role and guiding these teams so that everything clicks into place. Mayer is adept at getting important information to everyone who needs it and has a fine sense of how to communicate internally and externally. Maybe the most distinguishing of her work habits: She can work with anyone and everyone.
Key Team Members
Andy Pavia, MD, is an epidemiologist and professor of pediatrics. Pavia lends his expertise in helping our vaccination team and our community understand vaccines so they can make good decisions. He is a nationally recognized expert on disease incidence, distribution, and control. He explains how a vaccine was made, its effectiveness and safety, and possible side effects. Pavia also offers guidance on how virus variants may or may not impact vaccine efficacy, along with other topics such as why people need two doses of this vaccine.
Kavish Choudhary, PharmD, MS, assistant professor in the Department of Pharmacotherapy, has overseen product logistics of the vaccine, which includes electronic inventory by our pharmacy that is documented in Epic. Choudhary builds strict time frames that can be adhered to. The Pfizer vaccine is logistically complicated because, per CDC guidelines, after we receive it, it must be kept in a -70º freezer in our secured central pharmacy for two hours prior to being removed, thawed, and prepared to administer to patients. There is a limited time to get it injected or else it must be thrown out. Choudhary calculates how many doses to thaw per day while planning for the next day.
The trio of Choudhary, Colleen Connelly, MSN, senior nursing director for critical care, and Russell Findlay, PharmD, MS, adjunct instructor of pharmacotherapy, are our boots on the ground for logistics and implementation. They set up and run the clinic, including staffing, adjusting the clinic when we are low on vaccine, or finding people to take open appointments when there are gaps to fill. Connelly, Findlay, and Choudhary work the clinic an average of 10 hours a day.
Travis Gregory, BS, director of clinical information systems, has overseen our information technology, including how we document on Epic and other reporting, how to notify staff, and how we send reminders about vaccine appointments.  
Kim Pacheco, BS, director of patient access, has been instrumental in setting up and managing vaccine scheduling, clinic check in, and registration. Scheduling is especially complicated when it is not easy to plan in advance.
Richard Orlandi, MD, chief medical officer of ambulatory health, is preparing for the possibility of patient vaccinations, developing our procedure for identifying high-risk patients across our health care system.  As  Mayer has organized and directed the first phase of our vaccine rollout, Orlandi is preparing U of U Health for a possible second phase.     
Volunteers Step Forward 
All of those I've named are leading their own teams. The entire COVID-19 vaccine enterprise comprises more than 100 people. Add to that number hundreds of enthusiastic volunteers who stepped forward to help. Without them, the vaccine rollout may have looked very different. The first call for volunteers was filled within hours.
Kavish Choudhary worked with many nursing leaders to bring in both nursing volunteers and medical assistants as volunteers in the clinics. Many of our pharmacy and nursing students have been available to help. While we offered to pay all pharmacy volunteers, many declined compensation, saying they were just grateful for the opportunity to help and make a difference.
Colleen Connelly organized many EMTs to help. Dustin Banks, MBA, director of support services, and his teams organized extra security and parking. While Facilities has not been actively involved in immunizing patients, it would not have happened without the support to quickly get space ready for the clinic. Facilities staff will be critical as we start thinking about other locations that need to be set up if we begin vaccinating patients.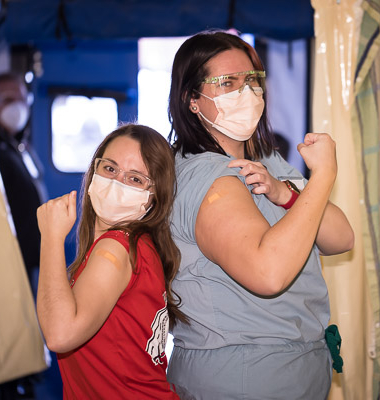 We recognize many of our volunteers have been released from their regular schedules to be able to help.  So a huge amount of thanks is due to managers and supervisors who have made this happen. Thanks to all the staff who worked compressed schedules and longer hours to make their valuable contribution.
As we watch the COVID-19 vaccine rollout around the country, we appreciate how well it is done here. We have vaccinated many, quickly. Added to the logistical challenge is an emotional challenge: the delicate process of putting people in a certain order. Not one wants to hear they will not be first.  
Our overriding principal is serving our community. Once we complete designated waves of inoculation for health care personnel and if the state needs our help, we will proceed as fast as possible to vaccinate patients. The indefatigable level of service at University of Utah Health continues as we strive to get a potentially lifesaving shot in the arm to as many people as possible.
---
Watch the U of U Health COVID-19 Vaccine Employee Clinic at work, including a behind-the-scenes look at operations, from arrival to post-vaccination. Credit: Cliff Feddema, Drug Information Service, U of U Health.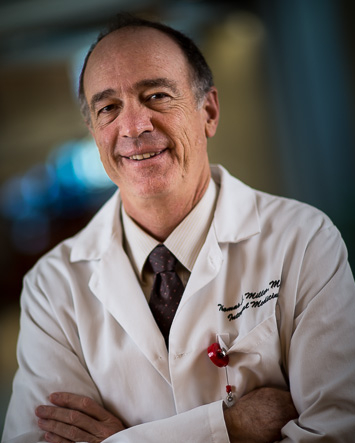 Thomas Miller, MD
Thomas Miller, MD, is the chief medical officer for U of U Health and the executive director for the ambulatory clinics. As a member of the University Hospital administrative team, Miller is responsible for overseeing all executive and clinical medical issues of the hospital. He is also a practicing and teaching clinician in the Division of General Medicine, Department of Medicine at the University of Utah School of Medicine. He received an MD from George Washington University in Washington, DC. He completed residency and chief residency in internal medicine at University of Utah.
DON'T MISS OUT. GOOD NOTES delivers to your inbox.