Toward a Racially Just Workplace
How do we build and maintain a racially just, equitable, and inclusive work environment? It's a question that affects everyone: students, staff, and faculty on a university campus. This was the topic for a lively discussion at the latest Friday Forum on Racism in Higher Education. Friday Forums, launched by Equity, Diversity, and Inclusion (EDI) in collaboration with diversity offices across campus, including Health Sciences and the School of Medicine Office of Health Equity, Diversity, and Inclusion, is a new model that brings together all campus members to learn and grow together.
As a leader and partner in EDI, I took the opportunity to facilitate one of five breakout discussions that followed the forum's centerpiece panel, which included prominent leaders from around the country. Moderated by Jeff Herring, Chief Human Resources Officer at the U, participants included Laurita Thomas, president of American Research Universities Human Resources Institute; Damon Tweedy, MD, professor of psychiatry at Duke University School of Medicine and author of Black Man in a White Coat: A Doctor's Reflections on Race and Medicine; and Kathy Obear, president of the Center for and Change and author of But I'm Not Racist: Tools for Well-Meaning Whites. 
Creating a Sense of Belonging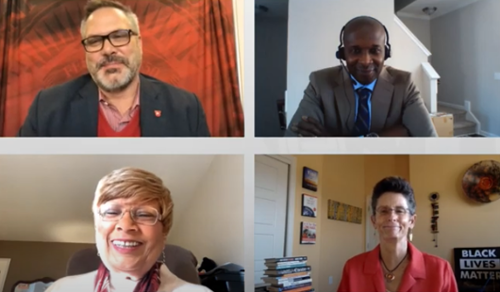 Panelists agreed that an essential element for a racially just workplace requires the basic human need: a sense of belonging. They provided valuable insight on fostering that sense of inclusiveness based on their experience. In particular, I was pleased that, along with an exchange of ideas on improving campus policies, promotions, and recruitment, the group talked about aspects of university life that are often overlooked: everyday issues that build barriers in the workplace. These seemingly small, incidental matters may not be prominent issues for many academics but negatively impact the workplace environment and should be addressed.
Thomas pointed out that even routine matters such as choice of clothes and hairstyles create barriers. Sometimes colleagues are quick to judge those of us who wear dreadlocks and kente cloth. These may not be intentional, but they are hurtful microaggressions that alienate valued co-workers and thereby lead to a failure to connect. When someone hears personal choices are "inappropriate" or "distracting," it can cause embarrassment or defensiveness and keep people from doing their best work.  
Similarly, places of healing try to keep their facilities as quiet as possible. Signs admonishing "Silence" or "Quiet" are posted. But they can be an affront to people from backgrounds who are more open and emotive. The signs aren't only requesting people talk in hushed tones, Thomas says, "but to avoid any expressive behavior. In many cultures, it's important not to be silent." The clear message of these actions to communities of color is "you and your behavior are not welcome here." It's important to be intentional in our welcoming and community belonging.
Hearing music while cleaning a room can make you more productive and let you do your job with more joy, Thomas believes. "If nothing else, allow earbuds to be worn, which are usually against regulations for housekeeping and other support staff," she said. Tweedy pointed out that he has worked in medical centers where, at first, there was resistance to permitting music—even music not heard. "But now music is utilized and has had a positive effect," he said. "It's very practical."
Think of music therapy. The human healing process involving love and laughter. Respect that other people have different backgrounds that shape who they are. Institutions set cultural norms for the workplace that exclude underrepresented workers. That is exactly the opposite of being inclusive, and we need people to feel they belong right where they are. Instead, institutions can value cultural norms outside of the White culture to ensure belonging.
Unwritten Cultural Rules 
Obear pointed out that rules on staying quiet are larger than keeping noise out of hallways. "Cultural rules are embedded into our unconscious beliefs," she said. "So many unwritten rules are aimed at avoiding disagreements—making sure everything stays impersonal so that everyone is comfortable. On higher education campuses, we need the message: 'Jump in. Have an extroverted debate. Play the devil's advocate. All that is so much better than no emotion allowed.'"
That is currently not practiced at our institution or others. Echoing that, Thomas said disagreements reflect a different point of view and should be discussed. "Stay open-minded," she said. "Be ready to learn from those you disagree with. Talking about differences is a great way to build trust and stronger teams."     
Tweedy talked about wasted "mental emotional capital" that people of color use when they worry about how they are perceived on a daily basis in a workplace or classroom. Because students and faculty of color are very under-represented in higher education, especially in academic medical centers, "So much mental energy goes into assessing the situation and wondering 'What do they think of me?'" Tweedy says. But members of a university community must learn to move beyond that, he maintains. "If you're more worried about how you are perceived rather than how you can contribute, then you are not doing your best. And you are not contributing to a thriving workplace. In an organization that's truly thriving, everyone must feel as though they can do their best."
Our guests did an excellent job encouraging actionable steps that we can take to increase inclusivity and belonging. Finally, a few recommendations:
Examine our workplace policies to ensure there are not "accidental" cultural exclusions;
Issue reassuring statements and adopt daily behaviors that allow each person to come to work as their authentic self; 
Empower each individual to upstand for those who are not part of the majority culture.
---
All U faculty, staff, and students are encouraged to participate in Friday Forums on Racism in Higher Education and submit breakout session proposals. On Jan. 29, 2021, Friday Forum will address racial healing.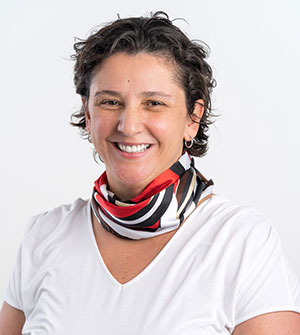 Paloma Cariello, MD, MPH
Paloma Cariello is an associate professor of infectious diseases at the University of Utah School Of Medicine. Her clinical work is focused on prevention, diagnosis, and treatment of transplant-related infections and immunocompromised hosts. In 2020, Cariello was appointed Associate Dean for Health Equity, Diversity, and Inclusion. She embraces diversity as a core value and fundamental priority across the different fields in medicine. Cariello is a strong supporter for female and underrepresented medical students interested in leadership.
DON'T MISS OUT. GOOD NOTES delivers to your inbox.