School of Dentistry: 2020 Year in Review
---
It goes without saying that 2020 has been a challenging year. The continuing pandemic, confronting anti-black systemic racism, and a contentious season of election politics grabbed the attention of the world and our nation. These stressors were compounded locally by a significant earthquake in March, a hurricane-force windstorm that swept the state in September, and wildfires that threatened our campus in October. But in the worst of times, we often see the best of people. That has certainly been the case at University of Utah Health.
When yet another new challenge presented itself, faculty, staff, and students all emerged heroic. So it is no surprise then that despite the difficulties of 2020, our University of Utah people and teams accomplished so much. Each of our health science deans has compiled a "2020 Year in Review" reflecting ongoing efforts at improving patient care, enhancing student education, advancing research, and serving our local communities. They say hindsight is 2020, and in hindsight, we have accomplished a great deal in this most unusual year. I know you will enjoy reading these 2020 Year In Reviews.
Michael Good, MD
---
Despite many challenges created by the COVID-19 pandemic, the University of Utah School of Dentistry (SOD) has remained true to its mission of caring for the underserved across the state of Utah, providing unparalleled dental education, and advancing oral health research.
Caring for Individuals and Communities 
After a two month "emergencies only" hiatus beginning in mid-March 2020 due to COVID-19, the SOD resumed routine patient care in mid-May. Initially, this was limited to low-aerosol procedures with enhanced PPE, serving populations in need. Building on strict adherence to CDC guidelines and with the very welcome support of other U of U Health resources, the SOD added mandatory COVID-19 testing for all patients and providers, regardless of symptoms. Thanks to this testing and an unwavering focus on safety, the SOD led the nation among dental schools in providing clinical care during this time.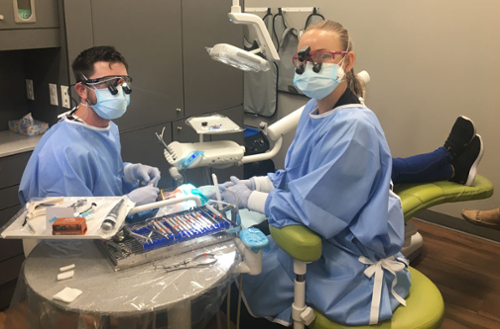 Appointing a chief safety liaison, Jeri Bullock, DDS, was a vital component of this strategy. With her advice and vigilant oversight, the School quickly created safe simulation training environments, also an essential element of the continuing successes described below.
Thanks to a generous donation from the Midmark Corporation, and in collaboration with the Dixie State University Hygiene Program, the SOD built a six-chair clinic to expand its ability to provide comprehensive oral health care for communities in southern Utah. This fall, pre-doctoral students under the supervision of attending dentists began caring for patients in the new space.
In November, the University Board of Trustees approved the SOD assuming operational and management responsibility of two former Utah Department of Health clinics: one in Ogden and another in the Rose Park neighborhood of Salt Lake City. These new facilities will further our core mission to serve the underserved across the state. 
Education
The SOD graduated its fourth class on time in May 2020. With school administrators' support, student leadership successfully advocated for a manikin-based regional board examination in light of the COVID-19 pandemic. They finished with a 100 percent pass rate on national and regional boards and a 100 percent graduation rate. Sixteen members of the class of 2020 matched with esteemed residency programs across the country, specializing in endodontics, orthodontics, pediatric dentistry, and oral and maxillofacial surgery.
In August, the SOD welcomed the class of 2024, its first cohort of 50 students, with more than half identifying as female. Three incoming women were named as National Health Service Corps (NHSC) Scholars. This prestigious and highly competitive national scholarship closely aligns with the School's mission care for underserved communities.
2020 also brought tremendous creativity and innovation among faculty who developed new and unique ways to teach and communicate information remotely. Moving lectures online, increasing flexibility, and experimenting with teaching dentistry and assessing competencies via virtual reality enhanced SOD's capacity to educate, grow, and learn.
Research
In September, the SOD learned that former Dean Rena D'Souza, DDS, PhD, would be appointed Director of the National Institute of Dental and Craniofacial Research. This appointment necessitated Dr. D'Souza relinquishing her professorial position in the dental school. Though a loss for us, it is a significant national and international step forward for our discipline and a singular personal accomplishment for Dr. D'Souza.
Also in September, the U's Board of Trustees approved the appointment of Associate Professor Mark R. Durham as the inaugural holder of the Gordon and Rella Christensen Presidential Endowed Chair at the School of Dentistry. This presidential endowed chair serves a unique role by creating an enduring link between the University of Utah and the Clinicians Report, enabling innovation and collaboration. Clinicians Report is the most internationally recognized and prestigious independent product-testing organization in the dental profession. This connection has already strengthened the SOD's research capabilities, educational effectiveness, and international recognition.
Building on the recent demonstration by a SOD team lead by Vice Dean Glen Hanson, DDS, PhD, of dramatically improved outcomes in substance use disorder patients receiving comprehensive oral care, Associate Dean and Professor Annette Fleckenstein, PhD, was awarded a research grant from the Huntsman Mental Health Institute. Her work studies the effects of comprehensive dental care on mental health outcomes.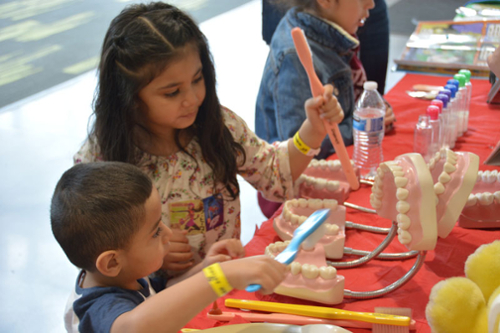 Outreach
During the 2020 legislative session, Utah lawmakers voted to extend dental Medicaid benefits to adults over the age of 65, with the SOD and its network serving as primary providers. The ability to provide care for older qualifying Utahns is a natural extension of the SOD's established Medicaid care groups, including the visually impaired, ability challenged, and those in substance abuse treatment.
By early 2021, the SOD will be caring for patients, educating students, and advancing research in eight clinics from Ogden to Saint George, furthering its capacity to care for communities in need across the state. The SOD is also actively expanding its ability to provide mobile dentistry in rural Utah through two Utah State Primary Care grants: one for the "Helping Hands" program and one for "Community Partnered Mobile Dental Services." This funding, combined with generous philanthropic support, will increase the SOD's capacity to bring comprehensive oral health care to individuals and communities in need in rural Utah.  
With all we've learned and accomplished in 2020, we look forward to building on that momentum in the years to come.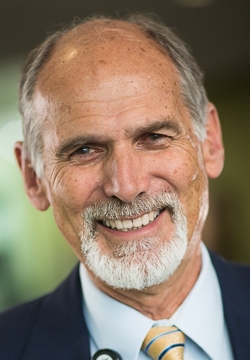 Rory Hume, DDS, PhD
Rory Hume is Dean of the School of Dentistry and Associate Vice President for Academic Affairs for U of U Health. An internationally acclaimed scholar, Hume previously served as dean of the UCLA School of Dentistry and as executive vice-chancellor at UCLA. He was also vice president for health sciences, provost and executive vice president and chief operating officer for the 10-campus University of California system.
DON'T MISS OUT. GOOD NOTES delivers to your inbox.