Leading A New Era In Internal Medicine
When I joined University of Utah Health in July, our state and nation had been battling the deadly coronavirus for four months. Six months later, Utah has seen surges of 3,000-4,000 new COVID-19 cases per day and our hospitals have been stretched to capacity.  
I certainly did not imagine beginning my tenure as Chair of the Department of Internal Medicine under such trying circumstances. However, these first few months on the job have only reaffirmed my decision to come to Utah and participate in meaningful health care transformation.
From Clinician to Reseacher to Administrator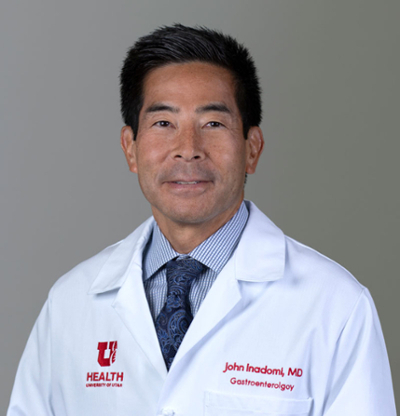 I began my career as a clinician in gastroenterology. Taking care of patients and their families and working with referring physicians would have a profound impact on my later ambitions and inform the kinds of questions I asked as a full-time researcher. At San Francisco General Hospital, I created a National Institutes of Health-funded research program through which we explored ways to maximize patient outcomes with minimal resources. Specifically, we developed ways of reducing colon cancer mortality through screening in underserved populations.
At that time, I was also serving as clinical chief at the San Francisco General Hospital, overseeing the community health network for gastroenterology. This is where I started working in administration and began developing ideas—informed by my experiences and observations as a clinician—about what I would do as a division chief. I later had the opportunity to implement those ideas at the University of Washington School of Medicine (UW) in Seattle as division chief of gastroenterology.
Utah Is the Place
After 10 years at UW, I realized that the kinds of problems I wanted to solve could not be addressed at the division level. For this reason, I started to think about becoming a department chair. I developed mission and vision statements that incorporated my core values spanning clinical care; research; education; community engagement; and equity, diversity, and inclusion. A number of institutions contacted me, and I discovered that the Department of Internal Medicine at the University of Utah was the one place with which I was fully aligned and whose leadership embraced every aspect of my vision. 
Three things in particular influenced my decision to come to Utah. First, patient-centered, high-quality care and accountability are hard-wired into the culture at U of U Health. Many other institutions aspire to achieve the health care quality track record we have here—11 straight years in the nation's top 10. Second, the talented people in our health system are never satisfied with the latest achievement. There is a sincere desire to constantly do and aspire to achieve more. And third, innovation, collaboration, collegiality are really prized at U of U Health. It is not a top-down structure; ideas can grow from within and percolate up.
U of U Health was the only place where my vision for internal medicine was in perfect alignment with the broader mission and goals of the academic health center. Working with internal medicine faculty, staff, and trainees, I am excited to see this vision for the department realized as we develop a strategic plan for our future.
Future Vision and Priorities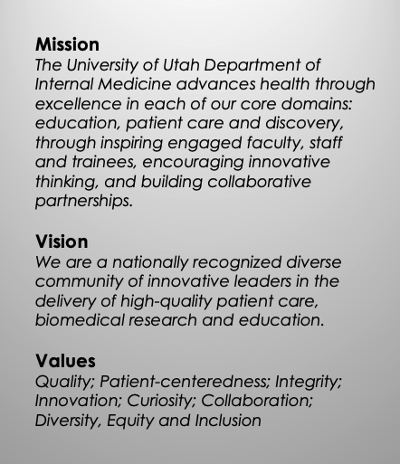 Clinical Care: We are transitioning from a traditional model of health care to a data-driven population health model. While maintaining our top-ranked quality standards, I look forward to seeing us develop as an integrated health care system with an enhanced ability to care for larger populations. We will also expand efforts to combined clinical care with health services research and implementation science to optimize patient experience and outcomes, as well as disseminate our findings to the larger health care community.
Research: Creating an environment that fosters and supports curiosity is essential to our success. In addition to recruiting and retaining innovative, collaborative scientists who span basic, translational, clinical, and health services research, I want to develop a system where everyone who is interested in discovery can participate. As we focus our efforts on providing the tools needed to answer relevant questions and work to remove barriers, our research portfolio will grow.
I would like to see us achieve a national ranking among the top public institutions for federal funding. The faculty of the Department of Internal Medicine have already achieved great success, procurring an additional $11 million in annual extramural research awards in the first five months of the 2020-2021 academic year. 
Education: We are looking at how to collaboratively change the way we educate our students, residents, and fellows. Just as we need to break down silos between clinical departments to transform health care, we also need to break down silos between academic departments to transform education. We need to develop new models of education focused on collaborative, cross-disciplinary methods of training students. Personalized mentorship and training and department collaboration are also critical for the future success of our trainees. 
Equity, Diversity, and Inclusion: While supporting campuswide equity, diversity, and inclusion efforts, we are developing department-focused initiatives. We will improve racial and ethnic diversity and foster an inclusive faculty. In particular, we are focused on achieving gender equity. We recently launched a task force charged with addressing barriers and providing solutions for the academic advancement of women.
Establishing Trust and Balance
As chair of internal medicine, I view myself as a steward of the department. My approach to leadership is rooted in trust. To be an effective leader, it is up to me to develop trust with the faculty. As I try to embody and display integrity, fairness, consistency, and transparency in every decision I make for the department, I hope people will understand they can trust me and my ability to effectively lead. 
My goal is to create the optimal environment in which faculty, staff, and trainees can achieve their career goals. Moreover, I encourage faculty to make sure their life outside of work is in excellent shape. When life outside of work is optimized, we can be more productive at work. As we continue navigating the unique challenges associated with the coronavirus pandemic, being supportive of life outside of work is essential to ensuring professional success.
I am honored to be at U of U Health. I appreciate the great work that interim chair David Bjorkman, MD, MSPH, SM, accomplished over the last two years and look forward to building on the department's strong foundation in the years ahead. 
John Inadomi, MD
John Inadomi is chair of the Department of Internal Medicine at the University of Utah School of Medicine. With 12 divisions, it is the largest department at University of Utah Health. Prior to joining U of U Health, Inadomi served as professor of medicine and division head of gastroenterology at the University of Washington School of Medicine in Seattle, where he was appointed as the Cyrus E. Rubin Endowed Chair in Medicine.
DON'T MISS OUT. GOOD NOTES delivers to your inbox.