COVID-19 Weekly Update, December 1, 2020
Click here for Spanish translation recording.
Transcript of Dr. Good's COVID-19 Weekly Update, December 1, 2020 
Hello, I'm Michael Good, CEO of University of Utah Health, presenting the COVID-19 update for December 1, 2020. And having just concluded the Thanksgiving weekend, I want to give a shout out to all of our healthcare professionals who are taking care of so many COVID-19 patients. And I want to share with you similar gratitude and thanks from the Senate leadership in our state. We received the letter shown here from Senate President, Stuart Adams, and all the senators from our state government, really thanking you, thanking our healthcare teams for all they are doing to take care of coronavirus patients in our communities. As pointed out in the letter, while many of the practices that help us slow the spread of virus, meaning staying safe and staying away from one another, healthcare professionals have to come together and come together with our patients and our COVID-19 patients to help care for them and help them get through their illness. So we thank our senators for acknowledging the work of our great healthcare teams here at University of Utah Health and at all the health systems throughout our state.
Our trends for the past week are showing some interesting reversals of the tremendous increasing rates of new cases and deaths that we've seen. This first chart is at the national level, and we can see over the last few days this downward inflection both in the number of new cases and in the number of deaths. We see that same reversal of trend, perhaps even a little more dramatic here in Utah with what had been this rising case number and now declining over the last week or so. We have not seen a decline in the death rate. It continues to increase. It's been about two weeks since we've had renewed or increased use of masks and other preventative measures throughout the state. So a hopeful look is that these measures are having an effect with decreasing cases and hopefully, soon, decreasing deaths. On the other hand, this was the period of the holiday weekend with altered numbers of testing and reporting, and so we're just, like all things, going to have to continue to watch this.
But certainly, encouraging to see the numbers of new cases dropping from this particularly high levels of three and 4,000 a day. So the cases leveling off means the number of new infections leveling off. And so we have about one in 50 Utahns currently having an active coronavirus infection. One in 50. It's a pretty high number, but it has stabilized for the past week or so. And perhaps the most encouraging chart in the deck today is the reproductive number, which currently is showing below one. Remember, the reproduction number is for each person with the coronavirus infection, how many others do they infect? And for example, if that number is two who get the infection, each person spreads it to two, those two to four, and so on. When the infection rate, the reproductive number drops below one, that means each individual with an infection is infecting less than one other person. So we'll hope this trend continues. As you can see, it's been many, many months that we've had the reproductive number above one and that's why we've been seeing this really dramatic rise in cases up until the last week or so.
With those up until the last week or so, this rapidly rising death rate from coronavirus in the state of Utah to several days last week on a seven-day rolling average basis, coronavirus deaths became the leading cause of death in the state of Utah, exceeding heart disease and cancer. Fortunately, as you can see by the last few days on this chart, the death rate has come down somewhat on the seven-day average back to this, the third leading cause of death in the state right now. But again, for several days last week, coronavirus deaths were the leading cause of death in the state of Utah. We have seen the rate, the positivity rate, the number of positive cases on a seven day rolling average basis, which had gotten up here into the 23, 22, 23 range spent the better part of a week declining slightly. We do have the point from yesterday, although we'll wait two or three days before we consider these statistics final.
So after more than a week of declining somewhat from 23, 24, down to 21, 22 decline, we do need to see the impact of the holiday weekend and its implications on testing. But again, we at least have stopped this rapid and sustained rise that we have seen for the last few months. Similarly, when we break out that new cases per 100,000 population by the age group, all age groups but one saw a decrease here over the last week or so. You see it in the yellow, the 15 to 25-year-olds, you see it in the 25 to 44-year-olds, 45 to 64-year-olds, all of those charts with decreasing positivity rate over the last week. The 85-year-old group came up, down and now does have a little bit of an up tail for the last couple of days. So certainly one to watch. 65 to 84, one to 14 and zero to one, all with declining positivity rates over approximately the last week. This is the chart that has everything put together.
So over here, the bars, we see the decreasing positive cases per day. The gray bars are the PCR tests. The yellow bars are the point of care antigen tests. But taken together, again, we have a week of a decreasing trend. We'll start at the bottom here. This is the number of coronavirus patients admitted on a daily basis to a Utah hospital. We had gotten close to 100. We've seen a decline in that over the last few days. The ICU trend, the red line, has leveled off, but is still drifting up. And on a seven-day rolling average basis, we now have over 200 Utahns in intensive care throughout the state. And similarly, hospitalization, total hospitalization, has continued to rise, perhaps a little bit of leveling there at the top. As we've said before, everything with coronavirus plays out in phases, with two or three weeks between each phase. So we see a change in the positive number of cases, two or so weeks later, we see the changes in hospitalization and two or three weeks after that, we see the changes in the corresponding death rate.
So hospitalizations still inching up, the number of patients in the hospital, but the cases coming down, certainly something we'll continue to watch in the coming week. A similar trend here at University of Utah Hospital after hitting a peak census several weeks ago of actually around 75. We saw a period of declining census in our hospital for a few days, actually, down below 60. We've returned to the low sixties. We had several days of lower numbers of admissions. And then yesterday, we tied our all-time high having 18 patients with coronavirus or COVID-19 admitted to the hospital. So again, census increasing and then leveling off with a little bit of up and down noise here. But we'll continue to watch. Many are worried that the changing testing and reporting that happened over the holiday weekend will catch up with us here over the next few days. And also, concern about the social mixing, if you will, that happened over the holidays and whether that will allow the virus to start to spread again.
Or whether the increased masking and the increased distancing and other activities or ways of combating the virus that have taken place are finally starting to have an effect on caseload. And hopefully, hospitalization. The University of Utah completed the remaining in-person portions of our fall semester, recall the semester was five weeks in person, two weeks online, only six weeks in person, and then the remaining three weeks online only. So as we have a lower density of individuals and now moving to all online learning for the last three weeks, our seven-day rolling average has come back down from the 30s, back down into the 20s, and many days now with approximately 10 individuals reporting coronavirus infection. We were able to test over 9,000 students in the days prior to Thanksgiving so around 9,000 students tested as they finished up their semester. And we saw about a 1.6 percent positive rate of coronavirus infection. Many of the students were asymptomatic and this 1.6 is pretty consistent with the rate of infection in our communities.
Remember, I said overall in the state, about one in 50 individuals, one in 50, one in 55, have coronavirus infection, that's a little bit under two percent and very similar to the number that we saw in our student body. I, again, thank University of Utah students for all of the things you did over the fall semester that allowed us with a few exceptions to keep our in-person classroom settings intact and in session. And now, we move to remote for the remaining three weeks. You will begin to hear more and more about vaccine distribution. I refer you to the department of health at utah.gov. It has a website that's active showing the anticipated timeline for distribution. We have established a vaccine committee here at the University of Utah Health. It's actually been active for several weeks now. We have four subcommittees working on various aspects of receipt, storage, prioritization, and administration of the vaccine.
We actually, in the next week or two, if all goes well at the federal level, in the next week or two we anticipate receiving a distribution of the vaccine. Several of the early vaccines require a deep freeze, minus 80, minus 90 degree, and we do have those freezers and that capability here at the University of Utah. The early distributions then, which could begin as early as the middle of December, will prioritize healthcare workers. And at University of Utah Health, we will prioritize healthcare workers who are taking care of coronavirus patients, in our COVID ICUs, our COVID medical wards, the emergency department, and other areas. And then again, our vaccine committee is working out a very detailed prioritization for how the vaccine that we receive at the University of Utah Health will be distributed. As you can see, the state plan then, it starts with the hospitals that are taking care of the most coronavirus patients and that does include University of Utah Health.
Then in January, moving to other hospitals and other healthcare settings. In February, focusing on long-term care facilities and other essential workers. And finally in March, moving to high- risk populations, including senior citizens and those in the higher decades of life. And hopefully, by late spring and early summer, to all Utahns. We will also, in addition to the state sites, be posting information about the vaccine distribution on our University of Utah coronavirus website as well. So say stay tuned. I want to emphasize that it is important as we read more about, and quite frankly, get excited about the distributions of the vaccines which are performing well in their clinical trials. Between now and then continue to mask, continue to wash hands frequently, continue to isolate ourselves, maintain our physical distance. We think we're beginning to see, if you will, the beginning of the end of this terrible pandemic. We hope the vaccines, we'll continue to watch the vaccines and the important role they will play.
But until we get this widespread vaccination, which takes us well into late spring, early summer, we need to keep doing the things we've been doing. We've got to continue to get these case counts down and not have coronavirus be the leading cause of death in Utah. So thank you for all you're doing. We'll be back next week with another update. Stay well and stay safe.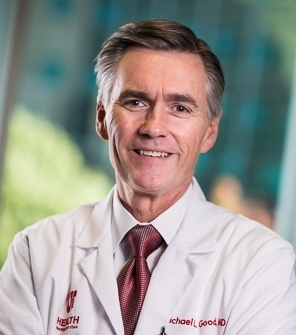 Michael Good, MD
Michael Good is CEO of University of Utah Health, Dean of the University of Utah School of Medicine, and A. Lorris Betz Senior Vice President for Health Sciences. A professor of anesthesiology, Good joined U of U Health after more than three decades of teaching, innovation, and leadership at the University of Florida, where he served as dean of the College of Medicine for 10 years.
DON'T MISS OUT. GOOD NOTES delivers to your inbox.