Benning Society Expands Research Innovation
University of Utah Health has built a national reputation for research and innovation. One of the most prestigious honors awarded to faculty within the School of Medicine is the H.A. and Edna Benning Presidential Endowed Chair. We are pleased to announce the creation of three additional chairs to the H.A. and Edna Benning Medical Society. Through thoughtful and careful stewardship of the Arthur E. Benning trust, sufficient funds have accrued to expand the society from 12 to 15 faculty.
Elite Circle of Researchers
The Benning Society is an elite circle of researchers and physicians within the School of Medicine who demonstrate a strong commitment to our mission—excellence in patient care, education, research, and service—as well as the spirit of collaboration for which U of U Health is known. Over the past 15 years, the Benning Society has been represented by more than 30 esteemed faculty, many of whom are still an important part of our research community today.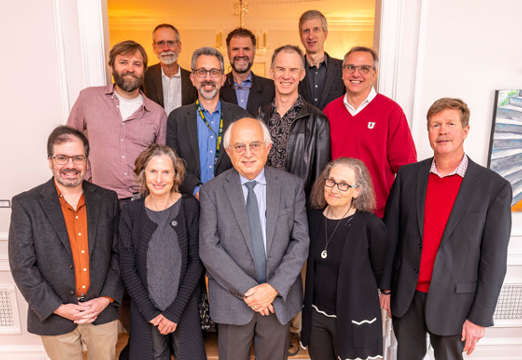 This year was marked by several impressive achievements from members of the Benning Society. Their quest to understand health and disease is shaping how we practice medicine and advance health outcomes here in Utah and throughout the world. Most notably, Nels Elde, PhD, earned a place in the 2020 class of MacArthur Fellows thanks to his research of host-pathogen interactions. Chris Hill, DPhil, "one of the leading structural biochemists of his generation," was elected a member of the American Academy of Arts and Sciences. And Matthew Samore, MD, whose infectious disease modeling for COVID-19 was instrumental to the Utah Health & Economic Recovery Outreach (HERO) project, received the 2019 Under Secretary's Award for Outstanding Achievement in Health Services Research from the Department of Veterans Affairs.
New Discoveries Fueled by Philanthropy
These incredible accomplishments were fueled, in part, by private support to our research enterprise. The Benning endowment is one of the most powerful examples of philanthropy driving innovation at our institution. In 2005, the School of Medicine received a $22.5 million bequest from the estate of Arthur E. Benning, who was president and chairman of the board of the Amalgamated Sugar Company in Ogden. Benning was in the process of evaluating his estate plans when he recalled an experience his colleague Allan Lipman had at University of Utah Hospital in the late 1960s. Lipman's daughter was suffering from a mysterious illness, but physicians at the university were able to diagnose, treat, and ultimately save the young girl's life. Prior to his death, Benning decided to bequeath a significant portion of his wealth to the university to establish the H.A. and Edna Benning Medical Society, in honor of his parents, to recognize the talent and potential of the brightest minds in medicine at the university.
In addition to funding research, the Benning endowment funds monthly academic seminars for medical students, as well as an annual public lectureship that attracts world-renowned researchers, including Nobel Prize-winning biochemist Jennifer Doudna, PhD, and evolutionary geneticist Svante Pääbo, PhD. Cynthia Kenyon, PhD, a molecular biologist who studies the genetics of aging, is slated to be the featured speaker for the Benning Society Public Lecture in 2021.
Benning Society Chairs
Nominations for the three additional Benning Medical Society chairs are being accepted through December 31. For questions regarding eligibility and submission, please contact Audrey Maynard, director of stewardship, at audrey.maynard@hsc.utah.edu. Appointees will be announced by Michael Good, MD, in early spring, and they will officially join their fellow colleagues in the Benning Society (listed below) on July 1, 2021.
Chair: Christopher P. Hill, DPhil
Distinguished Professor of Biochemistry
Andres Villu Maricq, MD, PhD
Professor of Neurobiology & Anatomy
Andrew S. Weyrich, PhD
Professor of Internal Medicine
Gabrielle Kardon, PhD
Professor of Human Genetics
Hilary Coon, PhD
Professor of Psychiatry
Mario R. Capecchi, PhD
Professor of Human Genetics
Distinguished Professor of Oncological Sciences
Mark Yandell, PhD
Professor of Human Genetics
Matthew H. Samore, MD
Professor of Medicine
Michael W. Deininger, MD, PhD
Professor of Internal Medicine
Michael S. Kay, MD, PhD
Professor of Biochemistry
Nels Elde, PhD
Assistant Professor of Human Genetics
Tom H. Greene, PhD
Professor of Population Health Sciences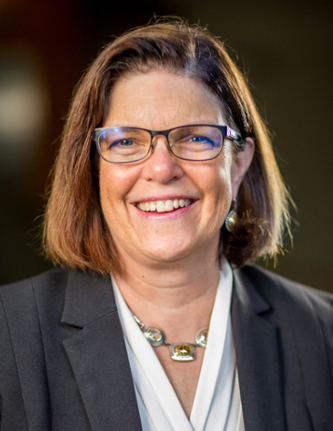 Marika V. Jones, MBA
In her role as Chief Philanthropy Officer, Marika Jones leads the fundraising efforts for University of Utah Health's five schools and colleges, along with its hospitals and clinics. Before joining U of U Health, Jones was president of the Trinity Health Foundation in Moline, Illinois, which serves UnityPoint Health—the fourth largest nondenominational health system in the United States. Prior to Trinity Health, she served in leadership positions at the Iowa State University Foundation and the University of Michigan Office of University Development. Jones earned a BSE from the University of Michigan and an MBA from the University of Chicago.
DON'T MISS OUT. GOOD NOTES delivers to your inbox.