Our Strategic Roadmap to 2025
As I write this, our health system, state, nation, and world confront what may be the most challenging time of our generation. The world is fighting a pandemic the likes we have not seen in a century. Our nation is facing accountability with regard to unresolved racial inequities that have plagued our country since its founding. And we are confronting an unknown economic impact that may challenge the ways we achieve our core missions in the coming years. In addition, over the past nine months, we have faced earthquakes, hurricanes, wildfires, and been host to a Vice Presidential debate in a particularly contentious political climate.
So, as our days are consumed by managing whatever crisis the next hour brings, it seems like a far-off fantasy to be thinking about a "strategic vision for the future." With all we have to manage today, what's the point in lifting our heads long enough to see to the horizon? We must anticipate the changes and challenges ahead, so we are ready for them.
With the future in mind, U of U Health has finalized a strategic vision to guide our work for the next five years. We called the process a "strategy refresh." A year-long grassroots project completed concurrently with the University of Utah, it tapped into talent and expertise across the full campus. Determining a refreshed plan of action, fostered greater alignment of our shared direction. Progress and success in one strategy directly reinforces and strengthens the other. The same impact is true as you take up this strategy, amplify it, align to it, and enhance our organization at every level. 
Strategic Vision for One U 
Our strategic vision for the future is that:
Together as One U, we serve communities and the region, lead education and discovery, and innovate care accountable for outcomes. We believe that communities, partners, and people make us who we are, and we are fully invested in their health, wellness, and success.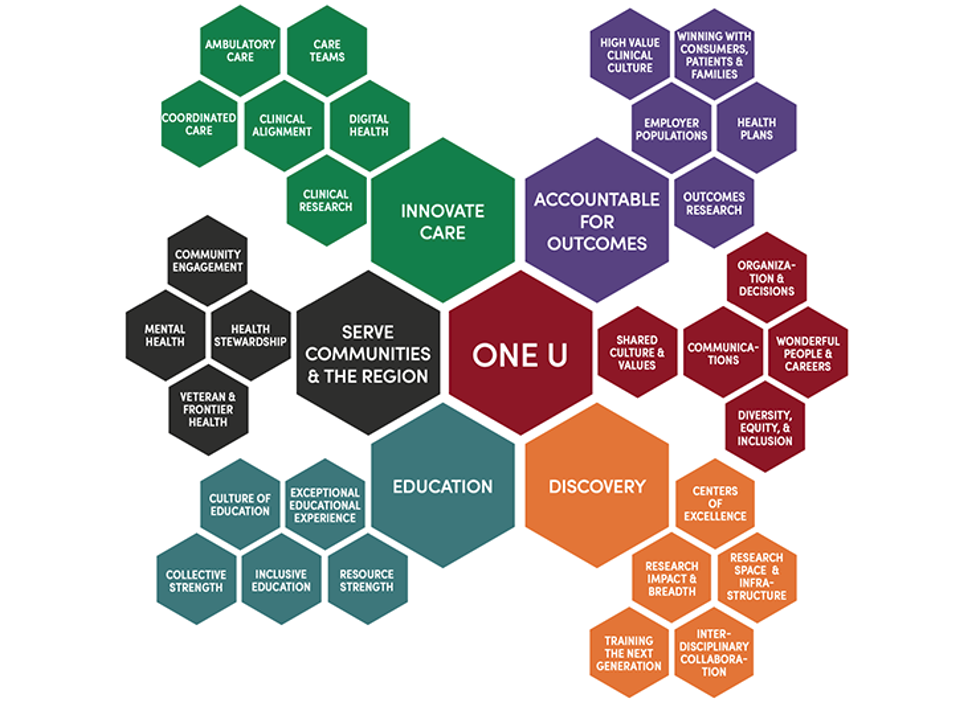 At U of U Health, we have a unique opportunity to extend this leadership into all areas of health, in turn helping both our state's population and those beyond our borders. We want all of you to join us on this journey. So we are eager to hear your thoughts, answer your questions, and engage in discussion at our upcoming Town Hall on Thursday, November 12 at 12 pm. We'll delve into the six components of Strategy Refresh 2020 – 2025: 
One U: We will organize to create new value, solve grand challenges, and reach our full potential as an integrated, high-performing organization. Shared governance will help us make correct decisions and carry them out together.
 
Serve Communities and the Region:

U of U Health serves Utah and the Mountain West as care providers, educators, researchers, partners, advocates, and more. We are an anchor institution in our community. We will further the impact of our work in these roles by connecting our efforts and prioritizing service to communities and people.


 
Education:

We train tomorrow's health care experts and leaders to succeed in a rapidly changing world. We build student knowledge, skills, and attitudes. We strive for educational impact and transformation. Our educational programs actively engage communities, help address their needs, and prepare students to thrive in real-world environments.


 
Discovery:

We improve human health for all by advancing biomedical discoveries, innovation, and health care practices. Weaving discovery through all we do amplifies the impact and pace of our combined work and further differentiates us as an academic health system. We represent excellence across the research spectrum.


 
Innovating Care:

We tailor services to specific needs of each patient and seamlessly move them through our health system. Care is sensitive to patient time and money and is available close to (or at) home with little to no wait. Routine care is often handled virtually on-demand. Growth is sustainable for providers. Care roles are top-of-license and team-based.


 
Accountable for Outcomes:

U of U Health is firmly established as one of the nation's highest-value academic health centers, a top performer in quality, safety, and caring. We seek the next phase of our ambition: becoming directly accountable for our choices and their outcomes.
In addition to our Town Hall on November 12, 2020, at 12 pm, you can visit our our Strategy Refresh website to share share your ideas, learn more about our strategic areas of focus, understand the outcomes we are striving for, and formulate our tactics for achieving them. Your help in guiding our path forward is important and needed. Thank you in advance for your wisdom, ideas, recommendations, and especially for being here at Utah.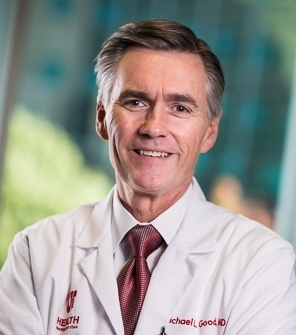 Michael Good, MD
Michael Good is CEO of University of Utah Health, Dean of the University of Utah School of Medicine, and A. Lorris Betz Senior Vice President for Health Sciences. A professor of anesthesiology, Good joined U of U Health after more than three decades of teaching, innovation, and leadership at the University of Florida, where he served as dean of the College of Medicine for 10 years.
DON'T MISS OUT. GOOD NOTES delivers to your inbox.