COVID-19 Weekly Update, November 17, 2020
Click here for Spanish translation recording.
Transcript of Dr. Good's COVID-19 Weekly Update, November 17, 2020 
Hello, I'm Michael Good, CEO of University of Utah Health. Today is November 17, 2020, and we present the COVID-19 update. Unfortunately, the trends that we've been following in previous weeks have continued over the past week with steep increases in the number of new coronavirus cases in our country now on many days surpassing 150,000 new coronavirus diagnoses each day. And although at a slower rate, the rate of death from coronavirus is also increasing—now at a pretty steady rate across the country.
Here in Utah, the same kind of rapid spread of coronavirus has continued. Although we've had some reporting challenges as a state over the last few days, on several days now, well above 3,000 new coronavirus cases each day, the last couple of days down from the prior day, these last vary the last few days here down a little bit from prior, and you'll see that in the reproductive number that we'll show later. But certainly over the past few weeks rapidly increasing numbers of individuals with coronavirus, and like the national trend now, we're seeing seven, eight, nine deaths each day on average from coronavirus in our state. That means we're just under 50,000 individuals with an active coronavirus infection. That's 15 people out of a 1,000 with an active coronavirus, or around one out of every 70 or so individuals has an active coronavirus. This virus is clearly moving rapidly from person to person in our community.
I mentioned the increasing death rate. Coronavirus is now the third leading cause of death in Utah behind heart disease and cancer. Coronavirus is the third leading cause of death in Utah as you can see on this chart. It's really been over this September, October and early November period that we've seen this run up. A little bit of a drop-off here over the last few days, but still significantly higher than some of the other causes of death for citizens in our state.
Testing positivity rate, also a similar trend, continuing to increase. We have over the last few days seen a little plateau. Of course we hope that this is a trend reversal, but certainly we've seen these plateaus at other points along the pandemic journey only after a leveling off to see the positivity rate go up, not down. This breaks out the number of positive coronavirus tests per 100,000, so it's population adjusted. As in prior weeks, virtually every age group as shown on the right side with a positive increasing trend. The one age group that we've seen first, a little bit of pullback, and then perhaps a little bit of an up tail, but it's this 85 and older group, this is really important because this is the group of individuals that have the most severe cases, and the deaths from coronavirus preferentially occur in those older age groups. We were pleased to see this trend reverse, and hopefully, we can continue.
The other worrisome trend, and we just had a report earlier this evening, we are seeing increased numbers of children being admitted to our children's hospital with active and severe cases of coronavirus. Again, lower rates than some of these other age groups, but with increasing trends and now increasing hospitalizations as well.
This chart puts a lot of information into a condensed format. The gray vertical bars are the positive coronavirus tests run by the PCR test, the laboratory tests. The yellow tops now starting to appear on top of the gray bars are the antigen tests, the point of care tests, for example, as we test all our students here at the University of Utah we're using an antigen test. And so the yellows tests, the yellow bars are the positive tests as measured by antigen tests. You can see, we see more and more positive tests. Yes, we're doing more testing, but we're also seeing more positive tests.
Perhaps more worrisome then are the three lines with the hospitalizations. The orange line are the number of individuals admitted to hospitals in the state of Utah. We now have just under 500 individuals admitted to Utah hospitals. And as you can see, that line is straight up. While some will say, well, you're testing more, of course, you're going to see more positive tests. But what we are seeing is more admissions to the hospital, and admissions to the hospital are by strict clinical criteria, individuals needing oxygen therapy and other forms of therapy for their coronavirus. This is much more than just increased testing. This is more individuals with infections in our community spreading it from one to another.
Almost 200 of those 500 individuals in hospitals are in an intensive care unit. This has also been increasing, maybe slightly leveling off, again, being cautious to pay attention, while we are hopeful, we are seeing a lot of individuals in our ICUs. And then the blue line is the number of hospital admissions each day throughout the state hovering in the 70 to 80 range, currently. 70 to 80 new individuals admitted to the hospital each day with 200 in ICUs and almost 500 on the medical wards.
As I mentioned earlier, those last few days, this is our reproductive number, how each individual with coronavirus, how many other individuals do they spread the virus to. And you can see that reproductive numbers of even 1.5, it means that two people with coronavirus spread it to three, three spread it to almost five, five spread it to almost eight, and you see this growing spread that we've experienced in our state over this September, October and early November time period. As I mentioned, slightly lower numbers, although still in the thousands over the last few days have put a positive tail, a decreasing tail on our reproductive number. But again, we've got to watch this in the coming days. If the positive case numbers spike up over the next few days, this tail will reverse course and head back up. Continuing, thanks to Dr. Zhang and Dr. Samore who track these and other statistics for us here at the University of Utah.
Same trends that we've experienced in the state, we experience here at University of Utah Hospital. We had a couple of days earlier this week with 18 patients, the gray bars, 18 patients admitted to our University Hospital. A few days of a little bit lower admission rates, but then again, increasing up over ten the last few days. The 160 is the 14-day cumulative admission. You can see that this admission trend to our hospital has got that same worrisome steep incline. What that means is on the right here is the number of patients in our university hospital, and you can see that in the last few days, we've crossed over 70. In fact, earlier today, we had 75 patients in university hospital with coronavirus. Those trends are shown in the line graphs, below, again with a three-day average. So the average is headed up toward that 70 line.
Notice also that just under half of our patients are in the ICU. So the patients that are being admitted to the hospital are sicker and with more severe forms of COVID-19. Our university environment remains very stable with low levels of coronavirus. Our seven-day number of... Remember we have 62,000 members of our University of Utah community, about 32,000 students, around 13,000 members of our University of Utah health community, and then about 17,000 faculty and staff across the university. We had been running in the 20 to 30 range for seven-day average of positive cases. It's up a little bit here in the last seven-day period, but then on many days, the average is bouncing around a little bit. We have just several more days for our in-person learning. And then with the Thanksgiving break, the University of Utah will complete the semester as planned with online learning only.
We are starting to see decreased numbers of students on campus already. I'll also remind everyone that we have made a commitment to test all our students before they return home for Thanksgiving. Several thousand students have already been tested and we see a very low positive rate, somewhere between one and two percent of our students are testing positive. On the one hand, that's very good news. It's consistent with our previous measurements and our previous assessments that the virus is at a low level on our campus. The bad news there, those individuals that are testing positive are asymptomatic. They weren't aware that they had the virus, and so if they've had contacts with others and so on, they could have been spreading the virus and not knowing it, which is why the masks are so important.
We believe one of the reasons we have very low levels of virus in the University of Utah Health system and why we have very low levels of virus at University of Utah across the campus is that we have a mask requirement, and we've had great participation by our students and by our faculty in wearing masks anytime they're indoors near one another, and we believe that's helped us keep this virus at a very low level on our campus.
Finally, I'll close just briefly touching on several items in the news. We are under the direction of President Watkins and other members of our leadership working on asymptomatic testing for individuals who are asymptomatic, whether they've been exposed or not. Again, our initial phase of this initiative is to get all our students tested before they head home for Thanksgiving. We are working on protocols and methodology so that asymptomatic members of our healthcare team and asymptomatic members of our faculty and staff can get coronavirus testing on a regular basis. And certainly when they have concerns, for example, they may be asymptomatic, but they may have a family member at home who has an active case of a symptomatic coronavirus infection. So we're working hard on this. The first commitment is to get all the students tested before they head home for Thanksgiving, and with additional plans coming out very quickly in the coming weeks.
I would like to, again, just make a pitch, a plea to really pay attention to gatherings. Dr. Birx and Dr. Redfield when they were here, shared their concerns about informal gatherings, where we're around individuals that we think we know and assume they're doing fine, and so we aren't rigorous with the masks, we aren't rigorous with our distancing, we aren't rigorous with our hand washing and other procedures that we know are necessary to keep this virus in check. So as we enter the holiday periods, please work hard to keep your gathering small, many say it should be really only with those that you live with. So please take extra precautions so we don't inadvertently accelerate the spread of this virus over the holiday
Over the past week, experts have updated us here at University of Utah Health. There are monoclonal antibodies. These are antibodies that are made in the laboratory. Two pharmaceutical companies are showing early small numbers, but promising results for these monoclonal antibodies. They're not for the patients that are in the hospital or on oxygen, but there's been study in individuals with early coronavirus infections, and the early results are showing decreased viral shedding from those that receive monoclonal antibodies. In one study, hospitalizations went from about 10 percent in the placebo group down to 3 percent in the group that received the monoclonal antibodies. So we are seeing some promising developments on the research front.
Again, I caution that these are early reported results. They need to continue their clinical studies and further confirmation that there are no adverse side effects. But again, you'll hear about monoclonal antibodies in the lay press. And just to let you know, we are tracking them. Early supplies will be limited, so we're trying to make sure we best understand the groups who can best benefit from monoclonal antibodies if we do receive them here at the University of Utah and University of Utah Health.
Finally, as you've also probably read, the early results in two different vaccine trials are encouraging with 90 percent in one and 94 percent in another. These are the so-called messenger RNA vaccines. We have established a vaccine committee here at the University of Utah Health, and a group of experts have come together to plan for logistics. For example, one of the vaccines needs to be in a deep freeze, minus 80 degree freezer, until just before it is stored for administration. These early vaccines require two doses. And so we have an I-T group working on the logistics that make sure we get individuals back for their second dose.
Of course there's prioritization. We are participating with the state department of health and with the federal government developing the protocols for which groups receive the vaccines first and so on. So we'll continue to keep you updated on these important matters.
I think in the coming weeks, all of those up sloping trends that I showed you unfortunately mean that we're going to have more patients, more hospitalizations, and really unfortunately, more deaths. On the positive news, the scientific community is hard at work with early, but encouraging results with, for example, the therapeutic, the monoclonal antibodies, and for two different vaccines which we believe their safety studies will soon be completed, and there is anticipation of early use authorization from the federal government.
Thank you for all you are doing individually and your families are doing. We've got to slow this virus down so we can make it to the therapeutics and the vaccines. And again, I want to really thank all the members of the University of Utah Health community, especially our nurses and doctors, respiratory therapists, medical assistants, environmental service professionals. We have such a great team here and you all are working so hard to care for so many. Thank you for the great work that you're doing. Have a good week, and we'll be back with an update next week as we work together to battle the coronavirus pandemic in the state of Utah and here at the University of Utah Health.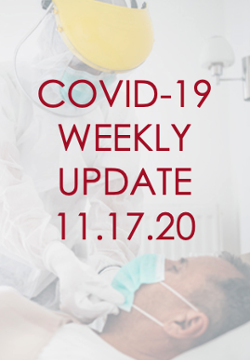 Michael Good, MD
Michael Good is CEO of University of Utah Health, Dean of the University of Utah School of Medicine, and A. Lorris Betz Senior Vice President for Health Sciences. A professor of anesthesiology, Good joined U of U Health after more than three decades of teaching, innovation, and leadership at the University of Florida, where he served as dean of the College of Medicine for 10 years.
DON'T MISS OUT. GOOD NOTES delivers to your inbox.