Serving Utah During Time of Crisis
University of Utah Health was a proud sponsor of the 2020 Utah State of Reform Virtual Health Policy Conference. This year, the meeting brought together executives and policy leaders from across Utah's health care ecosystem in a non-partisan, policy-agnostic forum to talk through the most pressing needs for health care in our state.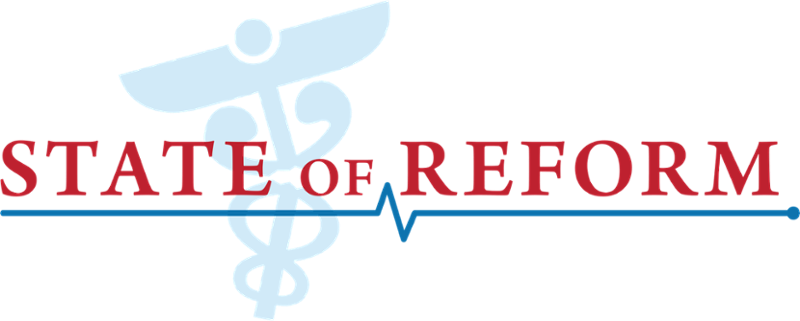 U colleagues participating included Chad Westover, MBA, Chief Executive Officer of University of Utah Health Plans, who provided insight on understanding the factors that determine the total cost of health care; Brian Shiozawa, MD, FACEP, Associate Vice President for Health Policy at U of U Health, who joined other government relations professionals in discussing state health policy and the upcoming 2021 legislative session; and Nate Gladwell, RN, MHA, Clincial Operations Director for U of U Health Outreach and Telehealth, who discussed what we are learning from the rise in telehealth and whether this embrace of technology will last. Natalie Gochnour, MS, Director of the Kem C. Gardner Policy Institute, and Heather Tanana, JD, Assistant Professor of Law, also participated in the conference.
Senator Mitt Romney; Joseph Miner, MD, Chief Medical Deputy to the Executive Director and Chief Medical Advisor to the Governor's Office Utah Department of Health; and myself participated as panelists for the keynote session. As you can imagine, the state's response to COVID-19 was a principal topic.
Navigating the Pandemic 
When asked to describe how Utah has navigated this pandemic, the first word that came to mind was: Speed. Typically, change comes slowly in health care. It takes decades for new discoveries such as a new medication to be fully adopted into routine clinical practice. But this new coronavirus moves at an impressive pace—from one person to another, and from one community to the next. In Utah, the speed at which our government, health, business, and community leaders came together to combat this deadly virus is equally impressive. To fight an unprecedented health crisis like this, collaboration and community service are essential. In Utah's case, our stakeholders came together with a community of donors to protect underserved populations, frontline health care workers, and small businesses in our state.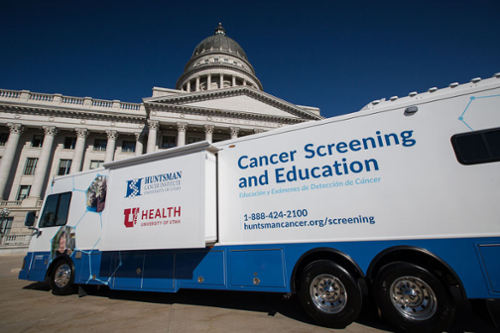 Among community donors helping fight the infection is the Larry H. & Gail Miller Family Foundation. The U of U Health Wellness Bus, donated by the Millers, is typically focused on helping Utahns with pre-diabetes and diabetes. But it was re-outfitted to provide mobile coronavirus testing in underserved areas of Salt Lake County. Similarly, Huntsman Cancer Institute's (HCI) Cancer Screening and Education Bus found a new way to serve the community after its mobile breast cancer screenings were temporarily suspended as a pandemic precautionary step. The HCI bus was outfitted with special equipment to assist with no-cost COVID-19 and antibody testing in areas with high case counts.
In response to overwhelming demand for PPE during the pandemic, the Center for Medical Innovation (CMI) at U of U Health—an effort founded by the Sorenson Legacy Foundation—designed an enclosed Powered Air Purifying Respirator (PAPR) system. The protective gear is designed to fully enclose the user and provide health care workers safe and reusable PPE.
To help mitigate the economic consequences of COVID-19, the U's David Eccles School of Business formed the Hope Corps project. Its mission is to assist and lift the small businesses, nonprofits, and people throughout the state needing help. Hope Corps students worked with the Utah HERO Project to visit neighborhoods, educate residents about COVID-19 risks, and sign people up for testing times. Participating students from across the state also identify innovative solutions to help ensure the viability of Utah's communities. For example, students worked with the World Trade Center of Utah to market its employer-needs assessment to business owners at the early stages of the pandemic and federal relief programs.
"Can Do" Pragmatism 
There is definitely a Utah Way, and it serves us well in this crisis. It balances the pandemic response and economic prosperity, ensuring a better way of life. Utah relies on "Can Do" pragmatism, while compassionately making room for everyone at the state's growing economic table. The Utah Way derives from a culture of looking out for one's neighbors, innovating solutions, relying on science, and taking advantage of the opportunities afforded by the vastness of the Mountain West. U of U Health is proud to be a part of this community.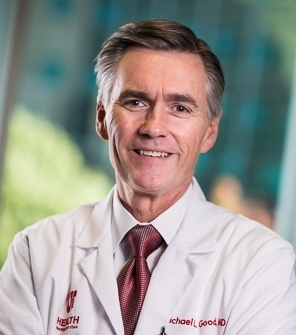 Michael Good, MD
Michael Good is CEO of University of Utah Health, Dean of the University of Utah School of Medicine, and A. Lorris Betz Senior Vice President for Health Sciences. A professor of anesthesiology, Good joined U of U Health after more than three decades of teaching, innovation, and leadership at the University of Florida, where he served as dean of the College of Medicine for 10 years.
DON'T MISS OUT. GOOD NOTES delivers to your inbox.