Developing More Women for Senior Leadership at Academic Health Centers
University of Utah Health has a tradition of nominating highly qualified women leaders to participate in the Hedwig van Ameringen Executive Leadership in Academic Medicine (ELAM) program. ELAM is a core program of the Institute for Women's Health and Leadership at Drexel University College of Medicine. The program offers an intensive one-year fellowship of leadership training with extensive coaching, networking, and mentoring opportunities aimed at increasing the number and impact of women in academic leadership positions in the health sciences.
Since 1995, more than 1,100 fellows have completed the program, including 20 from U of U Health. During the ELAM fellowship, each fellow designs, implements, and initiates evaluation of an Institutional Action Plan (IAP). The IAP integrates the curricular resources and peer support of the fellowship in a tangible leadership contribution to the fellow's institution.
A Commitment to Training Women Leaders
Despite a growing number of women matriculating at medical, dental, public health, and pharmacy schools around the nation, women are still significantly underrepresented within the highest administrative ranks of academic health centers. It is critical that more women acquire executive leadership skills from other women leaders.
Because the ELAM fellowship is so time-intensive, not all academic health centers are as supportive of their faculty participating as we are at U of U Health. We are fortunate that our senior vice president, Dr. Michael Good, is invested in having as many women as possible from U of U Health participate in this national, high-quality, and extremely competitive program. Dr. Good is very involved with the ELAM program and is pleased that, almost without exception, U of U Health has one or two ELAM fellows every year. "We maintain a commitment to providing women with this unique avenue for acquiring additional leadership skills," Dr. Good says. "These efforts make our campus better by diversifying leadership and improving cultural and gender sensitivity in health care training, research, and delivery."
The fellowship includes meeting with leaders in your own organization and broadening your understanding of the different missions of academic medicine. Fellows have access to Dr. Good as Dean of the School of Medicine along with other institutional mentors, a project mentor, and a group of national advisors who are part of the ELAM learning collaborative. The learning collaboration provides an outside perspective to help fellows navigate the internal issues at their institutions, both during their fellowship and after as ELAM alumnae.
Good Things Come in Twos
Acceptance into ELAM is determined through a competitive selection process. Applicants apply internally through their institution before applying externally to ELAM. The institution can only nominate two women, and a nomination by your institution does not guarantee selection by ELAM. Approximately 60 candidates are chosen each year. It's rare for more than one institutional nominee to be selected. We were thrilled when both U of U Health nominees, Nancy Murphy, MD, and Cornelia (Neli) Ulrich, MS, PhD, were selected to the Class of 2020 ELAM Fellows.
Last month, Murphy and Ulrich presented their Institutional Action Plans (IAPs), successfully completing the ELAM program. Below, Murphy and Ulrich share highlights from their ELAM experience.
Class of 2020 ELAM Fellow: Nancy Murphy, MD
Division Chief, Pediatric Physical Medicine and Rehabilitation
Professor, Pediatrics
"This experience was far more than I ever expected. It was such a career highlight. We did 360-degree evaluations with our peers. I received some raw feedback that helped me grow as a leader. I learned about graceful self-promotion. The message is, 'Humility will keep you in your current job.' I learned the importance of asking for that next opportunity.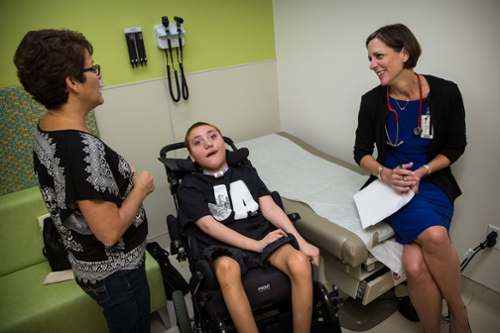 "I look at leaders in a different way now. I've learned so much, for example, from observing how Michael Good is leading us through COVID-19. He is brief and succinct, and he is always gracious. At the end of his weekly COVID updates, he always closes with 'Please continue to take care of yourselves and each other so we can continue to care for our community.' What a kind-hearted, powerful message. When you get the feeling that somebody cares for you, you want to work for them.
"ELAM lit a fire in me to make a difference. My Institutional Action Plan, the Pediatric Comprehensive Care Program, empowered me to transfer that energy into something hands-on and practical. The Comprehensive Care Program project focuses on finding a sustainable model of health care delivery for children with medical complexity. I know the clinical care but had a lot to learn about the business side of care—negotiating, contracting, payer relations, philanthropy—in order to implement the clinical program.
"I want to share what I've gained from my ELAM experience with junior women faculty. I want them to feel the career satisfaction that I enjoy."
Children with chronic illness deserve a continuity of health care that is often difficult to deliver in a community practice. Dr. Murphy's dedication to these kids and their families clearly makes a difference. All aspects of their care—fewer trips to the physician, fewer hospitalization, fewer medications, and all at a lower cost—benefit families, children, and their communities. Well done, Dr. Murphy! — Ed Clark, MD, Project Mentor
Class of 2020 ELAM Fellow: Neli Ulrich, MS, PhD
Executive Director, Comprehensive Cancer Center at Huntsman Cancer Institute
Professor, Population Health Sciences
"ELAM has been a transformative experience for me. We learned about the diverse facets of academic medicine as well as the faces of the people behind it. With 30 to 40 percent of ELAM fellows being underrepresented minorities, it opened my eyes to a totally different world of women who are disadvantaged in academic medicine. The role playing about diversity and inclusion was very powerful. It taught me to consider and appreciate entirely different perspectives.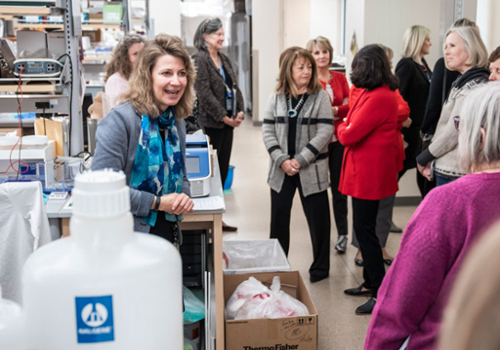 "I already had many wonderful relationships within Huntsman Cancer Institute, but this experience allowed me to connect more broadly within the health system. It made me more aware of the challenges and demands leaders in senior positions face. I really appreciated the time and mentorship of Dr. Good, from whom I learned that a good leader knows how to manage expectations and to be fair, transparent, and supportive in challenging settings.
"For my Institutional Action Plan, the Utah Grand Challenges, I collaborated with Mark Lewis, MD, at Intermountain Healthcare to develop a funding mechanism that supports community-based research initiatives to improve cancer outcomes in Utah. ELAM helped me to take a very thoughtful, strategic approach to this large initiative, including essential planning and evaluation mechanisms.
"I hope to give back to the ELAM community equally to what I received."
Dr. Ulrich is a talented leader and researcher who has inspired trainees, junior faculty, and colleagues alike. Her impact is expanding, fueled by her ELAM experience and her leadership roles in Utah and national cancer groups. Dr. Ulrich's IAP enhances partnerships between cancer centers and academic departments. When these entities work together, they make cancer discoveries that directly benefit patients. — Mary Beckerle, PhD, Project Mentor
Continuing to Lead the Way
We congratulate Nancy Murphy and Neli Ulrich for dedicating a year to invest in themselves as leaders and in the success of U of U Health. We are proud to have two more talented women leaders selected to the Class of 2021 ELAM Fellows: Angela Fagerlin, PhD, and Sara Lamb, MD. We will continue to expand the vibrant ELAM community on our campus and develop other leadership programs for women faculty.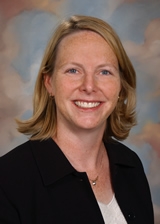 Wendy Hobson Rohrer, MD, MSPH
Wendy Hobson-Rohrer is associate vice president for Health Sciences Education at University of Utah Health. Hobson-Rohrer identifies and leverages the university's distinct strengths, builds engagement and educational integration among colleges and schools, and maintains a culture of educational excellence. She is a member of the Class of 2015 ELAM Fellows.
DON'T MISS OUT. GOOD NOTES delivers to your inbox.