COVID-19 Weekly Update, October 20, 2020
Click here for Spanish translation recording.
Transcript of Dr. Good's COVID-19 Weekly Update, October 20, 2020 
Hello, I'm Michael Good, CEO of University of Utah Health. Today is October 20, 2020 and we present the COVID-19 update. As you've been following in the news and other places, both at the national and the state level, we are seeing an increase in the number of new coronavirus cases diagnosed each day. This has been going on now for several weeks. And at the national level, it is not quite back to the peak of this summer, but certainly heading that way.
Fortunately, at the national level, the number of deaths from coronavirus each day is relatively stable, somewhere in the 800 range—again, stability that we've observed over the last few weeks. So, with an increase in cases at the national level and certainly here in Utah, we're all familiar with this rapid increase in the number of new coronavirus cases that began toward the beginning of September. Really a substantial change from this month-long period of stability that we saw.
We are significantly above the peak that we saw in the summer, and maybe a suggestion of some leveling off here in the last week or so. We'll have to keep an eye on that and hopefully we can get this really unfortunate and challenging trend reversed in our state. With new cases after a time lag, we've also seen the death rate increase from coronavirus. Although, again, in the last week or so, a suggestion that it may be leveling off. We hope that trend continues.
Increasing number of cases in our state mean that there'll be increased hospitalizations. And in the case of hospitalizations, with the green line showing the number of Utahns in a hospital in a hospital bed. We've actually hit a new high for the pandemic approaching 300 on a seven-day average basis. This is over 50 times higher than where we were in July. So we are seeing increased hospitalization from these increased number of tests and cases.
And in the case of the ICUs, we're back at where we were in the summer with around 100, slightly over 100 Utahns in an ICU with the severe cases of COVID. So trends that we need to get a handle on and hopefully see reversed. I'm pleased to report that things remain stable with low levels of the virus on the University of Utah campus. We track a number of measures: the number of students who are in isolation or quarantine, the number of students who test positive in our return to campus, and testing the number of faculty, staff, or students who self-report that they have been diagnosed with COVID.
We also monitor wastewater for coronavirus. Recall that our seven-day rolling average had been hovering around 20, 25. And in the last couple of weeks, this has actually come down now into the low teens, a particularly low report yesterday with just seven new cases identified. We also, remember, have several hundred rooms available for students who need to quarantine or isolate. And we had slowly brought that number increase down to around 70. That trend has now reversed and we're down to around 40 students who are in isolation related to either a known case of coronavirus or because of an exposure.
So the University of Utah campus is in good shape right now as we continue with our fall semester. The increased number of cases throughout the state and here in our county has translated to a really significant increase in hospitalizations at University of Utah Hospital. Really the fullest we've been for the entire pandemic. In the summer, our previous high was around 40 patients with COVID in University Hospital. And over the weekend on the right edge of this curve, you can see that we surpassed 50.
I really want to thank particularly our nurses, our respiratory therapists, our physicians, all members of the health care team, who really came together toward the end of last week and into the weekend to care for these patients, as well as all of the other patients who seek care in our health system. We have a very, very full hospital. If you were watching any of the news outlets, the University of Utah Hospital and clinics at University of Utah Health were featured as a health system that is really filled with COVID patients.
To my review, the news, although on a subject about full hospitals, our nurses, our physicians, our experts, and our leaders who were interviewed did a great job talking about the dedication to our patients and how we are providing care in these stressful times at our great University of Utah Hospital. So as you can see now on the lower right corner, this trend and increased hospitalizations, I also call your attention to what we are starting to see: remember the red line is the patients in the ICU, in our hospital. And notice that that line is moving up and starting to approach the lighter gray line, which is the number of patients in a hospital bed.
So we're starting to see the patients in the hospital take on more severe forms of COVID at this moment in time. So a lot of work going on to flex staff, mobilize additional teams, and get the staff we need into the right locations so we can take care of coronavirus patients at University Hospital. I would like to spend the last few minutes talking about the new statewide guidelines and statewide health guidance. If you recall, since the beginning of the pandemic, we've been using a color-coded system, a so-called previous color coding system of red, orange, yellow, and green to describe the activity levels, the restrictions if you will, associated with different phases or characteristics of the virus.
Our state government's Department of Health has adopted a new system that's based on the level of transmission of the coronavirus in each county. So each county is designated as having either high, moderate, or low levels of virus transmission. And that determination is based on new cases, the percent of positive tests and trends in hospitalization.
Let's look at the new system a little bit closer. First of all, it was rolled out a week ago. You see quotes there from Governor Herbert and others who are frustrated with the state of coronavirus transmission in Utah. First of all, similar to what we did here at the University of Utah, the new state plan begins with a two-week circuit breaker. And by that we mean that the requirement for masks applies to not only high transmission counties, but for the first two weeks also to the moderate transmission counties.
Masks and social gatherings are two of the hallmarks of the new plan, and we'll review those in a little bit more detail in just a minute. But for the next two weeks, in both high and moderate counties, citizens should be wearing masks. And then they should be really paying attention to particularly social gatherings, which is where we believe some of the transmission that's resulting in this sustained wave of transmission is occurring. A little bit of a busy slide, but I am pleased. The state has focused on three metrics, which determine whether a county is in a high, moderate, or low state of transmission. And you can see the positivity rates and recall that particularly here in Salt Lake County, we've been up above 14-15 percent for a while. So this is one where we're above that threshold. You can see the various numbers for each of the categories.
The number of new cases per 100,000 can be seen in those metrics. Some of our counties are having 40, 50 new cases a day, let alone a 14-day summation. And then as I mentioned, utilization of ICU beds, I've talked about how important that is in different metrics, which allow us to keep track of how full ICU beds are in each county, both in total and then also in care of COVID patients. So fewer metrics, but in my opinion, the ones that matter and will allow us to modulate with greater degrees of nimbleness as we see changes in the spread of the virus.
So as this new state system is introduced, we have six counties that are in levels of high transmission by those criteria that I just reviewed, including Salt Lake and Utah County, which are big parts of our community. There's a number of counties that are in the moderate level, and then a handful of counties are also in the low level of transmission by those criteria. As we enter this new system, masks are required in counties that have high levels of virus transmission.
Today, we were reviewing statistics of our own health care workers at University Hospital. And just to make a long discussion very short, the masks do significantly reduce the transmission of this virus, especially when both someone with the virus and someone without it are both wearing masks. Masks are strongly encouraged in moderate level transmission counties, except for this initial circuit breaker. So masks should be being worn right now in both the high and the moderate level transmission counties.
So here's a little bit more detail. Again, kind of the two hallmarks of the new guidelines are masks. And in high transmission counties, masks are required. Masks are strongly recommended or mask requirements may be implemented at the discretion of county or local officials. You'll see this language in both the low and the moderate, strongly recommended, but mandates may be implemented at the direction of county executives in consultation with their local health officials.
However, for the next week or so, masks should also be worn in the moderate level of counties. This applies to public indoor settings and outdoors whenever distancing is not feasible. In businesses, this includes employers and patrons, and they do note that a business may require masks even if they're in a moderate or low transmission county.
The second important area of the new guidelines are social gatherings, particularly casual social gatherings. There's growing as we look at the data and where transmissions occur, it's less so for example structured gatherings such as religious or organized events where there is an organizational oversight. But where the virus seems to gain ground are our informal gatherings: family dinners, a get-together with friends, at book clubs where we tend to not pay as meticulous attention to the masks. Perhaps because it's family and friends, we get closer than we do in some of these other event type areas where there's organizational oversight.
So the new guidelines try to help us depending on whether the virus is moving quickly or slowly in a particular county. They kind of break down into gatherings of 10 or fewer, 25 or fewer, or 50 or fewer. Again, depending on virus transmission and again, noting the circuit breaker. Trying to really restrict social gatherings for the next little over a week here, so we can really get our hands on this virus and get it slowed down. I'm not going to go into all of the other specific criteria. I will refer you to the Department of Health website where all these details are provided, but suffice to say, there are new guidelines for restaurants, again organized around high, moderate, and low.
There are also guidelines for bars and then some very detailed guidelines for events, public gatherings, such as live shows, movie theaters, sporting events, weddings, recreation, and entertainment. I am very pleased with this new approach. I applaud the governor and the legislature for bringing this out. It will allow us on a county-by-county basis to react more nimbly, both as hopefully and soon as the virus slows down, if a county is in a low transmission state, there's less emphasis on masks and social gatherings.
But when we're in that state that we're in here or the situation that we're here particularly Salt Lake County with which I'm most familiar, we can quickly try to get masks on, get the social groups certainly spread out, and hopefully much smaller groups gathering so that we can turn an area of high transmission into one of low transmission. As far as schools and higher education, these new guidelines refer the K-12 system back to their reopening handbook and for higher ed as well as individual university and college opening plans.
Here at the University of Utah as I mentioned earlier, we're pleased with the low level of transmission we're seeing on our campus. So we are maintaining the current approach, whether it's the mix of in-person video conferencing, online education, and structures we put in place to continue our research, our education programs, and obviously our health profession programs. So the course continues at the University of Utah as previously charted.
Again, a lot going on. We're in the face of a pretty severe surge of coronavirus with high transmission rates in many counties in our state. I've shared with you the new approaches that are being taken by the state to help organize our efforts. I thank you for all you're doing to help slow down coronavirus and get us back to a state where the virus is low and fewer people are getting sick requiring hospitalization and dying from this aggressive virus. Thank you so much for your help.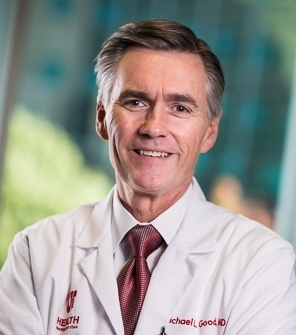 Michael Good, MD
Michael Good is CEO of University of Utah Health, Dean of the University of Utah School of Medicine, and A. Lorris Betz Senior Vice President for Health Sciences. A professor of anesthesiology, Good joined U of U Health after more than three decades of teaching, innovation, and leadership at the University of Florida, where he served as dean of the College of Medicine for 10 years.
DON'T MISS OUT. GOOD NOTES delivers to your inbox.