VA Honor for Professor Matthew Samore, MD
We proudly celebrate national recognition for Matt Samore, MD, the H.A. and Edna Benning Presidential Professor of Medicine; division chief of epidemiology; and adjunct professor of biomedical informatics, population health sciences, and family and preventive medicine at University of Utah Health. In July, Dr. Samore received the highest honor for a Department of Veterans Affairs (VA) health researcher: the 2019 Under Secretary's Award for Outstanding Achievement in Health Services Research. 
In addition to his faculty position at University of Utah Health, Samore is Director of the Salt Lake VA Informatics Decision Enhancement and Surveillance (IDEAS) Center and Principal Investigator of the U's CDC-funded Prevention Epicenter and Modeling Infectious Disease in Healthcare (MInD-Healthcare) program.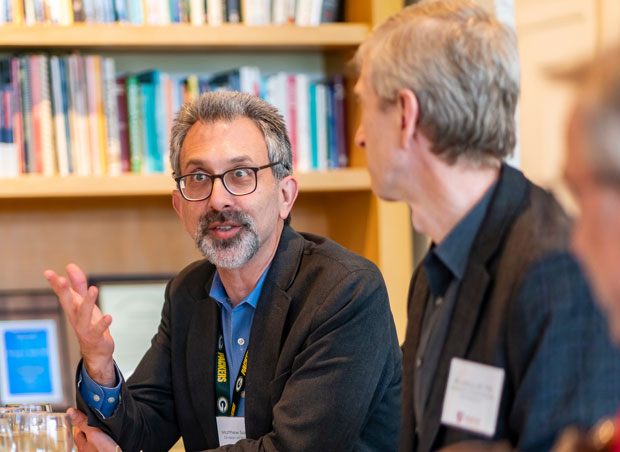 This national VA award has special meaning: U of U Health and the VA have maintained a successful and synergistic partnership to care for veterans for more than 70 years, dating back to the conclusion of World War II. For me, having worked nearly a decade in the VA health care system, I can attest to the exceptional prominence and importance of this national recognition. Dr. Samore says he considers it an incredible honor because the researchers who previously received the award are people he admires. "The VA is a fantastic community of patients, clinicians, researchers, staff, and many others. It's a real community, and there's a feeling of belonging to this group that extends beyond just your own local hospital or local station. It's across the country. There's a tremendous passion within VA for caring for veterans and doing work that has impact."
Improvements on Antibiotic Prescribing 
In collaboration with other U faculty such as Makoto Jones, MD, MS, Samore has helped to create national data sets and resources for microbiology and for antibiotic use. That has led to a system-wide shift in the VA's drug stewardship, improving the way antibiotics are prescribed in both hospitals and outpatient settings. His research also involves application of advanced epidemiological models to improve understanding of how antibiotics select for antibiotic-resistant organisms and to examine which measures work best for controlling transmission of resistant organisms.
Research led by Samore and his colleagues culminated in the application of very sophisticated models to examine the impact of VA's initiative to prevent transmission of Methicillin-resistant Staphylococcus aureus (MRSA). These models have yielded key insights about the mechanisms of benefit of different control strategies. MRSA is an infection very difficult to treat because of resistance to antibiotics and can spread in hospitals, other health care facilities, and in the community where people live, work, and go to school.  
Research on COVID-19 Testing 
In March, we called on Matt's experience to help with infectious disease modeling for COVID-19. His expertise has been an invaluable contribution to our Utah Health & Economic Recovery Outreach (HERO) project. This massive COVID-19 testing project tries to discover how prevalent COVID-19 is in Utah and to determine the true rate of infection. HERO is a collaboration between the David Eccles School of Business, U of U Health, and the Utah Department of Health.
Phase 1 of the HERO Project has concluded and Samore says, "The major finding has been that the prevalence of COVID-19 infection in counties along the Wasatch Front is low. The prevalence-to-case count ratio is also low, indicating that Utah has been relatively successful in detecting COVID infection compared to other states." In its next phase, the HERO project is tackling other challenges for COVID response, such as helping to inform expectations for Utah schools as they prepare for re-opening.
Samore's team actively employs transmission models of COVID infection. "What has been different about COVID is that we're using the models in real time," he says. "We're taking these very sophisticated methods and applying them while the problem is still raging." A key collaborator is epidemiologist Lindsay Keegan, PhD, who has led an effort to apply sophisticated transmission models to State of Utah data and to run different scenarios for Utah pandemic forecasting. Reports have been shared with leaders in state government, including the Department of Health and the Governor's Office of Management and Budget, as well as with clinical leadership at U of U Health and Intermountain Healthcare. In related work, Yue Zhang, PhD, uses COVID data to estimate the real-time reproductive number, a measure of the average number of secondary infections generated by each new infection.
Samore's focus on COVID-19 transmission is a natural extension of what he's done throughout his career in health sciences. "In the COVID era, every day is like grant deadline day in the sense of the urgency of the problems that we're dealing with," he says. "We've studied other emerging pathogens, but COVID-19 is of a different magnitude. It is a crisis for human society unprecedented in our lifetime."
Dr. Matthew Samore's scholarship and research have made an impact on the health of U.S. veterans and the citizens of Utah; he personifies the mission of University of Utah Health.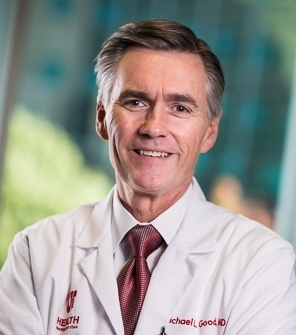 Michael Good, MD
Michael Good is CEO of University of Utah Health, Dean of the University of Utah School of Medicine, and A. Lorris Betz Senior Vice President for Health Sciences. A professor of anesthesiology, Good joined U of U Health after more than three decades of teaching, innovation, and leadership at the University of Florida, where he served as dean of the College of Medicine for 10 years.
DON'T MISS OUT. GOOD NOTES delivers to your inbox.