Maia Hightower, MD, MPH, MBA, is University of Utah Health's Chief Medical Information Officer. Dr.  Hightower recently shared her personal and family experience with racism and the sense of hope, unity, and meaningful change she has about the future. She reminds us that we must cultivate a culture of  psychological safety within our institutions and bring awareness to racism and other forms of discrimination and inequality. 
Resources for Meaningful Change
ACCELERATE LIVE: White Identity, Race and Racism
When Grief and Crises Intersect: Perspectives of a Black Physician in the Time of Two Pandemics
Creating Real Change at Academic Medical Centers — How Social Movements Can Be Timely Catalysts
Exploring Opportunities for Hospital-led Race Conversations and Changes
Transcript of Dr. Hightower's Remarks 
As I look into this camera, you know usually we would be in the Betz Boardroom and I would see your faces and I see many of your faces today and I know many of us have had a really hard week. We have—excuse me if I get a little emotional—but it has been challenging. This whole COVID situation has been, for many of us, it has been eye-opening, but for many of us we've already always known that there have been disparities in health care and, for me personally, that is why I became a doctor. It is why I'm in digital health, actually. It's because I see our digital tools as a way to close the gap and not widen it.
The death of Floyd, of George Floyd, was only the beginning. I mean he represents the hundreds, thousands of injustices that have been systemically present in our society since the beginning of America. If I have to pause I apologize, but I believe that what I have to say is important. I say that to myself actually every day. Sometimes it is challenging to speak up, but I lean into that discomfort.
I share with you my family. My family is a source of inspiration to me. They are a source of purpose in what I do every day, just as I'm sure that your families, your own communities, are a source of purpose for each of us. I introduce you to my grandmother, Annie Hightower. She's 100 years old. She turned 100 in March. She loves her iPhone. She loves Facebook. If you want a pick me up all you have to do is post on Facebook and be her friend and within seconds she will like your post. She'll send you lots of emojis, lots of virtual hugs and kisses.
My dad, that's my dad, George Hightower. He's so far had four virtual visits through his care team at Stanford. He recently had a cervical spinal fusion and he was so grateful to connect with his doctors through a virtual visit. His last virtual visit, most recent one, to be able to be virtually guided on how to take off that cervical spine collar. So, if you've had one of those on for two months, believe me, you're happy to get that off.
My brother, Akida, he too is a health care worker. He works in central sterilization at Highland Hospital. He drives over an hour to work every day, working the night shift, and one thing about Akida is he never speeds because he knows that if he's gonna get to work to do his job, he cannot attract attention to himself. He also drives an old Volvo. He said it's his favorite car because he's never been pulled over when he drives a Volvo.
And my daughter, Tallulah. She loves to ski. She's very fast. She likes to go fast and even though she may be the only brown-skinned kid on the mountain, it doesn't stop her from "podiuming."
And my son, Tiago. I love my son—I mean, I love all my children—but what I love most about my son is that he's authentically himself. In a state where he is not only a racial minority, he is openly gay and is so proud of it and shares that with all of his friends in his community.
And so, I share with you my stories, my family, my inspiration, because one thing that we have, we've been sitting around the dinner table just like so many of you have been sitting around the dinner table. In our case it's virtual, you know, my family is all over the United States, and one thing that has brought us all this change, all this activity has brought us a sense of hope. Yes, it's brought anger. It's brought other emotions, but hope has been the resounding emotion in my family. Hope for meaningful change.
And so, what does meaningful change mean to my teams and to myself? Well we can use data to keep us accountable, to make sure we are measuring what is important, making that transparent and visible and having data to guide our strategies by using our digital tools to close the gap and not widening it. A great example: our commitment this year to implementing MyChart in Spanish, and so that will be one of my merit goals.
So, on there, aligning goals with equity and inclusion to our incentives. Do we do that as an organization? Well we can begin and I'm more than happy to begin that journey.
By cultivating a culture of psychological safety so all of us can feel like we bring our authentic selves to work every day and contribute to the good and the growth of our community.
By… Well, really, I look to you to continue to educate me and my teams on how we can be part of change, part of meaningful change, moving forward to eliminate racism, gender inequities, and disparities in our health care system. Because health care is no different than the police force. Health care is no different than education. Health care is no different than any other institution here in the United States and we have to address the systemic racism, we have to address the systemic inequality so that we can be better for it and serve our patients all that much more effectively.
I'm so proud to be here. I'm so proud of you. I'm so proud of our campus. I'm so proud of White Coats for Black Lives Matter. I'm so proud of us all and thank you for taking the time to listen to me today. I'm so grateful and thankful to have a profession with purpose where we make a difference every day.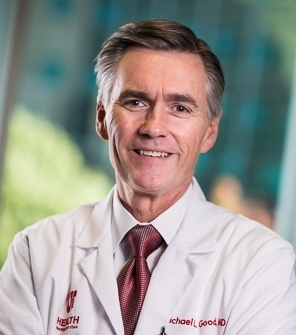 DON'T MISS OUT. GOOD NOTES delivers to your inbox.