What Does Orange Look Like?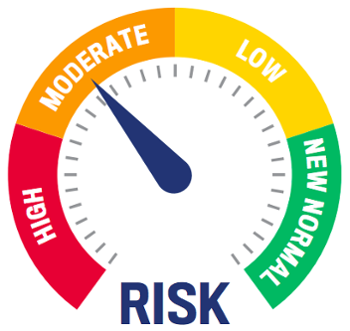 After making progress to flatten the curve of projected hospital beds needed for  COVID-19 patients, University of Utah Health has made an adjustment based on our color-coded risk guidance system developed in partnership with the Leavitt Partners, Utah Department of Health, Intermountain Healthcare, HCA Healthcare, and Steward Healthcare. We now begin to move from Red to Orange. This shift recognizes we are stabilizing our coronavirus infection rates, but still have much improvement needed ahead of us.
Red signifies a high virus risk for all individuals and Stay Safe, Stay at Home recommendations. Orange signifies moderate risk but only for people who are not vulnerable to contracting and spreading the virus. Those who can should continue working from home, and those who can operate their businesses remotely should still do so. For people who cannot stay home, work and business can resume as long as physical distancing is maintained, face masks are still worn whenever possible, and meticulous handwashing and surface disinfection continue—all the things we know slow down transmission of the virus.
Changes at U of U Health
To mention an example, members of my office team will keep working remotely in the Orange phase. And U of U Health will continue to provide as many services as possible remotely. But a number of health care activities require an in-person meeting. It's difficult for physicians to perform a detailed physical examination from a remote location, especially when palpation or percussion is important to the assessment.
We have operated under the Red guidelines since March 9, when Utah's first patient was diagnosed with COVID-19 and Governor Gary Herbert declared a state of emergency. Each level of virus risk is determined by the prevalence of the virus and its ability to spread in our community. Policymakers set the guidance based on the rate of illness in our community, the number of new COVID-19 patients each day, and the current and anticipated demand for hospital beds within our health care systems. Risk levels may increase or decrease depending on data and circumstances. 
Orange means that it's safe for patients to receive outpatient care with in-person visits for those matters that cannot be addressed with a virtual visit. Examples include cancer screenings, assessment of cardiovascular diseases, and assessments that rely heavily on a physician's physical examination of a patient to be most accurate. Other colors on the risk guidance scale are Yellow, which means low risk, and Green, which indicates normal risk, with the virus no longer spreading easily from person to person.
"Prior to the COVID-19 pandemic, U of U Health treated an average of 8,000-10,000 outpatients a day," says Richard Orlandi, MD, chief medical officer for Ambulatory Care. "For the last seven weeks, non-urgent outpatient procedures were postponed. As we move into the Orange risk zone, outpatient procedures can be safely performed, allowing those who have been required to delay visits and procedures to resume needed care."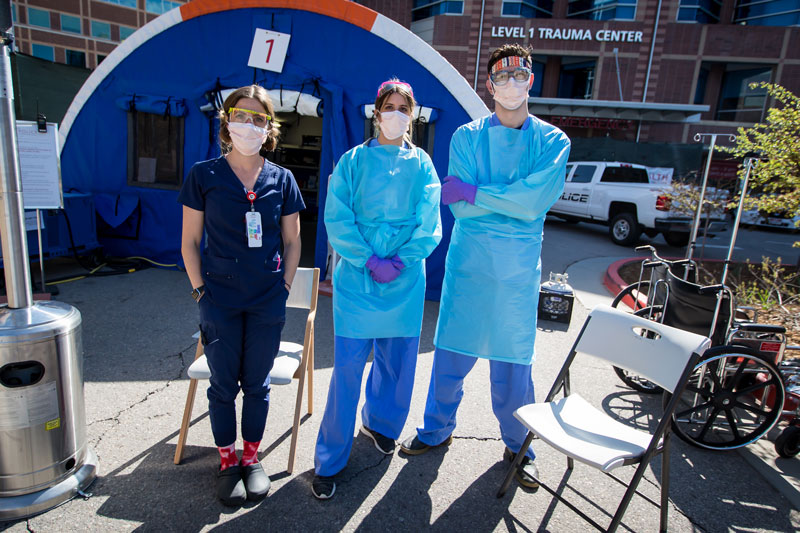 Alison Flynn Gaffney, MHA, CMRP, FACHE, executive director of U of U Health's Service Lines, Ancillary, and Support Services, explains that our elevated infection precautions will remain in place at this time. That includes a policy of no visitors with extremely limited exceptions, wellness checks and temperature screening for all staff, providers, patients, and visitors, as well as universal masking. The current Emergency Department model of screening patients through our outdoor triage tent system will stay in place for the foreseeable future.
"Slowly moving to Orange requires continued connectivity with the state and our medical partners," Flynn Gaffney says. "We also have to determine where we are as a system as it relates to our census and surge capacity to safely manage COVID-19-positive patients as well as all of our other patients. We are a Level 1 Trauma Center embedded within our community to provide care at all levels of need. Our community relies on us to be there for all medical circumstances, whether critical or joyful. Our patients need the expertise of our cardiovascular, neuro, and cancer teams, while our labor and delivery teams are busy assisting women bringing the tiniest of our new patients safely into the world."
A Color-Coded Framework
Flynn Gaffney believes the color-coded structure enables faculty and staff to understand an enormous amount of COVID-19 information in a simpler, consolidated format that is easy to refer to. "The framework helps guide personal and professional behavior," she says. "It also provides accountability for each of us to follow to be safe—not just as an individual but as colleagues, neighbors, and community navigating an unprecedented time." 
"The color guidance means we can all speak the same language," Orlandi says. "Doctors, nurses and staff know precisely what to expect as our health care system moves through this pandemic. Every bit as important, our patients know what to expect as the health care system battles the pandemic." 
Moving back and forth from one risk zone to another is not like switching off one light and turning on another. Instead, for some time, we may be regularly shifting between gears. Looking at the color-coded COVID-19 guidance chart, it is easy to see that very few activities take place in Red while nearly all activities, including large group activities, are permitted in Green. What's challenging is determining the right level of activities in Orange and Yellow. We're now working in the Orange zone because we appear to be flattening the virus infection curve. But we can't forget that Orange is as close to Red as it is to Yellow. Our continued insistence on wise daily choices regarding the basics—handwashing, facemasks, physical distancing, and surface disinfection—will point us toward the Yellow condition.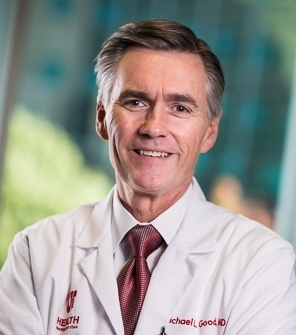 Michael Good, MD
Michael Good is CEO of University of Utah Health, Dean of the University of Utah School of Medicine, and A. Lorris Betz Senior Vice President for Health Sciences. A professor of anesthesiology, Good joined U of U Health after more than three decades of teaching, innovation, and leadership at the University of Florida, where he served as dean of the College of Medicine for 10 years.
DON'T MISS OUT. GOOD NOTES delivers to your inbox.