Sharing the Spotlight at Sundance Film Festival
Every January, as snow descends on our world-famous ski slopes, Utah becomes the center of the film world for the Sundance Film Festival. University of Utah Health proudly plays a key supporting role as a sustaining partner at the annual showcase for independent films, the nation's largest festival for both American and international filmmakers.
This year, our fourth as a partner, U of U Health assumed a new role as the festival's Official Health & Wellness Sponsor. As part of our commitment to health and vitality throughout our community, we were on hand to serve 120,000 attendees, staff, volunteers, and filmmakers so they could remain healthy and resilient while enjoying their experience here in Park City and Salt Lake City.
First Aid, Mindfullness, and Movement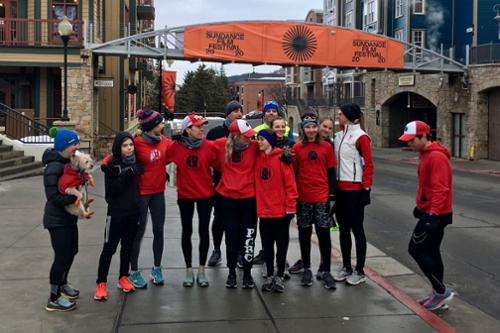 To enhance the festival experience, U of U Health focused on providing access to some of our established wellness initiatives and hosting new offerings like organized walks and runs to help attendees make the most of their time in Utah.
Before the Festival, experts from U of U Health's Trauma Outreach and University Neuropsychiatric Institute (UNI) teams provided staff and volunteers with first aid and de-escalation training. During the festival, U of U Health provided on-site support for festival-goers and the SFF20 team with a #10daysofwellness social media campaign that promoted mindfulness, movement, and nutrition resources. In addition, U of U Health hosted Staff & Volunteer Wellness Hubs at various festival venues in Park City and Salt Lake City.
University of Utah Health also hosted a community screening in downtown Salt Lake City during the festival's first week. Dick Johnson Is Dead, a documentary written and directed by Kirsten Johnson, finds her and her aging father facing his own mortality. The film was awarded a Special Jury Award for Innovation in Non-fiction Storytelling at the festival.
Destigmatizing Mental Health 
On the final weekend, U of U Health continued our Sundance Film Festival tradition of hosting a panel discussion at the Filmmaker Lodge on Main Street in Park City. Filmmaker and practicing psychiatrist Kenneth Paul Rosenberg moderated a panel, Destigmatizing Mental Illness Through Storytelling, Science, and Philanthropy, that featured James Ashworth, MD, interim chair of Department of Psychiatry; Deborah A. Yurgelun-Todd, PhD, professor of psychiatry and director, Cognitive Neuroimaging Laboratory; Paula Cook, MD, assistant professor and specialist in addiction; and Christena Huntsman Durham, vice chair of the Huntsman Foundation.
Last year, Rosenberg's documentary Bedlam was a nominee for Sundance Film Festival's Grand Jury Prize. The film examines the crisis of mentally ill Americans wandering the streets with scant services to help them, highlighting the link between homelessness, substance abuse, and mental illness. During the panel discussion, audience members and panelists emphasized the importance of access to care, early diagnosis of mental illness, and cutting-edge research that can lead to more proactive and preventive mental health care.
University of Utah Health is honored to contribute health and intellectual expertise to one of the state's most esteemed annual events. Along with economic impact and international prestige, the Sundance Film Festival enriches our community through art, creativity, new voices, and fresh perspectives.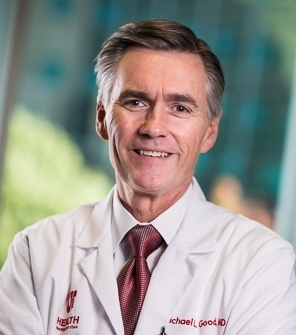 Michael Good, MD
Guest blogger Michael Good is CEO of University of Utah Health, Dean of the University of Utah School of Medicine, and A. Lorris Betz Senior Vice President for Health Sciences. A professor of anesthesiology, Good joined U of U Health after more than three decades of teaching, innovation, and leadership at the University of Florida, where he served as dean of the College of Medicine for 10 years.
DON'T MISS OUT. GOOD NOTES delivers to your inbox.