World-Class Care in Your Neighborhood
Ambulatory Care at University of Utah Health is ranked #5 in the country for quality. While considering a move to our campus, Senior Vice President Michael Good, MD, said nothing impressed him more than what he learned about the high quality of the ambulatory care system. Our program has 12 neighborhood health centers that provide a continuum of seamless primary and specialty care for every patient who walks through the door.
"Now I'm seeing first-hand how U of U Health is bringing world-class health care right to the places where people live and work and play," Dr. Good told staff members when he toured two community clinics, Farmington Health Center and South Jordan Health Center. "Just like every other part of our health care system, there is a relentless focus on quality here. And it is dedicated to the overall health of our communities today and into the future."
Easy Access and Convenience 
Linda Delmar, a registered nurse in South Jordan, told Dr. Good why the neighborhood facility works so well for both patients and employees. "Patients love the convenience," she said. "There is easy access to our facilities and our first-rate providers. Patients love that our health center is self-contained for whatever health services they may need. It's like one-stop shopping. We cover everything here. For our staff, we're all on one big team so we can contribute everywhere, throughout the complex." The medical assistants, for example, are not assigned to just one station in the clinic. They float from one area to another, contributing to a continuous fresh outlook and greater engagement.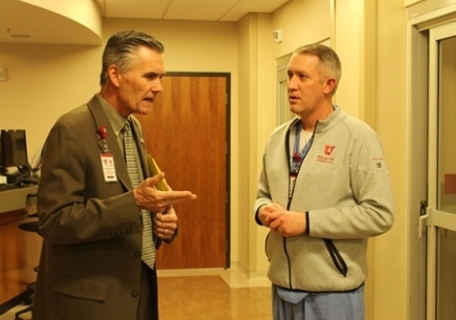 The 208,000-square-foot facility in South Jordan, like all of U of U Health's neighborhood clinics, provides primary care, specialty care, and outpatient procedures. It has an Emergency Room open 24 hours a day, 7 days a week, an Urgent Care Center, and a pharmacy. Free child care is offered to patients during visits, along with plenty of free parking.
James Walston, Director of Outpatient Services in South Jordan, explained to Dr. Good that the health center was designed to be flooded with natural light in a layout that is easy for patients to navigate. The design also encourages easy collaboration among providers and increased coordination of care, which fosters providers' ability to evolve from delivering episodic models of care to a full spectrum of services organized around the patient. "We wanted to minimize time in waiting rooms and get patients right into exam rooms," Walston said. "We designed those exam rooms to be separated from where the staff works. We have a front stage/back stage configuration so patients only see the comfortable, uncluttered front stage area, from which they go in and out of the exam room. The staff works in the backstage area along with all the computers, telephones, and medical equipment." This careful design serves one main purpose: Give patients more time with their physicians.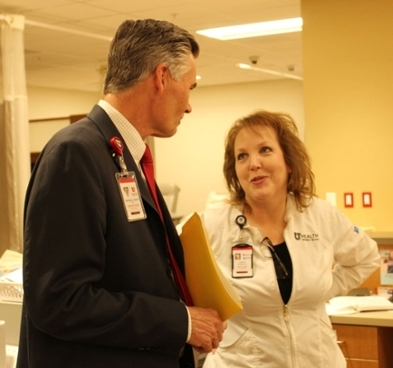 Exceptional Patient Experience 
Our state-of-the-art community health centers were meticulously planned to provide exceptional patient experience to serve the future of our changing demographics. Similarly, our providers and staff were selected to deliver exceptional care to Utah's diversifying community. In conversations with patients in Farmington and South Jordan, Dr. Good heard expressions of high satisfaction.
Along with our Senior Vice President, the entire administrative team at University of Utah Health is determined to provide more access to world-class health care. It's no secret that Utah's population is booming. The demand for comprehensive and seamlessly delivered health care will continue to expand and spread into new regions. Providers and teams know that life-saving events don't only happen in the ER. They also occur every day across wellness centers and community clinics—all designed to serve patients with exceptional health care.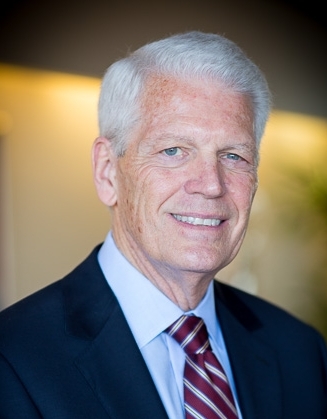 Ed Clark, MD
Guest blogger Ed Clark is Associate Vice President for Clinical Affairs, President of the University of Utah Medical Group, and professor in the Department of Pediatrics. He also holds adjunct professorships in the Departments of Obstetrics and Gynecology and Bioengineering.
DON'T MISS OUT. GOOD NOTES delivers to your inbox.