Steps Toward a Common Vision
I have been at U of U Health now for 12 weeks, and simply put: I am amazed.
It has been my great pleasure to get to know many of you and to learn more about the astonishing work you are accomplishing here. I'd like to share a few thoughts and reflections from my early weeks as a part of the Utah team.
New Opportunites Through Greater Alignment 
Aspects of the challenges and opportunities before us are beginning to come into focus, but I still have a lot to learn from you before we can fully form a vision together. In the short-term, it is clear that we have to better align ourselves to take advantage of tremendous opportunities that will strengthen our health system, institution, and missions. In the long-term, it is clear that we have the opportunity to continue to build our health system and institution so as to inspire more patients to seek care here, more people to work and train here, and a broader community to partner here. We have a unique opportunity, at a unique moment in our history, to help our state prepare for exceptional growth, while leading the nation in innovative practices, discoveries, and transfers of knowledge.
"Every day is a school day"
Over the past 12 weeks, I've had the pleasure of meeting with our deans, meeting with and shadowing many of our School of Medicine department chairs and attending several of their faculty meetings. I've been honored to round with nurses in our hospital and clinics, visit with senior university leaders in all of our missions, visit with many of our philanthropic and community partners, connect with Utah's legislative leaders, engage with our trustees and board members, and to meet with many of you. As I like to say, "Every day is a school day." I learn ten new things every day, nine of which are absolutely fantastic and further advance my already high impression of you and your work. The tenth is typically a problem associated with growth—which are the types of problems I prefer over those of contraction. A most positive ratio indeed.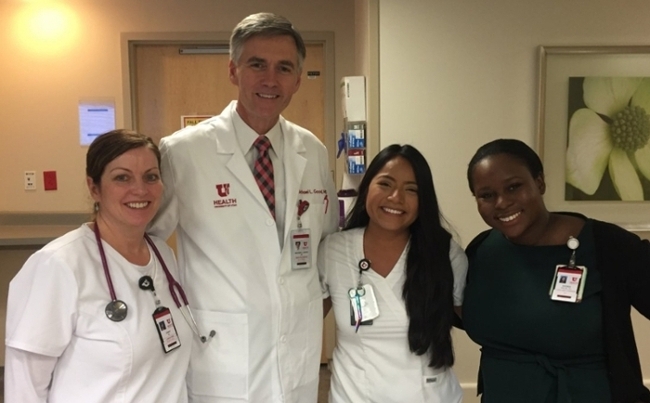 During the past month, I took great pride in our care team when Chief Medical Officer Tom Miller, MD, shared a story of a patient who drove by several other, closer hospitals to deliver her new child at university hospital. I was privileged to submit letters of support for Michael Deininger, MD, PhD, and Stacey Clardy, MD, PhD, both of whom are submitting NIH consortia grant applications for research in myeloproliferative neoplasms and neurosarcoidosis, respectively. During School of Medicine reunion weekend, I was impressed with an overview of the medical school admissions process shared by Ben Chan, MD, with our alumni. At the U of U Health Scholarship Dinner, I was thrilled by the presence of hundreds of donors who create and financially support our scholarships, and especially moved by our student scholarship recipients who told compelling life stories of the challenges they courageously overcame to pursue careers in the health science professions. In addition, Angie Fagerlin, PhD, Robin Marcus, PhD, Julie Metos, PhD, RD, Danny Chou, PhD, and others continue to impress me with the progress they and we are making in implementing our Driving Out Diabetes community engagement initiative.
Exciting stuff. What a great first couple of months indeed!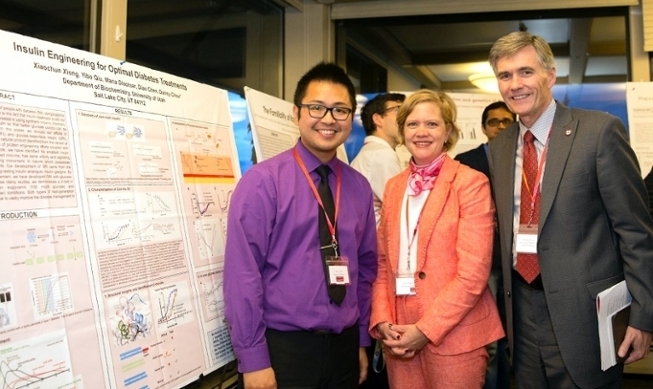 Sharing Our Stories
It is my intention to share communications with you regularly and to highlight these many accomplishments and efforts. The more we communicate, the more we'll align toward a common purpose. And to that end, you are reading the first in a series of blog posts. These blogs, which our communications team suggests we collect at "Good Notes: Voices of U of U Health," include observations about our current position and future opportunities. As I mentioned, it will take some time for us to fully form a common strategic vision, but for now, I hope to share thoughts about principles, values, teamwork, approaches to leadership, and other topics as we get to know one another.
In the coming weeks, I hope to invite many of you to help me tell our Utah story on this blog. Because it is your expertise and hard work that makes us all that we are.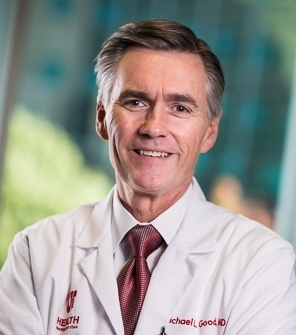 Michael Good, MD
In August 2018, Michael Good became CEO of University of Utah Health Sciences, Dean of the University of Utah School of Medicine, and A. Lorris Betz Senior Vice President for Health Sciences. A professor of anesthesiology, Good joins the U after more than three decades of teaching, innovation, and leadership at the University of Florida, where he most recently served as dean of the College of Medicine for 10 years.
DON'T MISS OUT. GOOD NOTES delivers to your inbox.