Leadership Rooted In Identity and Diversity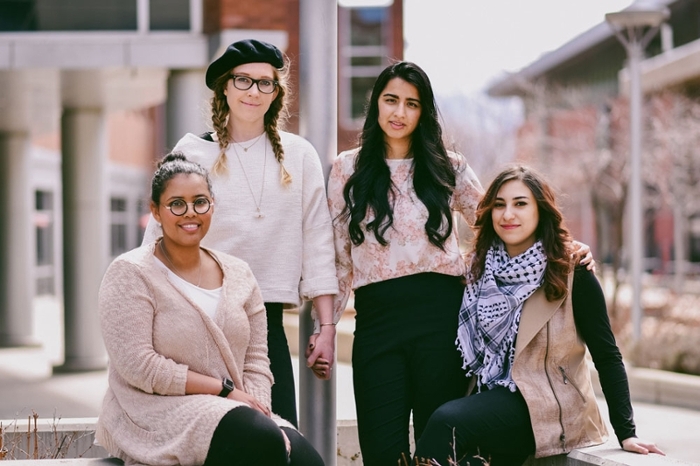 The future of health care rests with the next generation of physicians and aspiring leaders. Today's medical training prepares physicians to be part of teams within vast health systems. Diverse backgrounds and perspectives improve a team's ability to problem-solve, resulting in better care and outcomes for patients.
Bushra Hussein, Margaux Miller, Harjit Kaur, and Leen Samha, born respectively into Somalian, Czech American, Indian, and Palestinian families, developed a close friendship during their first year of medical school at the University of Utah. The four medical students created Bundle of Hers, a weekly podcast on The Scope radio that explores issues not commonly discussed in medicine.
 A mouthpiece for different voices and perspectives, Hussein, Miller, Kaur, and Samha advocate for inclusive health care leadership. In this blog, they share valuable insights and lessons learned along their path to future leadership roles in medicine.  
The Faces of Leadership
Leadership is a dynamic paradigm that is constantly evolving. And like our identities, leadership is different for everyone. Our own experiences have taught us that leadership comes in different forms and that there are many different ways to lead. However, inherent in all forms of leadership is forward momentum, growth, and change. Leadership is about turning what you see into something actionable. Sometimes being a leader is as simple as recognizing a need and doing what you can to fill it.
For instance, Leen saw parallels between Palestine and rural Utah. Both communities experience immense instability and stress when health care professionals are scarce. Seeing a need, Leen began working with various health care organizations in the West Bank to increase access and quality of care. Having grown up in southern Utah as possibly the only Muslim Palestinian-American woman, Leen has become a mentor for girls and youth in underrepresented communities. As a pre-medical student at Southern Utah University, she visited high schools and clinics in rural areas of the state and witnessed the health care disparities. As part of the Utah Rural Outreach Program, she encouraged students with an interest in health care to be part of the solution for greater access and quality care by working in their own communities after completing their education.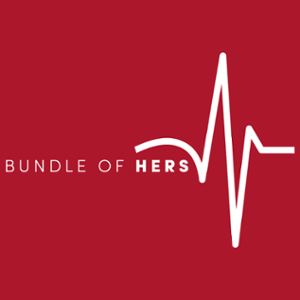 Collectively, we recognize a need within the culture of our medical school class to be more inclusive of different voices and perspectives. That is the impetus for creating a public platform on diversity and underrepresentation in medicine. The underlying message of Bundle of Hers is: we all have a different frame of reference rooted in our identities. We need to be open to different voices, open to change, and open to innovation. Diversity tempers leadership, creating opportunities to understand many perspectives. We are stronger when we move forward together. This is what leaders should strive for in the hospital setting and, more broadly, in medical education.
(By the way: The name of the podcast is a clever twist on "Bundle of His," a term used to describe the bundle of cardiac muscle fibers that conducts the electrical impulses that regulate the heartbeat.)
Speak Up, Speak Out
Without a voice, identities are diminished. As women, and as people of color, we have experienced what it's like to have our voices shut down in various spaces or situations. That feeling of being diminished is one we hope no one has to go through. Having witnessed the consequences of both those that use their voice and those that remain silent we have gained the courage to speak out through Bundle of Hers. We want to make sure our communities, the people we represent and the identities we are a part of, are not lost.
Consider the impact you can have with your words. It is important to speak up because you are an advocate for yourself and those that do not have the resources, platform, or privilege to make their voices heard. When you do not speak up, it is a missed opportunity. A leader needs to be bold enough to question the status quo, and when necessary, be audacious enough to reject it.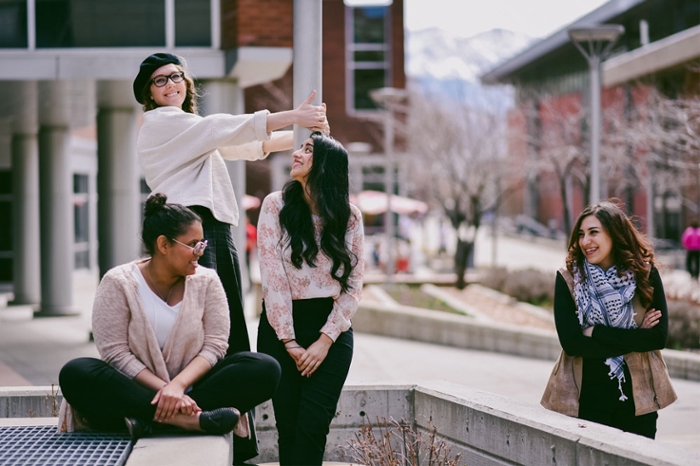 Speaking out is not easy. It requires a careful risk-benefit analysis. Ask yourself if the consequences of remaining silent are better to live with than those predicted in speaking out. For instance, we felt some fear and hesitation when we were producing our podcast about Islamophobia in health care and society. Having seen the harsh consequences our communities face for being visible, we wondered about the potential impact this podcast would have on the school and how we might be viewed for expressing our opinions. After considering the risks, we decided it was a story that needed to be told. In the end, the reaction from listeners was very positive and we felt empowered by speaking the truth.
From Acceptance to Inclusion
Health care professionals have a responsibility to function as objective investigators, patient advocates, and collaborators. This is particularly true as the team-approach to medicine becomes more common. In medical school, we have interprofessional learning experiences where we participate in case-based learning with students from other areas of health sciences, including pharmacy, nursing, dentistry and physical therapy. As we problem solve together, our personal and professional perspectives influence how we search for solutions. And by blending our diverse backgrounds and perspectives, the overall ability of the group supersedes the talent of any individual team member.
A health system needs leadership that can support the many needs of its staff and patients alike. Great strides have been made in changing the landscape to become more accepting of different experiences, but to truly achieve meaningful change, we need to move forward from acceptance to inclusion.
When we assume leadership roles as physicians we look forward to applying the valuable lessons that we've learned in medical school. And we hope, current and aspiring leaders at U of U Health and at other institutions can benefit from our experiences as well.
Bushra Hussein, Margaux Miller, Harjit Kaur, and Leen Samha
Guest bloggers Bushra Hussein, Margaux Miller, Harjit Kaur, and Leen Samha are third-year medical students at the University of Utah who co-host "Bundle of Hers," a weekly podcast on The Scope radio about diversity and underrepresentation in medicine.
DON'T MISS OUT. GOOD NOTES delivers to your inbox.