Better Air For Us To Breathe
Robert Paine III, MD
I'm humbled by the honor of receiving a Jon M. Huntsman Presidential Chair and by the enormous generosity of the Huntsman Family Foundation. I've been with the University of Utah for 11 years and over that time I've had the wonderful opportunity to do many things. I've been involved in the care for critically ill patients; in carrying out both basic research at the bench and clinical research; and in training the next generation of pulmonary physicians and researchers. It's been a spectacular opportunity to mix these individually important activities together—all made possible through the collaborative environment here at the U.
This is a very special place that allows people to come and explore new areas. This collaborative culture and environment have been essential for me. For example, it was a cross-disciplinary collaboration with Kerry Kelly that led to our forming the Program for Air Quality Health and Society—merging Kelly's expertise in chemical engineering with my background as a pulmonologist. The program has been a significant force for enhancing our understanding of and alleviating the air quality challenges of the Wasatch Front. 
At the Huntsman Presidential Chair's celebration event, Peter Huntsman spoke about the importance of being nimble. This is an enormously important capacity in modern academic medicine. We need resources that allow us to grab a new opportunity, move with it quickly, and push to the conclusion. We aspire to carry out work that is transformational, rather than incremental and predictable. It is resources such as these that allow us to truly be the best we can.
This chair allows me and my collaborators to continue pursuing an exciting mix of research, patient care, and education. It will let us follow our noses to chase new solutions, to help identify cures, and to prevent disease. In the immediate future, it will create an opportunity to combine my expertise in pulmonary cell and molecular biology with my eagerness to address the issue of air pollution. This opens the door to exploring the impact of pollution on the key characteristics that defend our lungs from infection.
Jon Huntsman dedicated his life to removing obstacles and solving problems. I will strive to use the resources that he and his family have provided to continue on that path.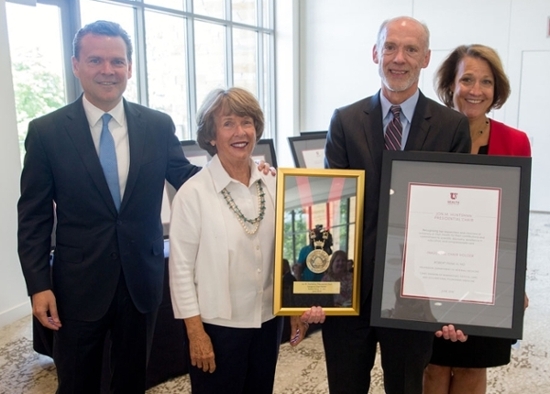 Robert Paine III, MD
Guest blogger Robert Paine is a professor of Pulmonary Medicine and Chief of the Division of Respiratory, Critical Care and Occupational Pulmonary Medicine in the Department of Internal Medicine at University of Utah Health.
DON'T MISS OUT. GOOD NOTES delivers to your inbox.