The Great Debate: Precision Medicine for Population Health?
Will Dere, MD
In 2016, National Institutes of Health director Francis Collins predicted that precision medicine "is going to change everything about how we understand health and disease." Two years later, it is still unclear whether this hope will become a reality.
Precision medicine, the White House states, is "health care tailored for you." At its most fundamental level, this approach seeks to optimize treatments based on an individual's characteristics, such as the ability to respond to certain drugs based on differences in genes, environments, and lifestyles. But even as the initiative has gained momentum, questions have arisen of whether precision medicine focuses on too few at the expense of the broader population.
The future of precision medicine will be the focus of the upcoming symposium Frontiers in Precision Medicine III: "Will Precision Medicine Improve Population Health?" to be held at the University of Utah on March 16.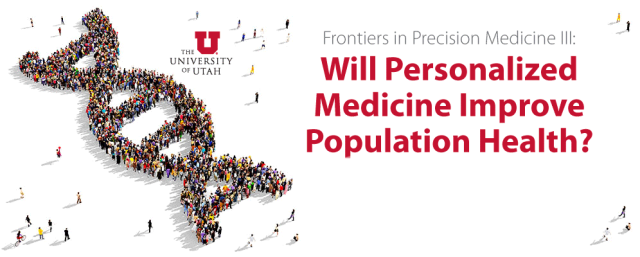 We are delighted to host three keynote speakers: Muin Khoury, MD, PhD, Sara Van Driest, MD, PhD, and Erika Check Hayden, PhD. As founding director of the Centers for Disease Control and Prevention Office of Public Health Genomics, Khoury is a leading voice in translating genetic discoveries into health care and disease prevention. Van Driest, assistant professor in the Department of Pediatrics at Vanderbilt University, is an expert in both clinical pharmacology, pharmacogenetics, and the use of big data in electronic health records. Hayden, journalist and director of Science Communication at University of California at Santa Cruz, is well known for her articles addressing the race for cures for ultra-rare childhood diseases and the public's perspective on controversial technologies such as gene editing.
The four intervening sessions will feature short presentations followed by interactive panel discussions on genetics in cancer; the role of big data to advance precision medicine and population health; health disparities; and the role of direct-to-consumer genetics in population health.
Thoughtful Application of Precision Medicine and Population Health with Limited Resources
Finding ways to improve our nation's health by blending the best aspects of both approaches is one of the greatest challenges facing medicine today and is sure to incite lively debate at the symposium.
There is no question that lives have been saved by precision medicine preventions. For example, genetic screening has proven effective for individuals who have a family history of breast and ovarian cancer for the gene BRCA1. By the same token, mandates for large population health strategies in which groups undergo childhood vaccinations or governments add fluoride to public water have also undeniably improved our nation's health. In a time when health care costs are approaching a fifth of the US economy and policymakers and administrators are incentivizing fewer expenditures, can we as a nation afford to explore both strategies simultaneously?
When it comes to improving health through precision medicine and/or population health, it is much simpler and cheaper to take a single approach. And yet the danger of trimming health care programs in an attempt to "streamline costs" is an oversimplification that disregards the nuance of care delivery.
A Delicate Balancing Act
The complexity of human biology demands that we as biomedical researchers employ the breadth of our capabilities and insights to personalize our medical interventions where necessary and possible, while ensuring that our resources benefit the broader population. Innovations like precision medicine and population health have a delicate balancing act to execute—one that weighs an immediate need for efficacy with a long-term investment in delivering hyper-specific preventions and treatments.
I hope you will join me in what's sure to be an enlightening day as experts and thought leaders from the University of Utah and across the nation wrestle with these difficult issues. If you cannot attend the symposium in person, I invite you to watch the live stream of the event online.
Will Dere, MD
Guest Blogger Will Dere, MD, is a professor of Internal Medicine, Executive Director of the Program in Personalized Health, and Co-director of the Center for Clinical and Translational Science.
DON'T MISS OUT. GOOD NOTES delivers to your inbox.