Kelly Tappenden, PhD, RD, is many things to many people. For the chronically ill, she's a champion who helped develop the only drug of its kind to treat patients with short bowel syndrome. For the scientific community, she's a prolific researcher who recently ranked in the top 2% of scientists cited over their careers. And for the world of academia, she's a respected and innovative leader who's helmed divisions and departments at Tier 1 universities.
Today, she's the dean leading the way at the University of Utah College of Health. She adopted this new role in July 2023. We recently sat down with Dean Tappenden to learn more about her priorities, vision, and experience as a first-generation college student turned college head.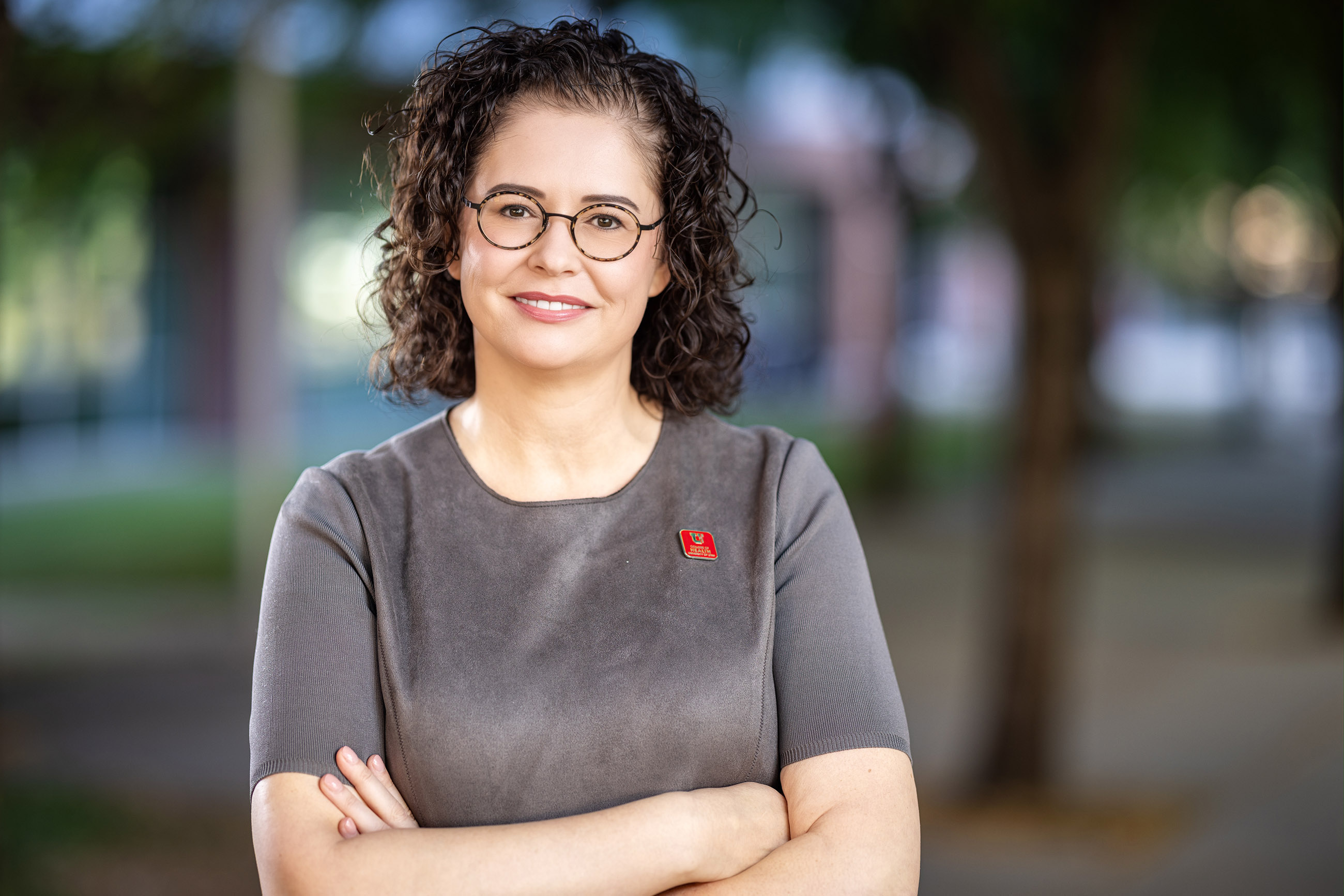 What are you passionate about as dean?
The people! Serving as the dean of the College of Health is an immense privilege. I get to spend my time working with and advocating for the incredible people seeking to make our world a better place. The college is responsible for and dedicated to excellence in education, research, service, and patient care at the intersections of broad health disciplines. This means our team is incredibly varied and includes students, faculty, staff, alumni, and all Utahns.
Sometimes these fundamental activities of a public institution are viewed as distinct activities, however, they are all connected. In fact, they're a self-fulfilling cycle. For example, our faculty don't just teach students who go on to acquire degrees. Instead, they instill in our students the passion and knowledge to go on to become health professionals. In turn, these professionals model their mentors, forging discoveries in the lab, innovating in their communities, and providing impactful care in clinical programs.
Over time a beautiful synergy develops, where world-class faculty train a diverse, thriving student body. This increases the prestige and value of our clinical programs, which encourages donors to invest in our programs. Finally, it allows for endowments to support more scholarships, named professorships, and state-of-the-art facilities.
It's a privilege and honor to work with University of Utah President Taylor Randall, CEO of University of Utah Health and the Senior Vice President of Health Sciences Michael Good, MD, and other outstanding people at the U. Our team seeks to inspire student success, innovates to create new discoveries, and seeks to serve every Utahn.
What is your vision for the College of Health?
We're on a path to redefine the human healthspan. What I mean by this is that humans don't just live long lives, but healthy and self-determined lives. We were all touched by the pandemic in different ways. It was a disruption that now leaves us with opportunities—a platform for health professionals to make even more of an impact in our world. I want to ensure that the College of Health becomes the top academic college contributing to health disciplines. Together, we're working to add more years to our life and life to those years.
Preventive care is essential for redefining the human health span. How is the College of Health contributing?
Each of our six departments contributes to preventive care. Flip through our most recent magazine and you'll find plenty of examples. Department of Occupational and Recreational Therapy associate professor Melissa Zahl brings adaptive cycles and spin classes to rural communities. Parks, Recreation, and Tourism chair Dorothy Schmalz co-founded a collaborative that studies nature as a preventive health tool. Department of Communications Sciences and Disorders professor Robert Kraemer created a clinic in Oaxaca, Mexico, that provides community members with free assessments. Faculty members Shannon Jones and Jeff Rose bring healthy food and social services to Salt Lake City's homeless.
The list goes on and I'm so proud of the tireless work people in our departments do to advance the mission.
Can you describe your leadership style and how you ended up in leadership?
I've done a lot of personality testing, workshopping, and mentorship work to help identify my style, which I can confidently say is relational leadership. I'm motivated by shared goals, innovative advances, and strategic vision. As a new dean, I'm focused on learning, communicating, and building trust. It's my job to create an environment where our students, staff, faculty, and partners can thrive.
One of my early leadership experiences was working with the dean of the graduate college at the University of Illinois Urbana-Champaign. This esteemed professor was a Shakespearean scholar and humanist. He and I had very little in common from an academic perspective, but he inspired me with the way he was able to see the various needs and disciplines across the breadth of the institution. He could speak to the scientist doing the most basic molecular work, engineers creating all sorts of incredible advances, and the needs of social scientists and humanists. He was able to hear other people and empathize with their situation and what they were trying to do. I found that I really related to that. It was very compelling.
Being the dean was never a specific goal of mine, but seeing the big things we can contribute at an academic institution like this has resonated with me in a big way. I try to put myself in the position of people I'm working with. If I can see what it is they're trying to achieve despite their challenges, hopefully I can help them move forward. I do this by tailoring my actions to their specific situations through relationship building.
The College of Health has an impressive research trajectory. Can you tell us more about your own research and why you were drawn to the field?
I'm really interested in the intestines of people who can't digest and absorb nutrients, and people who have been malnourished from various diseases or had their intestines removed. They have terrible malabsorptive diarrhea and must rely on intravenous nutrition. It's a horrific situation. I want to know how we can best nourish them, and—more importantly—save them from even being in this situation. This involves improving their gut function so they can digest more and have less reliance on IV nutrition, which is associated with negative long-term consequences.
A few things sparked my interest in this research. One was my experience working with critical care patients. Trauma patients need to be tube fed because when you lose a lot of blood, your body shifts into "fight or flight," and that shuts down your intestine. It becomes a form of intestinal failure. Beyond the ICU, we've learned that one third to one half of patients hospitalized in the U.S. are malnourished. We need to do better than that! Providing nutrition care as a daily part of patient care is incredibly impactful.
I also worked with patients with these specific GI issues as a practicing dietitian. I was very motivated to see what we could do try and rehabilitate their intestines to improve their prognoses. We worked on diets that were better absorbed and could stimulate their gut. I helped contribute to a new drug that was actually developed here at the University of Utah, in the very building where my office is now. Since 2012 that drug has been on the market, and it's the only available drug for patients with short bowel syndrome. It's helped some folks who were on IVs for 30+ years get their central lines removed and go on with their lives!
The intestines aren't really given the respect they deserve, but 70% of our immune system is actually in the gut. I want to help patients who are struggling with these rare intestinal issues and feel like they don't have many people who understand them. It's been a great journey, and I feel very committed to this cause.
You're also a first-generation college student. Tell us more about that experience and how it's informed your educational decisions over the years.
Yes, neither of my parents went to college, though both went to technical school. But my dad and grandfather had this incredible spirit of discovery that inspired me. They owned a heavy machine shop and worked with mining operations in Canada, often solving problems that previously hadn't had a solution. That innovation also led them to develop a motor that powers those rotating rooftop restaurants. They're also responsible for many patents for heavy-duty cranes.
My upbringing instilled a quest to solve important problems and create new knowledge. They gave me that spirit that I carry forward as a scientist and academic. It's a quest for learning, understanding, and problem solving that I maybe wouldn't have received in a more traditional setting.
I know my parents were proud of the success I've had within the academic environment, and I've always been grateful for the way they taught me to think. That helped me be successful. Of course, I also greatly benefited from outstanding mentors that shaped who I am today. It's so impactful to be able to work as an academic leader. I'm a product of all of those who encouraged and inspired me along the way.