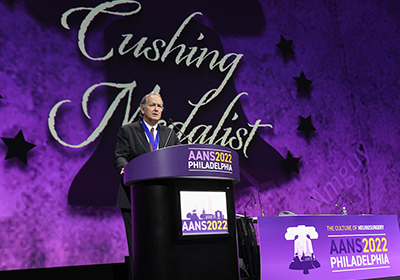 During the 90th American Association of Neurological Surgeons (AANS) Annual Meeting on May 1, 2022, William T. Couldwell, M.D., Ph.D., chair of the University of Utah Health Department of Neurosurgery, was awarded the Harvey Cushing Medal in honor of his lifetime contributions in neurosurgery that have served to revolutionize the field.
Couldwell was introduced by former AANS President Regis Haid, M.D., FAANS, who described him as unparalleled in his dedication to advancing the field through innovation and education. In addition to friends, family members, and many mentors, Couldwell thanked the thousands of patients who face unimaginable neurological diseases he's seen over the course of his career.
Born in British Columbia, Canada, Couldwell attended McGill University in Montreal, where he received an M.D., Ph.D., in neuroimmunology and molecular biology before beginning his neurosurgical residency at the University of Southern California (USC) in Los Angeles, California. He was subsequently awarded a research fellowship in neuroimmunology at the Montreal Neurological Institute and Hospital and the neurosurgical service in Lausanne, Switzerland. After completing training, Couldwell joined the faculty at USC for several years before accepting a position as professor and chairman of the Department of Neurosurgery at the New York Medical College.
In 2001, Couldwell left New York. As a leader who brings a wealth of expertise to any organization, he chose the University of Utah because it supports three missions at once—research, education, and clinical care.
"Innovation for safer and better neurosurgical care remains key to the continuous improvement of patient care and neurosurgical outcomes," said Couldwell.
For someone whose work involves trauma, his demeanor is gentle, almost always calm, and measured. Yet, when there are risks to take—convincing a hospital to adopt expensive technology or trying out a cutting-edge technique—he doesn't hesitate.
With a special focus on physician academic career development and leadership, Couldwell's dedication and valuable contributions have been instrumental in transforming the department into a well-established program of national and international recognition. Today, the department employs 24 full-time clinical physician faculty (the majority of neurosurgeons in the State of Utah), up from eight when Couldwell became chair. Of the 70 residents that have been trained since the program's inception, 50% have pursued an academic career. The department has produced eight academic chairs of neurosurgery departments around the country (10 if you count two International Medical Graduate (IMG) fellows).
With an illustrious career of about three decades, Couldwell's scholarly activities include hundreds of invited national and international presentations, practical courses and symposia, and visiting professorships and guest lectureships. He has published over 500 peer-reviewed manuscripts, 100 book chapters, and seven books.
He has served as director of the American Board of Neurological Surgery, president of the American Association of Neurological Surgeons (AANS), and president of the American Academy of Neurological Surgery (AAcNS). He is the current editor-in-chief of both Neurosurgical Focus, a monthly open-access journal that tackles important themes in neurosurgery, and Neurosurgical Focus: Video, a quarterly online journal of intraoperative video articles, and is the current president of the World Academy of Neurological Surgery (WANS).
Couldwell has been an outstanding surgeon and advocate for the advancement of neuroscience his entire career. In his 21 years at U of U Health, the clinic and surrounding patient population have benefitted from his dedication to excellent care in the present and medical advancements for the future.