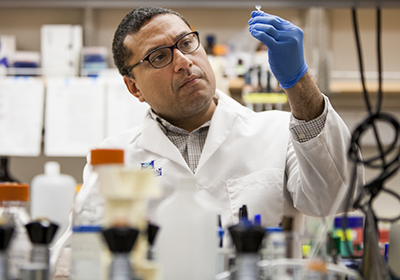 In partnership with the American Association of Neurological Surgeons/Congress of Neurological Surgeons (AANS/CNS) and Primary Children's Hospital, the University of Utah Department of Neurosurgery was proud to host the 50th Annual Pediatric Neurosurgery Section Meeting, held December 7-10, 2021, in Salt Lake City.
The four-day event featured engaging speakers, sessions, and topics that carried forward this year's theme: Healing with Precision. With the option to join virtually or in-person, over 350 members of the pediatric neurosurgical community were able to connect with colleagues, exchange ideas, and learn about cutting-edge research in precision medicine and genomics.
Speakers included well-known experts from multiple University of Utah disciplines, highlighting the value of a collaborative, patient-centered approach in the study and treatment of neurological disorders. Chair of the Department of Human Genetics, Lynn Jorde, PhD, delivered the 2021 Raimondi Lecture, focusing on the potential benefits that personalized care plan grounded in precision medicine can provide for patients previously considered untreatable.
The Chief of Pediatric Neurology, Joshua Bonkowsky, MD, PhD, addressed efforts concerning clinical applications of genomic medicine, emphasizing the important partnership between neurology and neurosurgery.
Faculty members from the Department of Neurosurgery presented clinical updates and scientific research on a wide variety of congenital and traumatic pediatric brain, spinal cord, and nervous systems conditions.
Through research conducted in his lab, associate professor of neurosurgery, Samuel Cheshier, MD, PhD, seeks to understand the molecular mechanisms of enhanced immunotherapy in the treatment of pediatric brain tumors such as pediatric glioblastoma and medulloblastoma, the latter of which is the most common malignant brain tumor in children, accounting for about 20% of all pediatric brain tumors. Dr. Cheshier spoke on the applications of precision medicine to guide treatment by targeting tumor-specific proteins, a molecular subtype, or biological pathway.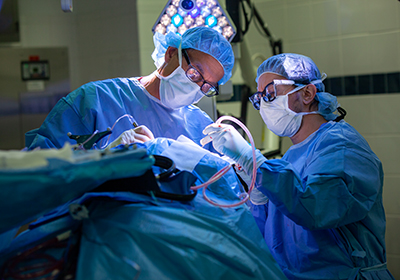 The surgical director of the pediatric epilepsy program at Primary Children's Hospital, Robert Bollo, MD, MS, explained why surgical interventions for pediatric epilepsy are an under-utilized therapy. Although 70% of patients respond to medication, 30% remain drug-resistant; for these patients, surgical intervention may be recommended and is generally quite successful. Yet only 1% of patients with drug-resistant epilepsy ever receive surgery, and the average referral time for surgery in the United States is over five years.
Additional speakers from the department included Rajiv Iyer MD, assistant professor of neurosurgery; John Kestle, MD, professor of neurosurgery/vice-chair of clinical research; Douglas L. Brockmeyer, MD, FAAP, professor of neurosurgery/chief of pediatric neurosurgery; current pediatric neurosurgical fellow, Rebecca Burke, MD, PhD; and chief neurosurgical resident, Jonathan Scoville, MD, MSPH.
Also in attendance were former division of pediatric neurosurgery faculty, fellows, and residents who have made significant contributions to the field and currently hold teaching and leadership positions at medical centers throughout the country. Among them were professor emeritus, Marion L. Walker, MD, FAANS, who established the division of pediatric neurosurgery in 1976 and became the first chief in 1978.
For Dr. Brockmeyer, seeing the community gather to advance the diagnosis, treatment, and care of children with neurosurgical diseases and disorders felt like a step in the right direction. He hopes the meeting will pave the way for new treatments for pediatric neurosurgeons around the world.
"This event provided a special opportunity for collaboration as we enter an era when precision medicine takes an active role in clinical decision-making," he said. "We are grateful to the AANS/CNS Pediatric Section leadership for their help in organizing and allowing us to host this year."
The 51st Annual Meeting of the AANS/CNS Section on Pediatric Neurological Surgery will be held Wednesday, November 30, through Sunday, December 4, 2022, in Washington, D.C.