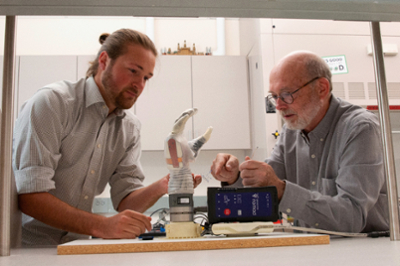 Read the original article here.
University of Utah Health physical medicine and rehabilitation assistant professor Jacob George, PhD, director of the Utah NeuroRobotics Lab who is also helping develop the "LUKE Arm" motorized prosthetic arm, was named one of Forbes' "30 Under 30" in the Science category for 2022.
For 10 years, the finance magazine has named 30 young innovators, entertainers and others each in a variety of categories from art and design to games, media and sports. These are considered by the editors to be the ones to watch out for in their respective fields. Past honorees have included Facebook founder Mark Zuckerberg, singer and entrepreneur Rihanna, and the co-founders of such companies as Instagram, Dropbox and Pinterest. Click here to see the list of the 2022 honorees in the Science category.
"I'm humbled to be a part of this amazing group of innovators," George said. "I'd like to thank all of my mentors and my training from the University of Utah and The University of Texas at Austin. I'm looking forward to an exciting new chapter and continued success at the University of Utah!"
George received his bachelor's degree in Biomedical Engineering and a Certificate in Computational Science and Engineering from The University of Texas at Austin. He then received his master's and doctorate in Biomedical Engineering from the University of Utah. He joined the U in 2021 as an assistant professor in both the Department of Electrical & Computer Engineering and the Department of Physical Medicine & Rehabilitation. In 2020, he was awarded the NIH Director's Early Independence Award to establish his own independent research lab – the Utah NeuroRobotics Lab.
His research involves augmenting biological neural networks with artificial neural networks and bionic devices to treat neurological disorders and further our understanding of neural processing. Working at the intersection of artificial intelligence, robotics, and neuroscience, his NeuroRobotics lab is developing biologically-inspired artificial intelligence and brain-machine interfaces to restore and/or enhance human function.
He and U biomedical engineering associate professor Gregory Clark are part of the development team for the "LUKE Arm" (so named after the robotic hand that Luke Skywalker got in "The Empire Strikes Back"), a motorized prosthetic arm that mimics the way a human hand feels objects by sending the appropriate signals to the brain. George and Clark are developing a system that allows the prosthetic arm to tap into the wearer's nerves, which are like biological wires that send signals to the arm to move.