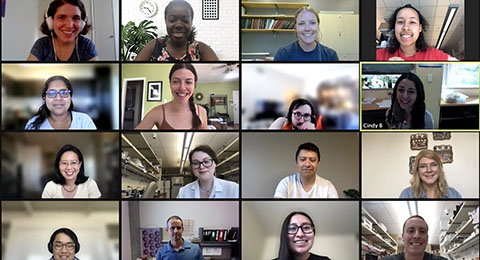 U of U SACNAS Earns National Recognition
When Faith Bowman was deciding where to attend graduate school, University of Utah wasn't exactly at the top of her list. Coming from Wisconsin, she didn't know much about the school or the state. But during her recruitment visit, an informal gathering with students from the University of Utah SACNAS (Society for Chicanos/Hispanics and Native Americans in Science) chapter—an all-inclusive organization—helped her see things differently. After talking with them, she knew that if she came, she would be surrounded by a supportive community. She chose the U, and three years later, that prediction has held true.
"To me, SACNAS is a community away from home," says Bowman, now president of the U chapter. "It's a place that has created a sense of belonging for me on campus while helping me to achieve my professional goals."
Bowman's experience isn't unique. The Bioscience graduate programs have collaborated with the U of U SACNAS community in its annual recruitment activities since 2017. These efforts, which included hosting the 2017 SACNAS National Conference in Salt Lake City, have resulted in tripling recruitment of students from historically underrepresented (UR) backgrounds. UR students now comprise 33% of the domestic class, and racial and ethnic minorities comprise 28%, reflecting the same proportions as the national talent pool.
"Knowing this diverse, all-inclusive community is here helps recruits decide, in parallel to the awesome research, that we are their 'best fit,'" says Jeanette Ducut-Sigala, PhD, the U of U SACNAS manager. "These innovative and authentic recruiting efforts have resulted in sustained, significant success."
The ability to make meaningful change in diversity and inclusion has earned U of U SACNAS national recognition. In a virtual ceremony held on October 13, the national organization designated the UofU group "Chapter of the Year" along with six other local chapters of the 133 located in the U.S. and Puerto Rico.
"The SACNAS familia always encourages me to bring, show, and celebrate my strength, resilience, culture, traditions, and science."

Biochemistry graduate student, Jesse Velasco-Silva
Toward Meaningful Change
U of U SACNAS officially launched in 2014 with the goal of training and supporting the next generation of diverse STEM talent. From students to professionals, the parent organization fosters success in attaining advanced degrees, careers, and positions of leadership within STEM. The U chapter mainly serves graduate students, postdocs and staff while a sub-chapter centered on main campus is open to both undergraduates and graduate students. Ducut-Sigala, biochemistry faculty Minna Roh-Johnson, PhD, and Paul Sigala, PhD, and human genetics faculty Clement Chow, PhD, operate as advisors.
It's clear that across the country there is a great need for organizations like this one. According to SACNAS, the national STEM workforce is 6% Hispanic, 4.8% Black, and 0.2% Native American, numbers that are significantly lower than in the overall U.S. workforce. A lack of diversity hurts all of us, the organization explains, because diverse voices bring creative solutions to our world's most pressing scientific problems.
U of U SACNAS helps its members to grow through authentic inclusion. They host talks by professionals to inspire career aspirations and create connections with role models, and provide supportive peer mentoring, and leadership development. In collaboration with the University Counseling Center, Health and Wellness Center, and Center for Student Wellness, they hold sessions where members can talk through issues and learn strategies for balancing their lives in and outside of science. Knowing that role modeling can make all the difference for young children, they also perform outreach with local K-12 schools to show that science is for everyone.
"A Community Away From Home"
The organization has provided a sense of belonging to member Jesse Velasco-Silva, a biochemistry graduate student and the chapter's vice president. "The SACNAS familia always encourages me to bring, show, and celebrate my strength, resilience, culture, traditions, and science," he says. He explains that being a first-generation Mexican-American immigrant and college student has come with challenges. The guidance and support he's received from the SACNAS community has helped him to overcome them.
As for Bowman, her experience has come full circle. She benefitted from the openness of the U of U SACNAS community when she was making the difficult decision of where to get her doctoral degree. Now, she does the same for the next sets of prospective students.
"I get to show the recruits, particularly the first-gen BIPOC students, how we belong on campus, belong in our programs, and thrive here because we have a community like SACNAS," she says. "We have a supportive, collaborative environment at Utah and really, a university committed to equity and inclusion."