The roots of Jeri Bullock's passion for the underserved go back to where she grew up: a small town in southern Nevada called Moapa Valley. "Not even a stop light there," says the associate professor in University of Utah's School of Dentistry.
Bullock's family lived in a single-wide trailer and struggled with poverty. While her truck-driver father earned enough to lift them above the federal poverty level, his poor money management meant they barely scrapped by. As a child, when she needed milk and bread, she'd have to root around in the change jar to find the money. While resources were few, close-knit family and community ties were plentiful, she recalls. Out of this childhood sprang her understanding of the importance of serving low-income families.
Initially, Bullock wanted to go into medicine but later switched to dentistry. "Its ability to have an immediate impact with somebody is pretty special," she says. "You're developing relationships with people, versus writing a prescription and they're out the door." While the rest of her cohort were focused on private practice with perhaps some international volunteer work, she was the only one who wanted to work in a public health setting.
After graduating in 2011 from a dentistry school in California, Bullock moved to rural Vermont, where she served first as a dentist and then dental director at the Rutland Community Health Center. The area had significant unmet dental and health needs and opioid abuse issues while nevertheless benefiting from a robust Medicaid program. Such extensive federal support wasn't available at the Southwest Virginia Community Health Systems, where she moved to in 2014 as dental director. Medicaid only paid for extractions, not dentures. That meant 20-year-olds who couldn't afford dentures were left with toothless gums.
Both Rutland and Southwest Virginia shared similar levels of poverty, substance abuse disorder, poor nutrition, and poor oral health. Their differences, however, fell along cultural lines. Rutland's patients were most notable in their northern directness, while Southwest Virginia's patients demonstrated both southern hospitality and a degree of humility.
"Drill, fill, and bill."
In 2017, Bullock and her family moved to Utah. She joined University of Utah's School of Dentistry part time as an attending dentist and was promoted to full-time only six months later by dean Rory Hume as assistant professor at the school's clinic and director at South Main Clinic's dental clinic. At the South Salt Lake-based health center, rotating students provide dental care for low-income Latino and refugee patients. "Jeri is passionate about holistic care for families and the integration of medical and dental care," says Wendy Hobson-Rohrer, director of South Main Clinic.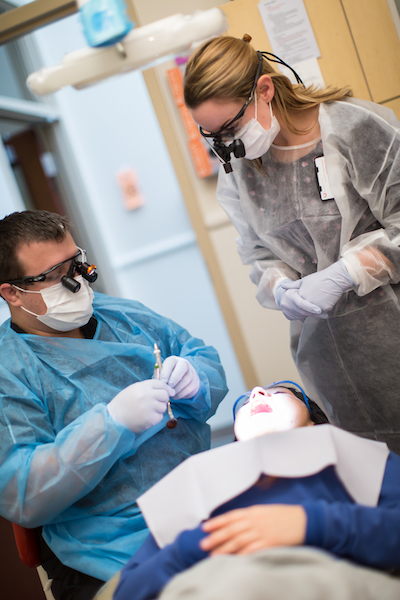 Raised in rural poverty, Bullock is sensitive to the needs of the disadvantaged and the marginalized. The poor, she says, can be easily preyed upon by those without scruples. "In dentistry, it's easy for somebody to go to a low-income community and say they're trying to do good," she says. "But it's equally easy for bad dentists to go into those underserved communities and do bad dentistry." Some see low-income and uninsured patients as a commodity and pursue a philosophy of "drill, fill, and bill," she says.
That's why Bullock was so excited earlier this summer, when U of U Health's Utah Physician Assistant Program (UPAP) distant campus in St. George approached the school, seeking students to provide dental services at the second annual Creek Valley Health Fair in the neighboring townships of Colorado City, Ariz. and Hildale, Utah. Bullock grew up near the townships, an area long dominated by the Fundamentalist Church of Jesus Christ of Latter-day Saints (FLDS).
As a child, Bullock's family would shop in St. George at a Walmart half an hour drive from the community. By the time she graduated from high school in 2001, she'd seen the transition of many of the female residents in Hildale and Colorado City from modest, simple clothing to the monochromatic ankle-length prairie dresses that for years illustrated media stories about life under leader Warren Jeffs, currently serving life in Texas.
In recent years, there has been an exodus of the FLDS, although an estimated 3,000 or so, many in dire poverty, remain. "Another sub group stuck in this limbo of high need with very little resources," Bullock says.
While it was unclear whether anyone among the community members who attended the health fair were FLDS or not, what Bullock and her small team of volunteer dentist students found, she says, "was definitely worse than we typically see"—as bad as Appalachia in terms of poor oral health knowledge and few children screened for oral hygiene. In Hildale, an added problem comes from radium in the tap water, which means residents drink bottled water without access to fluoride, a chemical viewed as poisonous by some in the 10,000-strong community.
The way that Creek Valley Health Fair attendees knew each other and watched over each other's children as they received services or endured long waits reminded Bullock of her childhood in Moapa Valley. "No one complained about waiting, which is very rare at these kinds of events," she says. "Often at free health events there's a sense of almost entitlement from patients. But there I didn't get that. They were so appreciative of us being there. It was a breath of fresh air honestly."
Meeting the community where they live
Bullock wants to see her students attend the 2020 health fair with an even bigger presence than the year before. "I felt like we could reach more of the community and family members," she says. "We could show them that we are a resource—and that we respect them, we respect their privacy, and we respect what they've gone through."
Bullock's ambitions for Hildale and Colorado City extend to underserved communities in Utah and beyond. As she looks to the future, she plans on continuing to encourage diversity in student applicants through visits to local schools. She also hopes to "be the point person helping the dental school in creating more clinics like South Main, which meet the community where they live."
When Bullock thinks back to the little girl digging around in the change jar for milk and bread money, she knows she would be proud of what her adult self has achieved and the role Moapa, Nev. has played in her life. All her career decisions, "have been shaped by where I came from and the values I learned there," she says.
Photos by Charlie Ehlert