The ranch house, which is about 15 miles outside the small town of Vernal, Utah, sits along a rugged landscape of wind-sculpted hills and sagebrush-dotted desert. About 175 miles east of Salt Lake City, this area is home to many older residents who pride themselves on their independence and who also may need medical attention that is not readily accessible.
This includes folks like Scott Timothy, age 62. Timothy has a heart condition and requires oxygen daily. "When I had my heart attack, the emergency folks weren't too happy with me because I had my wife drive me the 20 minutes to get to the hospital," said Timothy. "But by the time the ambulance would get out here, it would be 40 minutes to get to the hospital." His wife, Doylene, nods. "A lot of these older people can't drive," she said. "They have to wait for someone to go get them. All that time – they just wait.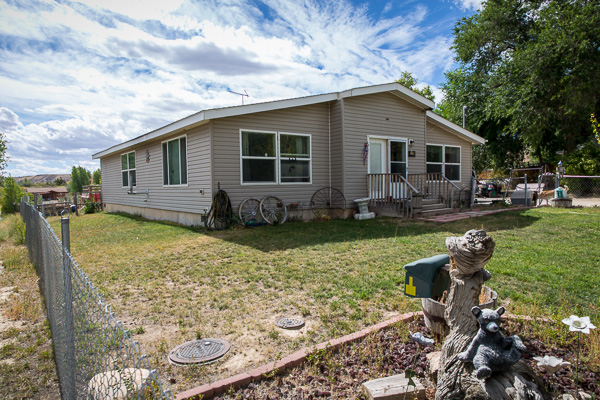 The situation facing the Timothys is increasingly common. Nearly 80 percent of rural America is considered medically underserved. As urbanization increases, older, sicker and poorer Americans remain in rural communities. Rural hospitals are closing and consolidating, meaning residents will have to drive further not only for emergencies but for the kinds of diagnostic tests and treatments usually provided in a hospital. Rural residents may also encounter local health care workforce shortages, and experience issues with health literacy and health insurance coverage.
To address these issues, University of Utah Health and Ariadne Labs — an innovation center of Brigham and Women's Hospital and Harvard T.H. Chan School of Public Health are developing a new model, called the Rural Home Hospital Program, for how care could be delivered in rural areas. Instead of expecting people like Timothy to travel for hospital-level care, the hospital-level care is going to them. Ariadne Labs and University of Utah Health are now trying to determine if cutting-edge medical and communication technology can be used by medical staff to safely and effectively treat acutely ill rural patients in their homes.
The model for this "home hospitalization" has been successfully tested in urban Boston by Brigham and Women's Hospital and Harvard Medical School. Researchers now want to adapt the model to rural America, where distance is measured in hours of driving and internet signals can be spotty.
"We know home hospitalization works in an urban setting," said Dr. David Levine, associate faculty at Ariadne Labs and general internist at Brigham and Women's Hospital. "We are now trying to package the right personnel, workflow, and technology to make this work in a rural setting."
As part of its mandate, the Rural Home Hospital Program will focus on patient-centered care. The aim is to "get the right care to the right patient at the right time in the right place," Levine said. "There is a great need for this kind of care model."
Mock admissions test rural home hospital model
Here's how it would work: A specially trained local paramedic travels to the patient's home. A hospital-based physician joins the appointment through video conference to oversee all aspects of care. Under the physician's supervision, the paramedic provides care to the patient and sets up any needed medical equipment in the home.
The first step in testing was staging a simulation to collect observational and qualitative data.
For two days in September, Ariadne Labs and Utah health professionals did a test run of the Rural Home Hospital Model with real patients in the towns of Monticello and Vernal, Utah. A team from Ariadne and the University of Utah joined paramedic Steve Holley, who is also an assistant professor in the Emergency Services Department at Utah Valley University, for mock admissions of two patients who live hundreds of miles away from Salt Lake City, where the nearest tertiary hospital is located. Both patients suffer from chronic conditions that had required hospitalization in the past, so they were able to compare traditional and home hospital care.
During the mock admission, each patient was asked to simulate an exacerbation of their chronic illness that would normally require hospitalization to test the clinical team's ability to optimally deliver care. The research team followed the format of a real hospital stay – with admission, daily rounds, and discharge.
"The mock admissions gave us the opportunity to test and refine the care protocols and the customized communication and technology strategies needed to provide acutely ill rural patients with access to state-of-the art hospital care at home," said Joey Ross, the Ariadne project manager supporting the Rural Home Hospital Program.
On the first day of the mock admission, the team travelled to the Vernal home of Scott Timothy. Timothy, who has lived in Vernal since age 5 and who had worked in the area's oil fields, was still recovering from a heart attack. Paramedic Holley began the visit by setting up a small satellite receptor outside the house in case the internet signal proved weak.
Timothy, who uses supplemental oxygen, sat on a recliner as Holley attached a blood pressure monitor to his forearm. Using portable equipment, Holley took vitals, did blood work, and performed a heart ultrasound.
Using a tablet and a laptop, Holley established a video link with Dr. Natalie Como, a hospitalist and clinical Instructor at University of Utah Hospital. Holley provided her with test results, and she took a medical history. She instructed Timothy and Holley on the care/treatment plan including medications, and provided suggestions for lifestyle changes.
Holley also conducted a "kitchen walkthrough" with Dr. Como and Timothy to explain how he could reduce his salt intake
"I think I had good care today. I really do," said Timothy, during a post-exam interview about his experience. "I was really comfortable in my recliner. I understand that if I had to, I would go to the hospital and spend three or four days there."
In the future, the Rural Home Hospital Program could effectively and safely care for patients like Timothy in their homes on a long-term basis, an idea he really likes. "That would be great. As much time as I can spend in my home until I can't anymore – that would be great."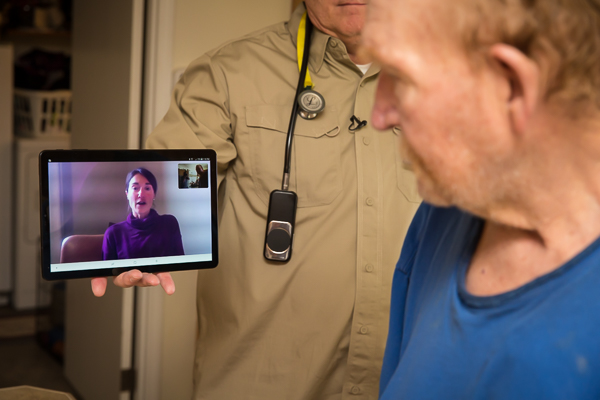 The Rural Home Hospital Program enters its next phase
As with any new program, there were glitches to be worked out, but Holley was happy with the performance of the connectivity and the equipment. He liked the "unhurried feeling" of the home visit and called it a "blessing" that he could spend time with patients.
"I really like when you get to see the patient in their environment and you can see how they live," he said. "The environment tells me more about the patient beyond what a visit to a clinic can."
Dr. Como was also pleased with how the exams proceeded, and offered suggestions for improvement, such as having access to X-rays or a conversation with a patient's cardiologist beforehand. She also appreciated that the paramedic was able to call her once he had the test results, making for an efficient conversation with the patient.
"During our home visits, we were pleased to see how quickly Holley established a rapport with the patients. He was able to explain what he was doing very clearly and in detail," said Meghna Desai, the research assistant supporting the Rural Home Hospital Program, who observed the admissions with Ross and Levine.
Thanks to new grant funding from the RxFoundation, University of Utah Health and Ariadne Labs will test the acceptability and outcomes of the Rural Home Hospital Program through enrollment of patients in the spring and summer of 2020.
"The mock admissions demonstrated that a model with the right technologies, personnel, and protocols could address the challenges of rural health care," said Ross.
Levine noted this is just the beginning. "In the next 5 to 10 years, we expect to see a paradigm shift toward the home when caring for acutely ill adults in rural areas," he said.
"We are confident that our home hospital work will lay the foundation for a care model that can reach those often overlooked in rural America."