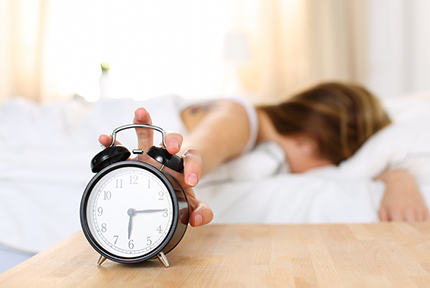 Author: Doug Dollemore
The light bulb changed how we sleep. No longer bound to sunlight or the dim flickering of candles, people discovered there was a lot more to do in the bright, incandescent glow.
Yet dawn still comes early. And that's the rub.
More than 70 million Americans sleep for less than six hours on weekdays. And that's worrisome because inadequate sleep—less than seven hours daily—is associated with a host of serious diseases and conditions, including high blood pressure, heart disease, diabetes, obesity, and stroke. Medications are typically the first line of treatment for these health problems.
But in a recent pilot study, Kelly G. Baron, Ph.D., M.P.H., D.B.S.M., a University of Utah Health clinical psychologist and sleep specialist in the Department of Family & Preventive Medicine, found that simple behavior interventions improved sleep, lessened daytime sleepiness, and significantly lowered blood pressure in a group of "short" sleepers who were on the cusp of hypertension.
"If we can get people to extend their sleep time by just 30 minutes, that can have real consequences for their health and well-being," Baron says. "The improvements we saw in blood pressure were clinically exciting. It had as big an effect as taking medication."
These interventions, Baron says, eventually could help improve the health of many people at risk for diseases linked to shorter-than-average sleep duration.
The study, conducted at Rush University Medical Center in Chicago prior to Baron joining U of U Health, appears in the Journal of Clinical Sleep Medicine.
"If we can get people to extend their sleep time by just 30 minutes, that can have real consequences for their health and well-being."
Baron and her colleagues used wearable sleep trackers (such as Fitbit) and smartphone apps to chart the sleeping patterns and routines of 11 men and women, ages 30-65, who were at risk for high blood pressure and reported sleeping less than seven hours a day. They also provided participants with weekly telephone coaching as well as educational materials about the importance of sleep, sleep-inducing bedtime routines, and other related topics.
Over a six-week period, the researchers regularly measured ambulatory blood pressure, total sleep time, time in bed, sleep efficiency (the percent of time actually asleep in bed), and other factors. Overall, participants who used the interventions reported lower blood pressure readings, longer total sleep time, fewer sleep disruptions, more time spent in bed, and better daytime alertness than those who were asked to merely maintain their pre-study sleep routines.
"This study shows that it's possible to get people to extend their sleep," Baron says. "They really enjoyed doing it with the technology we provided for them. It shows the potential for developing this approach to improve blood pressure by simply modifying a person's behavior."
Baron and her colleagues in U of U Health's Behavioral Sleep Medicine program are currently recruiting volunteers to participate in a larger, longer 12-week study of this intervention.