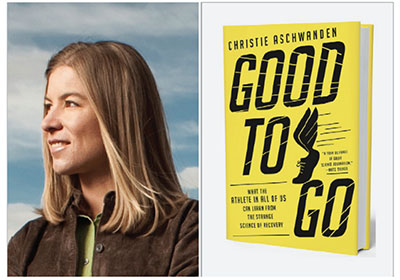 "Good to Go: What the Athlete in All of Us Can Learn From the Strange Science of Recovery"
Presentation - Panel - Book Signing
Friday, October 4, 1:00 p.m. - 2:30 p.m.
Health Sciences Education Building, Rm 1730
If you work out or compete, it's hard to escape the fitness recovery buzz, from drinks and shakes to compression sleeves, foam rollers and sleep trackers. At a time when these products promise so much, book author Christie Aschwanden asks: Do any of them actually help the body recover and achieve peak performance?
Join us as Aschwanden talks about the strange science of sports recovery, based on research for her best-selling book, Good to Go. Her presentation will be followed by a panel discussion and book signing with refreshments.
Panelists:
Tanya Halliday, PhD, RD, Health, Kinesiology & Recreation
Ernest Rimer, PhD, CSCS, University of Utah Athletics
Laura Zdiarski, PhD, ATC, Orthopaedics/Sports Medicine
This event is free and open to the public as part of the Health, Kinesiology & Recreation Seminar Series in collaboration with University of Utah Health Marketing and Communications.