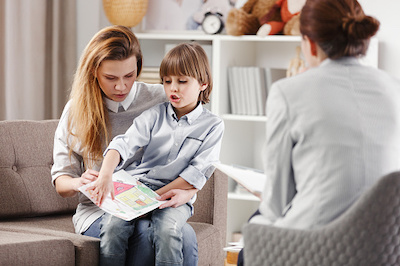 Author: Trevor Quirk
Extensive research has demonstrated the importance of early intervention for children with Autism Spectrum Disorder (ASD). The American Academy of Pediatrics recommends early screening for ASD when children are 18 and 24 months of age, and the U.S. Department of Health and Human Services has set a 2020 goal of increasing the proportion of children with ASD that receive their first evaluation by 36 months of age.
"When you can teach these children skills at an early age, their capacity to learn those skills far exceeds their capacity to do so later on," said Deborah Bilder, MD, Associate Professor in the Division of Child & Adolescent Psychiatry at University of Utah Health. By identifying children with autism early on, "we can take full advantage of that developmental window before it closes."
Children who are identified and treated as early as two years of age develop higher IQs, better play skills and linguistic ability than those who are diagnosed with ASD later in life. Some of them eventually leave the autism spectrum altogether.
Bilder is part of the Early Autism and Developmental Disabilities Monitoring (ADDM) Network which recently published the results of a multi-state survey. The researchers found that the median age at which 4-year-old children are first evaluated—ranging from 23 to 37 months—did not significantly decrease over the duration of the study, from 2010 to 2014.
"That number is not budging, and that is disconcerting," said Bilder, who coauthored the report.
Furthermore the percentage of children who received a comprehensive evaluation by 36 months of age was nearly unchanged during this study period. The report, which was published earlier this month by the Centers for Disease Control and Prevention, also drew on the work of Amanda Bakian PhD and William McMahon MD, both of whom work in the Division of Child & Adolescent Psychiatry.
Bilder said these findings suggest that national guidelines and ASD public awareness campaigns have not yet been successful in decreasing the average age at which children are evaluated and diagnosed.
The Early ADDM Network is part of the much larger ADDM Network, which is the only collaborative group that tracks the prevalence and characteristics of ASD in the U.S. population. An important objective of the Early ADDM Network is to assess efforts to lower the age at which children are evaluated for ASD. In 2010, 2012 and 2014, the network gathered medical data (and sometimes educational data) from seven sites in Arizona, Colorado, Missouri, New Jersey, North Carolina, Wisconsin and Utah.
The researchers measured the prevalence of ASD among 4-year-olds in these communities by analyzing these data with criteria provided by the Diagnostics and Statistics Manual of Mental Disorders. From state to state, ASD was determined to affect between 8.1 and 28.4 for every 1,000 4-year-old children. The team also determined that during 2014 the prevalence of ASD decreased by 20 percent when diagnoses were made using the most recent edition of the DSM (DSM-5), as opposed to the earlier DSM-IV-TR.
Neither the 8-year-old nor 4-year-old ADDM studies statistically represent autism rates among all children in the United States.
Given these results, Bilder recommends physicians and policymakers "take a look at the guidelines that are in place and consider what changes could be made, either to the guidelines themselves or in their implementation, to reduce the age at which children with ASD are evaluated and diagnosed."
The Early ADDM Network is funded by the CDC. This study was made possible by the Utah Registry of Autism and Developmental Disabilities and the Utah Department of Health.