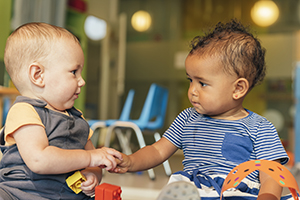 Author: Stacy W. Kish
Leukodystrophy describes a collection of rare genetic diseases that affects about one in 5,000 children. Past attempts to determine the incidence of leukodystrophy has been hindered by a database lacking racial diversity.
"Over the past couple years, I began wondering if patients across the world have the same kind of leukodystrophies or if there are differences based on racial background," said Josh Bonkowsky, M.D., Ph.D., Chief of the Division of Pediatric Neurology at University of
Utah Health and first author on the paper. "This is important because there are treatments for some types of leukodystrophy, and we need to make the diagnosis early to help our patients."
The results of the study appear online on November 21 in the journal JAMA Network Open.
Leukodystrophy is a progressive disease that disrupts the child's normal growth and development. Without immediate treatment, one-third of patients do not live past their ninth birthday.
"Most kids start off with a developmental delay," Bonkowsky said. "As they get older, they begin to lose previously held skills, like the ability to walk. There is a basic failure to thrive."
Bonkowsky and his team conducted a retrospective study to explore the distribution of diagnoses for four types of leukodystrophy  Krabbe disease, Hurler disease, X-linked adrenoleukodystrophy, and metachromatic leukodystrophy  by racial background. Using the Pediatric Health Information System (PHIS), the team was able to scan the patient records from 50 children's hospitals across the country. Children included in the study were under the age of 18 and diagnosed using International Classification of Diseases (ICD) codes specific to each leukodystrophy between October 2015 and September 2017.
"The ICD-10 codes allow us to pick out specific diseases," Bonkowsky said. "It's like going to a spice rack and pulling specific spices  salt, pepper, paprika, or peppermint  from the shelf while everything else is in one big mixed up container."
Their work identified 557 leukodystrophy patients. They found that people of black or Hispanic backgrounds were two to three times less likely to be diagnosed than a white patient.  Bonkowsky and his team also examined the frequency of the genetic mutations responsible for these conditions across racial groups. They found that the mutations causing leukodystrophies are actually more common in populations of Hispanic and African descent.
"I was surprised with how large the disparities were for these diagnoses," said Greg Stoddard, M.P.H., adjunct associate professor in Family and Preventative Medicine at U of U Health and senior author on the paper.  "Racial disparities are important to identify, because it helps lead to more equal and optimal health care for all."
Bonkowsky thinks that one reason for the lack of diagnoses may be disparities in how health care is administered across the country. For example, a patient may have to wait to see a specialist or see several doctors before being sent to a specialist. By this time, the disease may have progressed and the child may be misdiagnosed with a non-specific condition.            
If the group's estimates are correct, the number of children affected by leukodystrophies may be several times higher than the current incidence rate suggests. Bonkowsky notes that the study has limitations. It relies on a large national database and patient information cannot be clinically checked against assigned ICD-10 codes.
"I suspect that leukodystrophies is really just the tip of the ice berg," Bonkowsky said. "We are concerned that this [study] illustrates how health care is delivered to patients with a childhood disease, and that many children, especially from minority groups, are not being diagnosed correctly."
In addition to Bonkowsky and Stoddard, Jacob Wilkes, Tyler Bardsley, and Veronica Urbik contributed to Association of Diagnosis of Leukodystrophy with Race and Ethnicity Among Pediatric and Adolescent Patients, published on November 21 in JAMA Network Open.
This work was funded with grants from the National Institutes of Health National Center for Advancing Translational Sciences, as well as the University of Utah Bray Chair in Child Neurology Research and Primary Children's Brain and Spine Center.