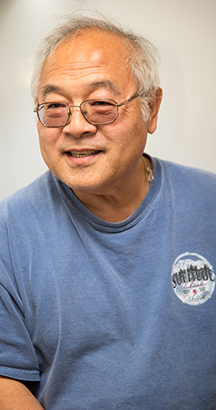 Tom Din got some good news when he rode his bicycle to the Wellness Bus parked in his South Salt Lake neighborhood. Health coach Monica Salas, MPH, administered his weekly blood test. The result revealed Tom's lowest blood sugar level since he began visiting the bus.
Tom visits the mobile health clinic every Thursday afternoon, right after his weekly game of bridge. The Wellness Bus, a service of University of Utah Health, parks outside Central Park Community Center on Thursdays between 2 and 6 p.m. It is focused on preventative services such as health screenings, nutrition, and physical activity information.
Din, 67, was diagnosed with type 2 diabetes eight years ago. He says his health right now might be at its best since his diagnosis, attributing the improvement to his regular Wellness Bus visits. Part of the program Driving Out Diabetes: A Larry H. Miller Family Wellness Initiative, the bus is staffed by a health coach, a community health worker, a screener, and a volunteer from Connect2Health, a student program at the U that connects patients with existing community resources. There are no medical providers on the bus.
"Knowing that I'll be going to see Monica, my health coach, gives me good reason to push myself so that my blood glucose is improved from the week before," Tom said. "If you're my age and you're at home most of the time, it's easy to eat whatever you want and not get off the couch. Who's going to tell me I shouldn't? At the Wellness Bus, I get a lot of good advice and learn things about type 2 that I didn't know before—even though my mother had type 2 and two brothers also live with it."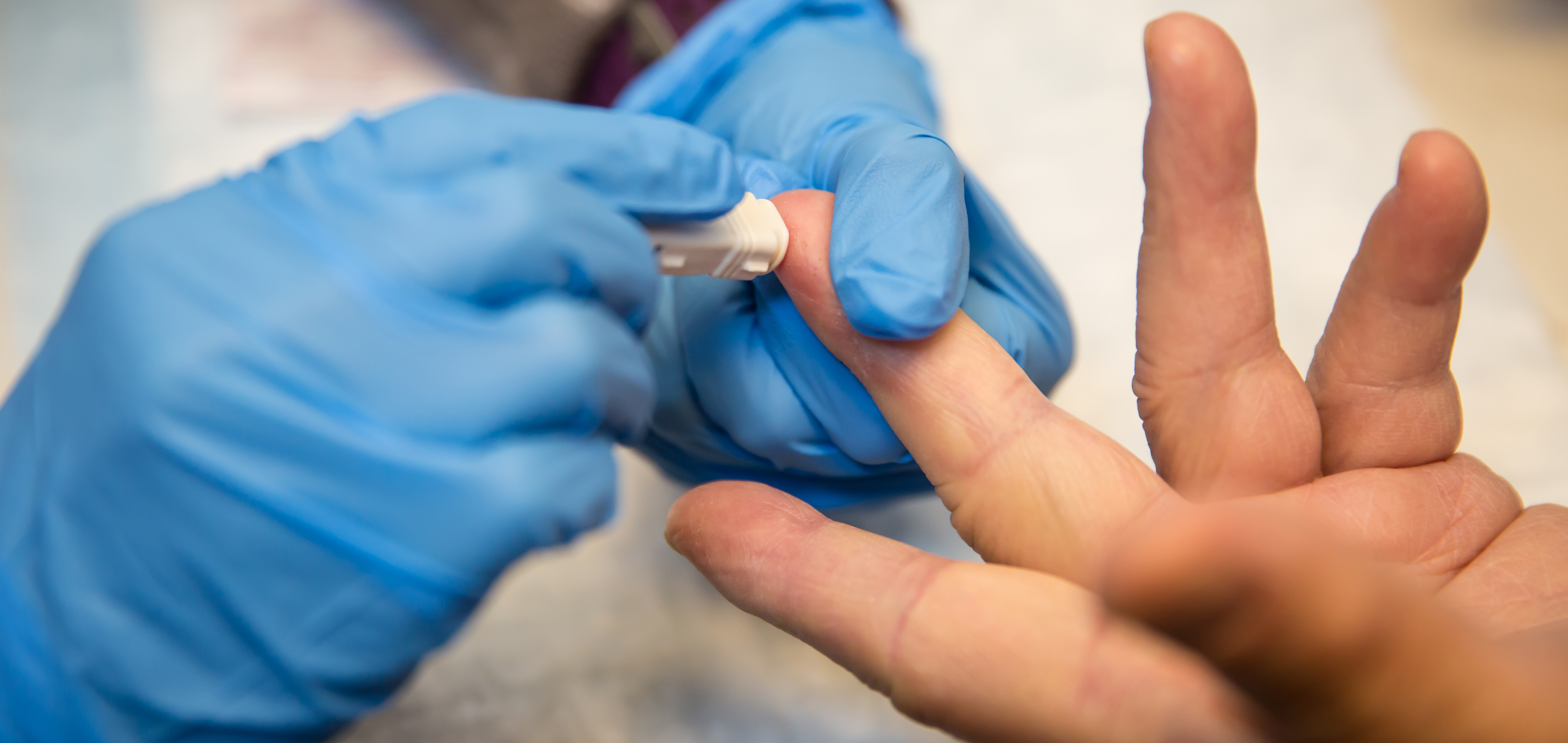 Health Coaching
With the help of other staff on the bus, Coach Salas screens, counsels, and makes referrals for patients in all four neighborhoods the Wellness Bus visits once a week. Each community has been identified by U of U Health as "underserved" regarding health care. Along with Thursday afternoons in South Salt Lake, the bus travels to Kearns Library in Kearns every Wednesday, Sorenson Unity Center in Glendale every Tuesday, and Copperview Recreation Center in Midvale on Mondays.
Salas has worked on the Wellness Bus since it hit the road in June. "I love being on the team for this important program, which can do so much good and help so many people," she said. "When we meet patients who have pre-diabetes, for example, we have the chance to help them change their lifestyle, so they might not develop diabetes."
For Salas, the bus offers the chance to help promote good health and provide health education. "We encourage more exercise—and regular exercise," she said. "More walking, more biking, more moving around the house and yard."
She also helps patients understand the importance of eating a healthy diet to control blood glucose levels. "We help patients understand that there are big differences in the amount of glucose or the number of carbohydrates in various food, depending on what food is chosen," she said. "A piece of fruit compared to fruit juice, for instance: OJ is heavily concentrated and contains many more carbohydrates than a few fresh orange slices."
Salas explains that every carbohydrate a person consumes requires the hormone insulin to be properly digested. Otherwise, high amounts of sugar enter the bloodstream, which can lead to health complications. People with pre-diabetes, like many of those living with type 2, still have a limited amount of insulin produced by their pancreas. For those with type 1, the pancreas produces no insulin—thus the need for daily insulin injections.
"We help clinic patients understand that diabetes is a severe condition," Salas said. "Many see it as a bother or a pain, but many don't understand the big consequences it brings, which can be reduced by behavior—a proper diet, regular exercise, and enough sleep."
For Tom Din, his weekly visits to the Wellness Bus compare favorably to check-ups in a physician's office. "I can ask as many questions as I want and get as much advice as I need," he said. "There's no time limit."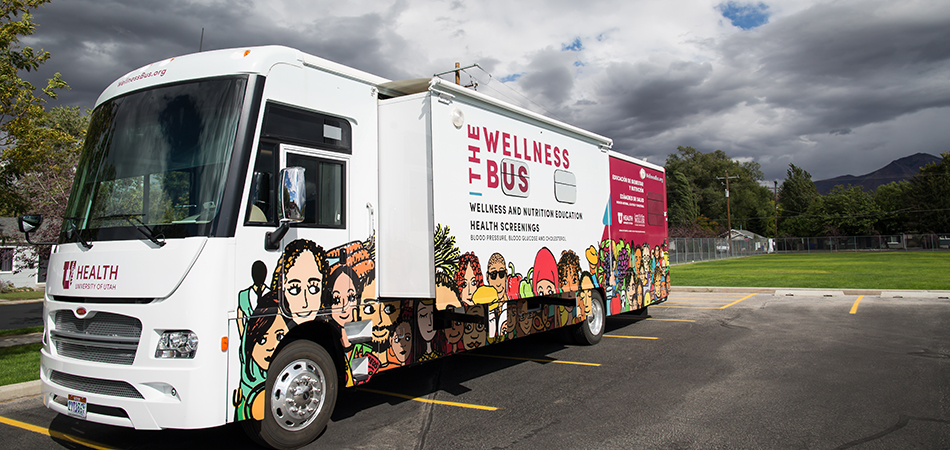 For Tom, talking about his typical daily routine helped him realize there are lots of things he can do better. Regular reminders make a difference and help him manage his health. Plus, the bus is convenient.
"I like arriving with the care team already knowing the latest about me and my health background," he said. "I don't need to start at the beginning as I usually do when I go to a doctor's office. This is the best health care situation I've had."
Help with No Strings Attached
As Salas explains, the Wellness Bus comes with no strings attached for patients looking for advice. There are also no fees: The Wellness Bus is funded by the Larry H. and Gail Miller Family Foundation as part of the multi-layered Driving Out Diabetes Wellness Initiative. The three-year, $5.3 million initiative was launched July 5, 2017, in partnership with U of U Health. Driving Out Diabetes is an interdisciplinary battle against diabetes in the state of Utah and across the region, combining education and prevention outreach, innovations in clinical care, and cutting-edge research.
People coming to the Wellness Bus are not required to provide identification. They are asked to fill out a questionnaire, but answering the questions is optional. This procedure was set so identification would not be a barrier to a person seeking health information or receiving a health screening. Anyone wanting to remain anonymous, can do so.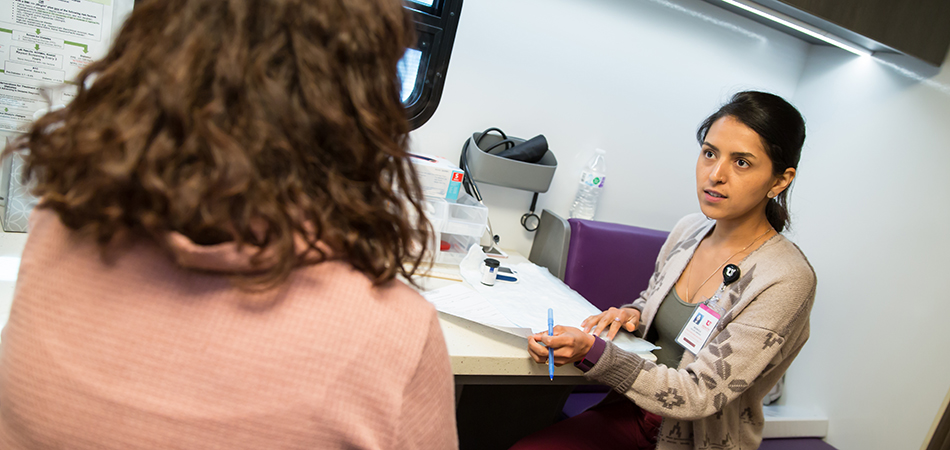 A woman on the cusp of middle age who visits the bus every Thursday has a nagging health issue. Melissa (not her real name) has had difficulty motivating herself to seek help, but that changed when, one day, she noticed the Wellness Bus parked just a short walk from her home. Maybe she could get some help there, Melissa thought. She hoped that a wellness screening might help explain her overall sense of poor health.
At her first visit, Salas tested Melissa's blood pressure, blood glucose level, and body mass index. Her blood pressure rate was higher than normal. Melissa admitted to a lot of stress in her life. Now, she's learned that stress affects her blood pressure. It can also lead to fatigue and less sleep.
"We brainstormed ideas on how to reduce stress as a way of lowering blood pressure," Salas says. "Some of these included calling a loved one, going on long walks, and setting aside time every day for reading. These are based on things Melissa enjoys, and she came up with the ideas on her own." In addition, Connect2Health volunteers have helped direct Melissa to other local resources.
The Wellness Bus provides this South Salt Lake resident with health support she hasn't had in the past. Her blood pressure is improving, but her uphill battle continues. Melissa says she doesn't have the option of getting treatment from a physician. And she doesn't want to take any prescription medicine. She believes she can reduce stress in her life and get more sleep which will help lower her blood pressure, as long as she keeps receiving the support that's offered on a big colorful bus in a parking lot down the street.