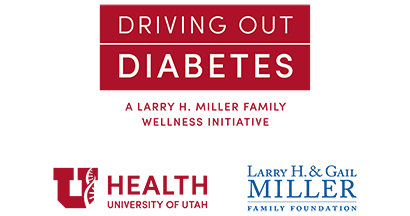 Driving Out Diabetes, a Larry H. Miller Family Wellness Initiative, has awarded grants to eight projects designed to activate novel research projects in the areas of diabetes, obesity and metabolism and to train the next generation of researchers. This year's recipients come from eight departments at the University of Utah School of Medicine, College of Health, College of Nursing and College of Engineering and draw from a wide variety of related disciplines.
"These grants allow our researchers to make critical advances in diabetes and obesity-related research from basic studies to translational and clinical care," says Jared Rutter, Ph.D., co-director of the Diabetes and Metabolism Center (DMC) at U of U Health. "We're confident that these funded projects will facilitate better prevention, treatments and discoveries that will eventually contribute to cures for people with diabetes in Utah and beyond."
It's estimated that more than 30 million Americans have diabetes, putting them at risk for a number of health conditions, including blindness, kidney failure, heart disease, stroke and limb amputations. These related disorders contribute to the $245 billion strain on the U.S. medical system. And these problems are only being compounded by growth in the rates of Americans who are obese, a leading cause of diabetes.
The Driving Out Diabetes Initiative is a three-year partnership between U of U Health and the Larry H. and Gail Miller Family Foundation that focuses on prevention, outreach and clinical care. By investing in innovative research, the Initiative aims to discover scientific breakthroughs that will lead to improved treatments and potentially future cures for diabetes.
Grant recipients will carry out a variety of projects ranging from exploring the prophylactic role of intestinal bacteria in protecting against type 2 diabetes to characterizing fat cells lodged around organs, which is a risk factor for developing the disease.
Seed grant projects will receive up to $50,000 for one year, graduate student fellowship awards will receive $25,000 for two years and postdoctoral fellowship awards will receive $50,000 for one year. These grants were made possible in part by generous donations from the Larry H. and Gail Miller Family Foundation.
Project Titles and Awardees
Transcriptomic and functional characterization of novel anti-adipogenic/pro-diabetic stromal cells in visceral fat of humans and mice
Sihem Boudina, Ph.D. (

Nutrition and Integrative Physiology),

and Anna Ibele, M.D. (

Department of Surgery)
This study aims to characterize the cells within fat tissue involved in visceral obesity, a risk factor for developing type 2 diabetes. (seed grant)
Altered monocarboxylate and glycolysis-dependent cardioprotective metabolism in the failing hearts of Diabetic patients
Stravos Drakos, M.D., Ph.D. (Department of Internal Medicine and Department of Bioengineering), and Rachit Badolia, Ph.D.
This study obtained funds to support Rachit Badolia, whose research examines the molecular and metabolic factors of heart failure, the leading cause of death among diabetic patients. (postdoctoral fellowship)
Lands cycle and skeletal muscle insulin action
Katsuhiko Funai, Ph.D. (Physical Therapy & Athletic Training), and Patrick Ferrara
This study obtained funds to support Patrick Ferrara, whose work explores the link between proteins important in lipid signaling and skeletal muscle insulin resistance. (graduate student fellowship)
Alterations to Appetite Regulation Indices in Adults with Prediabetes Following Short-Term Aerobic vs. Resistance Exercise
Tanya Halliday, Ph.D. (

Health, Kinesiology, and Recreation)
This study will explore the mechanisms that control appetite responses to exercise to prevent type 2 diabetes in at-risk people. (seed grant)
Group prenatal care for diabetes in pregnancy: A window of opportunity to Drive Out Diabetes
Torri Metz, M.D. (Obstetrics and Gynecology), Lauren Theilen, M.D., D. Ware Branch, M.D., and Michael Varner, M.D
This study aims to develop a streamlined, community-oriented prenatal care model for mothers experiencing diabetes during pregnancy, which increases risk to both mother and baby. (seed grant)
Identification of commensal bacteria that protect from Type II diabetes
 

June Round, Ph.D. (Department of Pathology), and Kendra Klag
This study obtained funds to support Kendra Klag, whose work explores the contribution of millions of intestinal bacteria in contributing to or protecting against type 2 diabetes and metabolic syndrome. (graduate student fellowship)
MAPS for Healthy Women: A pilot study of Motivation And Problem Solving (MAPS) to enhance engagement in the Diabetes Prevention Program for reproductive-age women planning to conceive
Sara Simonsen, Ph.D. (

College of Nursing)

, Jospeh Stanford, M.D. (

Department of Family and Preventive Medicine)

, David Wetter, Ph.D. (

Department of Population Health Sciences)

, and Amy Locke, M.D. (

Department of Family and Preventive Medicine)
This study aims to collect essential information that will contribute to a clinical trial to develop effective diabetes prevention programs in reproductive-age women. (seed grant)
Sensitive diagnostic screening and exercise based intervention for Metabolic Syndrome associated Polyneuropathy (MSP)
John Robinson Singleton, M.D. (

Neurology)

, Robin Marcus, Ph.D. (

Physical Therapy)

, Mehrnoosh Shakeri, M.D. (

Internal Medicine)

, and A. Gordon Smith, M.D. (

Neurology)
This study aims to evaluate the Utah Early Neuropathy Scale tool for screening nerve injury that affects the feet and lower legs and the effectiveness of exercise and dietary counseling in improving nerve symptoms. (seed grant)